The Perfect Profile
---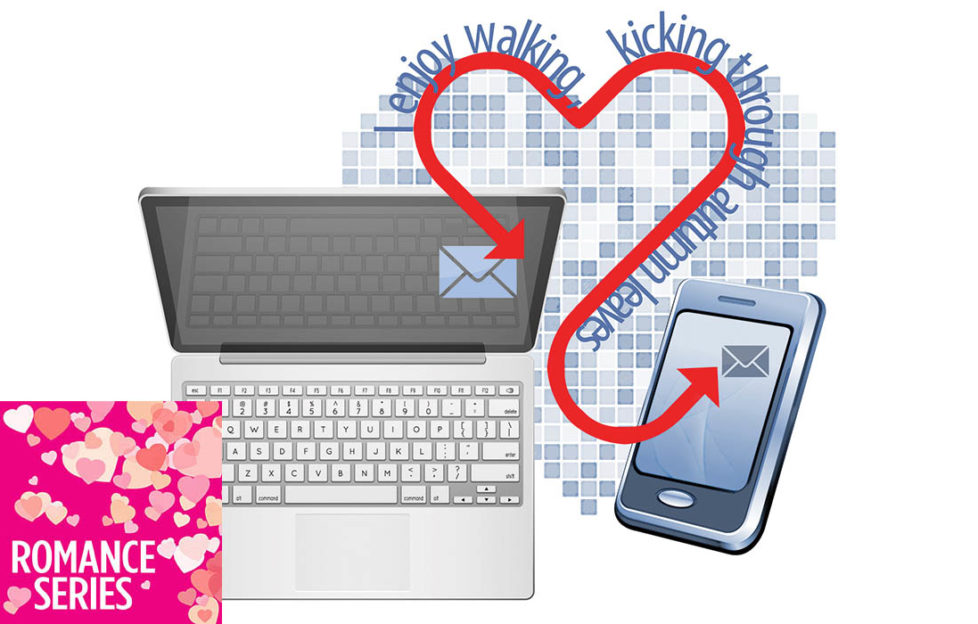 Reluctant at first, Kate was soon roped into writing dating profiles for everyone!
Becky asked me a huge favour but then made me swear a vow of secrecy.
"Don't tell anyone, will you? I'm not sure I want it broadcast."
I told her I'd do it and I told her she was mad. "You of all people don't need to do this."
She perched on the edge of my desk.
"You don't understand. I've tried everything else; clubs, pubs – and don't get me started on blind dates.
"All the men I meet are either only after one thing, they're on the rebound or they're just too hopeless for words."
"But a dating site!" I looked at the freckles scattered across her nose, her wide green eyes. "You must have men queuing round the block."
Becky shook her head.
"Oh, Kate, it's alright for you. You're sorted, you have Andrew."
I do, that's right. We've been together for two years since we met in the queue at the post office. I opened my mouth to say that, but she asked me again.
"So, will you? Will you write my profile?
"You're so good at putting words together and you know what I like and don't like."
I knew that Becky liked salt and vinegar crisps, that she liked going to the cinema, that she had a secret passion for Neil Diamond, that she was always late coming to work… We worked together in an estate agency.
So I told her I'd cobble something together and show it to her and she walked back to her desk, satisfied.
I should have been working on the details of a large house that had come on the market, but instead I played around with a few sentences for Becky's dating site profile.
Eventually I came up with: I'm 28 years old, 5'8″, single and I live in the south west. I enjoy walking, kicking through autumn leaves, trips to the cinema, and I have a keen interest in music.
I looked at a few sites, telling myself I was doing research, just to see the sort of thing that people put on their profiles.
Men wrote of their "passion" for their motorbikes, their enthusiasm for reading the classics, their interest in rock climbing.
The women's profiles were intriguing – one woman said she would like to meet a partner who shared her love of Tibet, another wrote of her interest in the healing powers of crystals.
Somehow I struggled to use words like "passion" for Becky.
I showed her what I'd written so far. I was a little uncertain, but thankfully, Becky was delighted.
"Kicking through leaves… oh yes, that's a nice thing to do."
Later, I looked up from my desk and saw Becky, mobile phone in her hand, peering at the screen. A few times she caught my eye and she grinned at me
Becky had said she didn't want anyone else in the office to know but a few weeks later, Kerry came up to my desk.
She'd worked for the agency for a long time and I knew she was divorced and that her two children had left home, but to be honest, we weren't that close. I mean I liked her to talk to, but I didn't know her all that well.
She was pink in the face – obviously embarrassed – and she sighed as she spoke.
"Kate, I wonder if you would do something for me. You see, the thing is…"
Before I knew it, she began a long rambling story about being on her own, about joining clubs and they hadn't worked, about hating weekends.
Then, just when I thought she'd finished, she suddenly came out and asked, "Would you write a profile for me too?"
"A profile, for a dating site?" I kept my voice low.
Kerry glanced around.
"Yes, please. Becky said you'd done one for her and she's been getting masses of interest."
I wanted to say that Becky would always get lots of interest – she was young, she was gorgeous, she didn't have to go on dating sites – but I didn't. There was something in Kerry's eyes, something sad, so I kept my mouth shut.
"OK, tell me what you like to do, what your hobbies are."
She shrugged awkwardly. "I'm quite ordinary really."
After she'd gone, I looked at the list I'd written: fond of animals, likes gardening, enjoys trips to the cinema.
In the end I wrote: keen interest in wildlife, enjoys all aspects of the arts and has a passion for horticulture.
Kerry was pleased with the result. "Thank you, Kate. I hardly recognise myself."
---
Before long, Becky and Kerry were walking around the office with enormous smiles and they kept high-fiving each other.
One morning, they they were both standing by my desk.
"Hi," they said in unison.
"Cup of coffee?" Kerry asked and Becky offered to take my coat.
"What's going on?" They were making me nervous.
"Nothing, nothing at all." Becky glanced at Kerry. "We were wondering… that is, what we wanted…"
Kerry interrupted, "We've been telling people about our profiles, what you wrote for us and how well we've done on the dating sites."When she said "dating sites", her voice dropped.
"Whoa! I'm not doing any more. I did those two for you as a favour because we work together. I don't want to do anyone else's."
"But you see, the thing is…" Becky glanced at Kerry. "I've sort of promised that you would."
Kerry nodded.
"Me too. My friend, Liz, she's been scared about going on a dating site and I told her about my experience and what you did and well…"
"No, I'm not doing it. I don't know your friends and I wouldn't know what to write."
I knew however that my words were futile and that I'd write the profiles.
There must have been a tone to my voice that Kerry and Becky recognised. They smiled at me and pleaded in unison, "Please?"
Becky's friend, Ellen, thanked me over and over when I showed her what I'd written: Petite 33-year-old, interested in equine pursuits, a keen traveller and an avid reader, would like to meet…
She had told me that she used to ride horses as a child, had gone on a gap year to Thailand and had read all the Harry Potter books.
Kerry's friend, Liz was in her 50s and I wrote: Divorced 53-year-old, keen on hiking and mountaineering, interested in house renovations and art house films.
She had told me she had just joined a rambling group, had redecorated the kitchen in her old house, and that she liked "unusual" films.
When I told Andrew what I'd done, he looked at me in amazement.
"All those women on dating sites? Even Becky? But she's gorgeous."
"I know, even Becky. She's told all her friends about the site. She keeps asking if I'll do more profiles for them.
"To tell the truth, it's getting a bit much. I seem to spend as much time writing profiles as I do writing house details for work."
"You should be careful, "Andrew said. "Your boss will be on your case if you don't stop."
"I know – I won't do any more."
---
I had meant it when I said it.
However, next morning, there was Becky again with her winning smile.
"Just one more, please? This time it's my cousin. He's on his own and hates it."
I shook my head. "No."
"But I promised him."
"Well, you shouldn't have done that without asking me first."
I tried to make my tone firm, to make her understand that enough was enough.
"Pleeee-ase? I promise to get you coffee whenever you want one. I'll even buy you lunch."
She looked so desperate that I knew I'd say yes.
"But this is positively the last time, OK?"
"Thank you, you're a star! I'll get James to come in so you can meet him."
"That's not necessary…" But she'd already gone.
At noon a man appeared at my desk.
"Hello, I'm James, Becky's cousin."
He held his hand out and I took it.
"Thank you for doing this for me. It's way out of my comfort zone and when Becky told me about what you did…" He shrugged. "It's kind of you."
He was tall and dark, stubble around his chin, and he wore a conker-coloured leather jacket.
I cleared my throat. "Tell me what you like to do, what sort of person you're looking for."
Risking a glance around, I saw my boss was deep in conversation with a women who'd come in looking for a house with a pool.
I pulled a chair across.
"Sit down. I can always pretend you're here because you want to buy a house."
I smiled at him, not at all certain what I was doing.
James sat, crossing his long legs. His aftershave was something light and citrus.
I picked up a pen. "Tell me what your interests are."
He rattled off a list: scuba diving, cycling, swimming, tennis. "Oh, and I also like fell walking."
"That's quite a list," I said, writing everything down. "What sort of a woman are you looking for?"
He looked uncomfortable.
"This is the bit I'm not sure about. Someone who won't grumble when I go off and do the things I like to do. Or even better, someone who would join me on adventures."
He looked down at his hands.
"I've been on my own for a while, you see, and when Becky told me what she'd done… joined a dating site… I thought that maybe it's time I did something similar."
His eyes were sapphire blue and his lashes thick and dark. I felt my cheeks reddening.
"I'm sure women will be falling over themselves to make contact with you."
When he stood, I had to fight the instinct to tug him back down, to sit next to me again. I smiled at him.
"I'll put something together. Would you… I mean, would you like me to email it to you?"
"Would you? That would be great." He tapped at his pockets. "I have a card somewhere…" He held out a small white card. "Whenever you've time. You've been very kind."
Watching him leave, I saw the way he waved at Becky and I tried hard to get on with work, to find illuminating words to say about a run-down terraced house.
Doodling his name, James, I wondered if he'd ever been called Jim.
I ate a ham sandwich at my desk and drank blisteringly hot coffee from a paper cup. I played around with words, crossed them out and began again several times.
Again I looked at his card: James Munroe, Civil Engineer. I wasn't sure what a civil engineer was. Andrew was a plumber and wore overalls and drove a blue van.
A headache was forming when I finally wrote out a profile for James: Civil Engineer with varied interests including scuba diving, cycling and fell walking. Would like to meet someone willing to share adventures and see what life has to offer.
I emailed it to James. It was almost 6 o'clock when a reply appeared.
Thank you, it looks great – I'll let you know how I get on. Best wishes, James.
---
Andrew said he'd call around to see me. There was a David Attenborough TV programme he thought we should watch, and he said he'd bring a bottle of wine.
"You wouldn't believe the day I've had. Must have driven a hundred miles."
I noticed that my sofa was beginning to sag in the middle, where Andrew sat with his feet on the table. We never went out these days.
"This is good, isn't it?" he asked, not taking his eyes from the screen.
"Mmm." Looking up, I saw a caterpillar crawling along a twig.
I looked at my notebook where I'd been composing another profile: 35-year-old man, loves the natural world, enjoys fine wine and is passionate about driving and meeting people.
Well – I hoped Andrew would like what I had written, as it was definitely time for me to move on.