Diary of A Modern Gran | Granny Gets The Worry Bug
---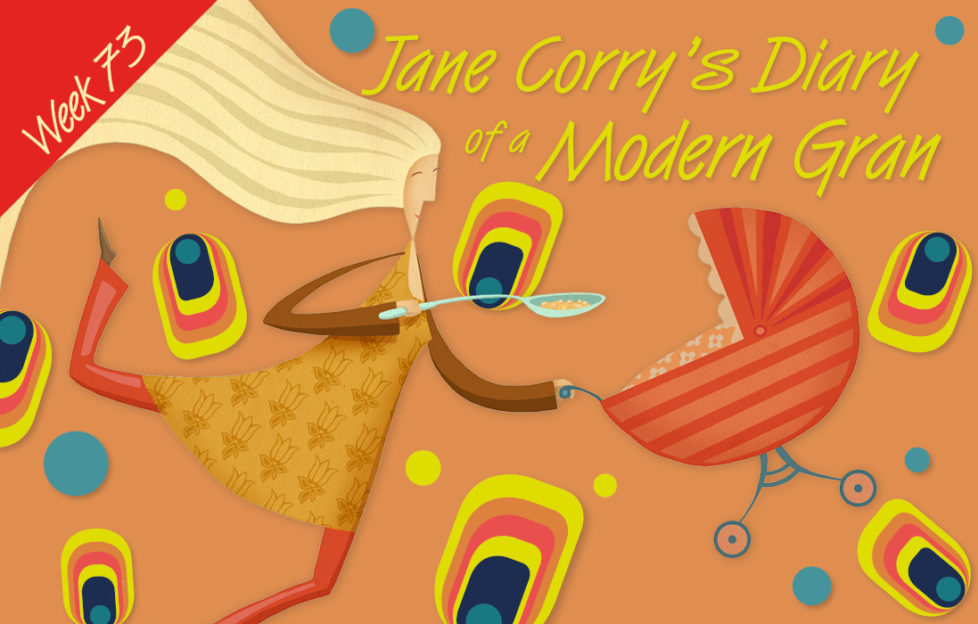 Illustration: Istockphoto
It's been a stressful week. First the coronavirus and a relating personal decision which I had to make. And secondly, leaving George.
The latter isn't quite what it sounds although it was a momentous decision for us all. Regular readers might recall that George was suspended from pre-school as my husband jokingly puts it. In fact, he cried so much that the staff felt he wasn't ready. Fair enough. We'd reached the same conclusion.
But the fact of the matter remains. I am a working gran. And although I do my utmost to make sure that my novel commitments don't conflict with my granny days, there are times when this is impossible. (For example in June, I am going to Italy to run a four-day writing course.)
So we've been having weekly play dates with a lovely friend who is a childminder in the hope that we can build up to a stage where George feels comfortable enough to be left on his own. Not every week. Only when we need backup.
This morning was the big day. "We're off to see Susan," I say. He places his little hand trustfully in mind. "Play tractors," he says which is what he often does when we're there.
"That's right," I say, my heart in my mouth. I'm only going to leave him for two hours but it feels like two days.
Susan has another little boy there today who is exactly George's age. The two have often played together. George charges straight in. We decide I won't actually say goodbye to him so I go. (I never know if this is the right way of doing it or not.)
Oh no! My grandson happens to glance up to the window just as I'm going…
"Gan Gan!" he calls out, his jaw dropping in disbelief. There is a look of total betrayal in his face, I want to run back and scoop him up but I know that if I do that, it won't help him prepare for real life. So I sit in the car outside with a thumping chest and a huge lump in my throat. It reminds me of how I used to do exactly the same with his uncle, my eldest who is now 38 and living abroad.
After ten minutes, I ring Susan's mobile. "I was just going to text," she says. "He was a bit upset for the first five minutes but now he's as happy as Larry and playing with us."
Upset?  I literally feel punched in the stomach. How could I have done that to my grandson? I go back to my house and try to write but I can't concentrate. An hour later, pictures flash up on my mobile. It shows George having a wonderful time with paints.
I send the pictures onto my daughter at work who is equally relieved.
Naturally I'm there on there on the dot to collect him. As I go past the window, they are sitting and playing with toy zoo animals. George looks totally at home. When he sees me, he gives me a brief hug and then goes back to his playmate. I feel ridiculously rejected!
"What did you do?" I ask on the way back. "Draw and play," he says. "And snack." Sounds like it's a perfect combination. In fact, I wouldn't mind doing that myself!
Meanwhile, I feel as though we have jumped a hurdle. As I've said, George isn't going every week but. But we know there is somebody wonderful there to step in if for example, I fall off my bike and break my elbow again.
Difficult family decision
And now on to the coronavirus. I mentioned in my column last week that like many people, I can't help being worried. Next week, we were meant to be having a group of cousins to stay. We've been organising this for the last three months. One was coming from an island off Australia via Hong Kong. Another was returning from Italy – not the affected part but not far from it. So I made that difficult decision of asking them not to come.
"Please don't be offended," I say. "I'm not worried about myself but I don't want to pass it to my daughter who has low immunity due to arthritic drugs, and also for the little ones. Even though the experts say that the coronavirus doesn't affect as many children as adults – at least that's what I've read – I can't help fretting. I make everyone in this house wash their hands several times and we've replaced the cloakroom towel with kitchen roll.
Soon after that, I felt really achy and shivery. Oh oh. So I took my temperature with one of those clever digital thermometer as I bought for the children. It's very low.  "According to the reading, you have hypothermia," says my husband.
That can't be right. We try again with another digital thermometer. The result is the same.
"You'd better ring 111," he says. It's nearly 11pm. I have to be in bed early for my granny day but this feels important. I answer various questions for the adviser and she asks if I've tried the digital thermometer on my husband.
I do. Looks like he has hypothermia too! I know we're always arguing about the heating (I like it up and he likes it down) but this is ridiculous! I then manage to find a traditional thermometer lurking at the back of my cupboard and discover that we both have normal temperatures.
I don't like being an anxious person. It reminds me of how worried I used to be when my three were little. And now I'm going through all these anxieties again as a gran. I have my faith but it's not nice when you read newspaper headlines.
On a lighter front, I've decided to take my husband in hand. This is not as exciting as it sounds! As some of you know, he had serious spinal surgery earlier this year. But now he really is on the mend. The thing is that he needs to do more exercise. So cycling is something that is particularly good for him according to his physio. But it's too wet to get our bikes out. So this morning I pack him off to the gym to the static exercise bike amidst much moaning and groaning.
Oh dear. It sounds as though I've turned into a control freak. Maybe I have. So while George has his afternoon nap ( I'm not meant to allow this because it means he goes to bed later but I just can't stop him) I get back to my computer and immerse myself in the next chapter for my new novel. There is nothing in it about coronaviruses or cancelling family at last minute or hypothermia. Sometimes fiction is much more reassuring than real life.
Off on an adventure
Then to top off the week, I take the children out for an adventure. We go to the car wash! Yes – I know I said I was going at the end of my last column. But I ran out of time. The children thought it was a real hoot to see my standing outside with the hand-operated hose and squirt the windows. In fact, we all laughed so much that I forgot to be anxious!
PS George has come out with some new words since his morning with the childminder. "Try to see it as an extension of his learning skills," advised one of my granny friends. "It will stop you feeling you guilty."
PSS My new nursery school gate friends – most of whom are my daughter's mates and at least 30 years younger than me – have promised not to tell my daughter about George's secret afternoon naps. So please don't breathe a word!
---
Jane's next book…