How To Keep Your Dog Entertained Indoors
---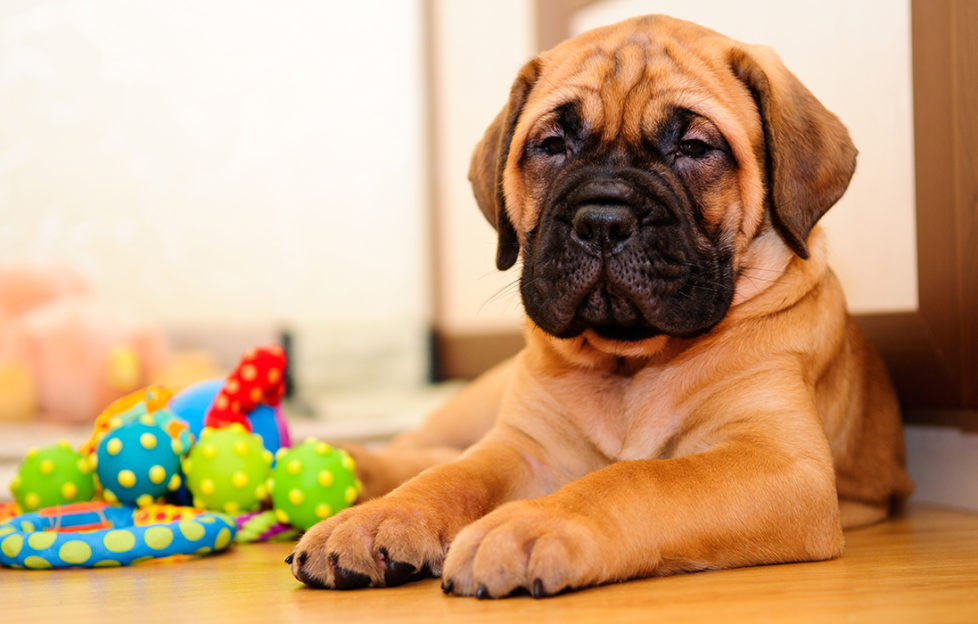 Pic: Shutterstock
In these unprecedented circumstances, most of us are staying in our homes and there are now rules about venturing into public spaces outdoors.
If you're a pet owner, whose companions relies on you for walkies, it's natural to wonder how best to entertain and exercise them from home.
Dogs need daily exercise to boost their physical and mental health, just like us. So why not create an indoor environment for them to burn some energy?
Don't worry – this needn't cause a mess. It's just a good way for your companion to receive additional exercise and stimulation for now.
Canagan, the grain-free pet food experts, and personalized pet gift company Petlandia are offering reassurance and ways you can ensure your dog is having just as much fun indoors as they would out on their favourite walk.
Safer walkies
You don't need to stop walks altogether. However to follow the government guidelines, you should go out only once a day, walk in quieter places and keep your distance from other people.
Keeping your dog on a lead will obviously also prevent you having to retrieve them! 
Key tip: Try going for walks very early in the morning or in the evening to avoid passing lots of other people on your walk. This is especially important if you do not have a garden at home. 
Play with toys
There are plenty of indoor activities for dogs which involve toys to keep them entertained for hours.
Dog puzzles will allow your dog to figure out where a tasty treat is hidden by manoeuvring different levers which will reveal the delicacy.
Games like this teach your dog resilience and patience. Use them as a form of 'positive reinforcement' to teach them that good behaviour is rewarded.
A good old-fashioned game of fetch with a soft ball or toy is a great way to entertain a dog with boundless energy. If you're lucky enough to have a long corridor or a spacious living room, make sure valuables are safely stowed away and then indoor fetch can make for a fun, energetic afternoon.
Hide-and-Seek
It's popular among children, but hide-and-seek can be enjoyed by the whole family – including your dog!
If your companion is trained to 'stay' and 'come' when you call them, it's a great game to keep them entertained.
Tell your dog to 'stay' so they don't follow you to your hiding place. If this command is a work in progress, wait until they're distracted, then have your family members hide around the house.
Choose somewhere that is not out of sight initially, so they can easily find you. Then choose harder spots. This will boost their confidence and stretch their instincts with each 'round'.
Take it in turns to call them. Each family member, when found, must congratulate your furry friend and show them lots of love.
Dogs experience the same thrills as children, so love being surprised and receiving attention.
Hide-and-seek works because dogs have a 'pack' mentality, so will seek out their human leader. Your pet will rely on visual and voice cues initially.
The game stimulates the brain, as it encourages them to remember their name, while strengthening recall behaviour.
They'll soon reverse their strategy and go back to their primal instinct – scent. Not to mention the physical benefits – the search will give your pup a great workout physically. It's also a wonderful way to strengthen your bond.
Blow Bubbles
Bubbles are a fun, inexpensive way to entertain your pup – and children too! Always check the label before you buy bubbles to ensure they're safe for dogs.
Did you know you can even buy 'dog bubbles' in different flavours? There are even dog-friendly bubble machines for when you want to leave them to it.
Make changes to your home
Ensuring your home is dog-friendly is important when creating an environment for play and exercise with minimal chance of harm or breakages.
From here, you can introduce a couple of new sights and experiences to combat boredom, like the following…
Build a doggy den
Dogs love to snuggle down in a cosy space.
Whether it's blankets piled with their favourite toys or renovating your spare bedroom into their very own pet pad, your dog will be very grateful of their own little sanctuary to retreat to.
Give them a view
Dogs have impeccable senses and love exploring the outside world with its diverse sights and smells.
Create a snuggly space by the window so your pup can watch the world go by. Whether it's birds flying by or cars passing, they can keep entertained with activity outside.
Make good use of the garden
If you are fortunate enough to have a lovely garden, make the most of this private space with your dog. A little run-around and game of fetch makes for a fun afternoon and gets your steps up, too.
A spot of fresh air, away from the public, will do you both the world of good.
Soothing sounds
To help dogs relax during the day while you are either working or busy with other tasks, Spotify has recently launched 'My Dogs' Favourite Podcast' which has a range of selected spoken word, sound and original music designed to encourage relaxation. 
Keep calm and don't overfeed
Some important points:
So far, studies have shown that pets do not transmit the Covid-19 virus to humans 

Try to be prepared and have at least two weeks of pet food and any medications in stock. This doesn't mean you need to panic buy! Dog food is still very much readily available. 

If your pooch isn't getting as much exercise as usual due to self-isolation ensue to reduce their food accordingly.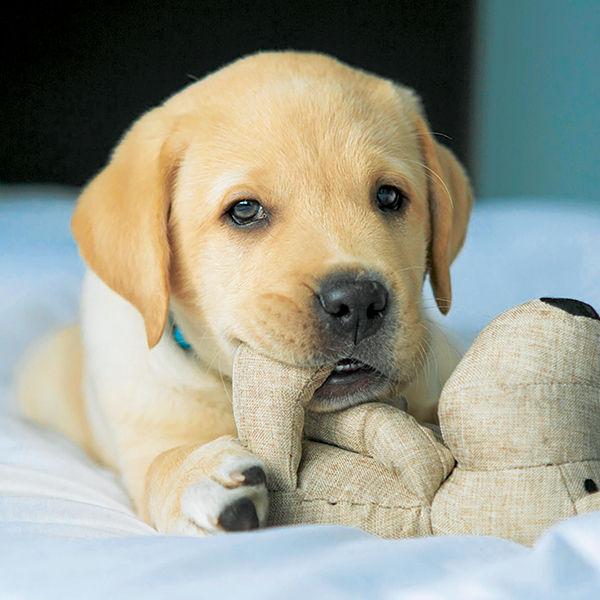 Ensuring your dog is comfortable, entertained and of course safe at this time may be worrying you. But it's also an opportunity to enjoy new activities and bond with your companion.
They're untouched by the turbulent times we're currently experiencing, will show you lots of love and relish the extra quality time. So, rest assured that they'll entertain you too.