Chargrilled Summer Greens with Yorkshire Wensleydale
---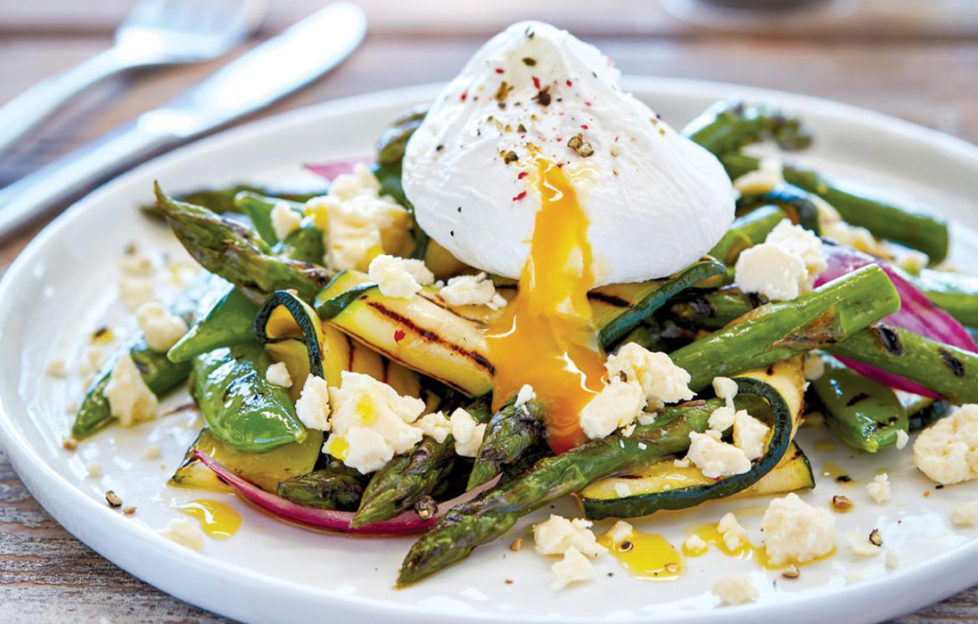 Pic: Chargrilled Summer Greens with Yorkshire Wensleydale
This light summer dish is bursting with delicious fresh flavours, so if you fancy healthy meal, then this is definitely one to try!
Preparation Time: 5min
Serves 2
Method
Trim the asparagus and slice the courgette length ways into strips.
Heat a griddle or frying pan and gently warm the rapeseed oil.
Cook the asparagus and courgette for 1 minute on each side, remove, then place in a bowl and cover.
Sauté the onion, add the mange tout and fresh peas, cook until tender and place into the bowl with the asparagus and courgettes.
Bring a small deep pan of water to the boil and add ½ teaspoon of salt and a cap full of white wine vinegar.
Crack the eggs into separate ramekins or cups, gently swirl the boiling water, add the eggs and poach for 1½ minutes.
As the egg is cooking, place the spinach and olive oil in a bowl, add the vegetables and gently toss together.
Place the greens in the middle of a small bowl or plate.
Remove the egg with a slotted spoon and place over the greens.
Finally, take your Yorkshire Wensleydale and crumble it over the top.