Vegan Sun-dried Tomato & Courgette Cupcakes
---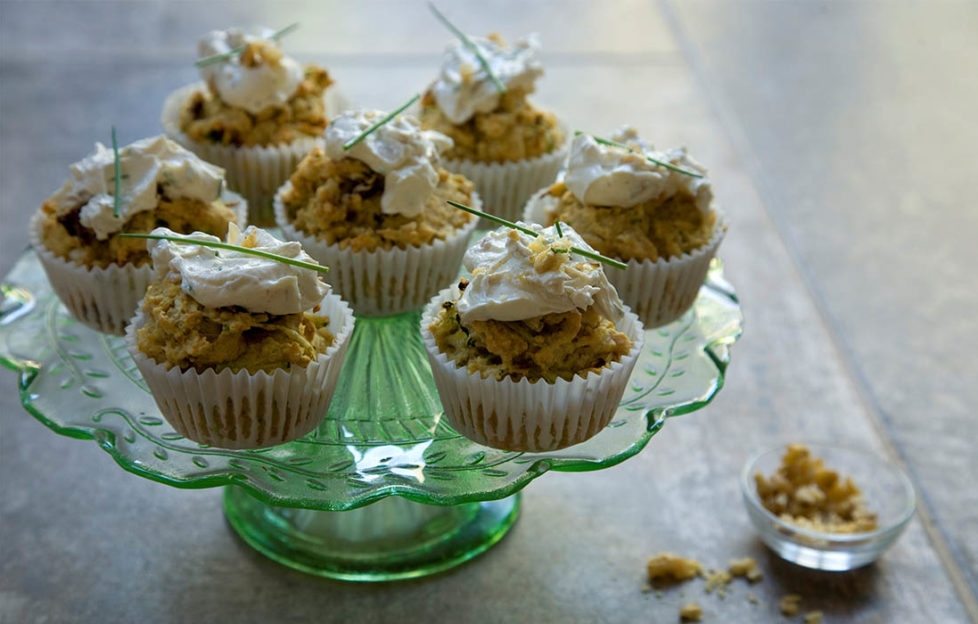 It's almost Alzheimer's Society Cupcake Day! Dementia is set to affect 1 million by 2025. Each cupcake sold on or around June 18 will help Alzheimer's Society find a cure and improve care. Please sign up to support them. These vegan, savoury cupcakes are a deliciously healthy alternative for your event!
Preparation Time: 10min
Cooking Time: 18-20min
Makes 12
Preheat the oven to 180°C, 160°C fan, Gas mark 4. Line a 12-hole muffin tin with paper cases.
Place the flaxseed in a small bowl with 3tbsp warm water and set aside.
Add the vinegar to the non-dairy milk and set aside.
Sift all of the dry ingredients into a large bowl.
Add the olive oil to the flaxseed mixture and then stir these into the non-dairy milk mixture, mixing together well.
Pour the wet ingredients into the dry and gently mix together. Add the courgettes and tomato and mix again.
Spoon into the paper cases and then bake for 18-20min, until lightly golden.
Mix together the non-dairy cream cheese, half of the walnuts, the paprika and chopped chives.
Remove the vegan cupcakes from the oven and leave to cool on a rack before topping with a dollop of the cream cheese mixture. Sprinkle with the remaining walnuts and top with a chive if wished.