Small Garden, Maximum Impact
---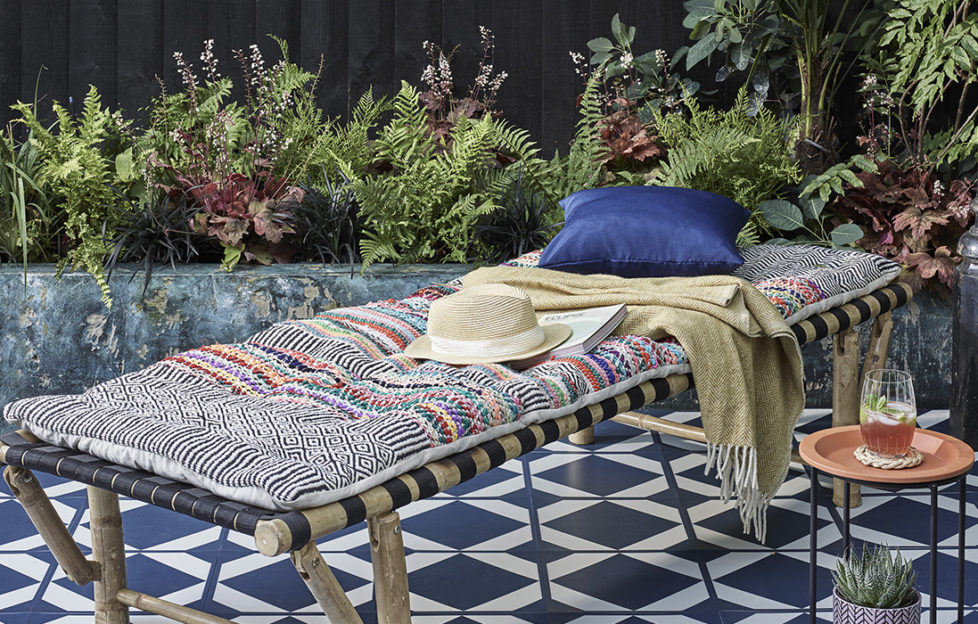 HyperFocal: 0
A new survey reveals home-movers are prioritising bigger gardens. It seems that extra time at home has made people long for extra outdoor space!
According to Rightmove, bigger gardens are becoming even more of a priority on buyers' and renters' wish lists.
But what if you aren't looking to move but simply improve? The experts at the UK's leading garden centre, Dobbies, have put together some clever tips and tricks to make the most of the space you have.
Dobbies Outdoor Living Buyer Lynsey Abbott shares six great ideas to create maximum impact in small gardens…
One big pot and a clutter-free zone
Just because your garden is small, doesn't mean everything in it has to be small too. One very large pot will add more impact than lots of small ones because it will stop the space feeling cluttered.
A bigger pot will also house more plants, so you can mix and match with flowers and herbs that complement each other and your overall colour scheme.
If you fill the garden with an eclectic mix of tiny pots and ornaments, it will soon look busy and feel smaller.
This also applies to garden furniture and features – one large furniture set, or garden ornament, is far more effective than a collection.
Small but perfectly formed for relaxation
Do you often wish you had an extra room in the house? Somewhere to shut the door on household chores, or to unwind after work with some screen-free relaxation time? A small garden can be perfectly formed just for this.
Create your very own relaxation or reading zone, with a single piece of outdoor furniture. A garden daybed, snuggle armchair or single hanging egg chair are all ideal options.
Layer up your seating with outdoor cushions for extra comfort – or borrow some from the living room! Hang outdoor lights or place solar stakes around the border of the furniture to create a cosy snug. Then you can curl up on a summer evening to enjoy your very own slice of garden bliss!
Colour it in
One of the most cost-effective ways to instantly transform a space is to paint the fence. Neutral colours like whites or creams will lift a dull area and create a sense of space. Perfect for shady gardens, plants and flowers will pop against a white backdrop.
If you have a south-facing plot, avoid using bright white shades as they will be blinding in direct sunlight.
Do you want your outdoor space to be somewhere you can have a little more fun and experiment with colour? Even in a small garden you can do this, but stick to a colour theme to avoid it looking too busy. Bright colours will give an invigorating, party feel.
If you are choosing a brighter shade as a backdrop, then choose light-coloured accessories or furniture in materials like natural wood or white metal.
Seeing double
Hang garden mirrors to create the illusion of space. These are a great way to create a focal point and make the overall space feel bigger.
Use one large mirror against a back wall or fence, or place smaller mirrors in clever spots, such behind a flower bed – the mirror image tricks the mind into thinking that there is more of the garden to see, effectively doubling the amount of blooms on display!
When using the space in the evening, mirrors positioned near a seating or dining area will highlight the warmth of lighting and candles.
Space-saving trees
Small trees are perfect for tight spaces and they can help to create privacy if your garden is overlooked.
One of the best space saving trees is an Espalier fruit tree. Planted flat against a wall or fence, they not only look stylish and produce delicious fruit, but are also easy to maintain once planned. You will be rewarded with blossom in spring, followed by tasty fruit from August to October.
Grow up – use the walls
Making use of vertical space is the best way to expand a small garden and add another dimension and layer of interest. Save on ground space by planting upwards.
If you want to fill gardens with colour without cluttering up patios or decking, hanging baskets are the perfect solution. Match your plants' colour theme for a display with impact, and place them near the house by the back door.
Alternatively, you could use multiple baskets or pots and hang them along a fence.
Great things about baskets are:
They are a quick colour fix of easy-to-prune blooms
You will save using ground space for flower beds
They are also a great solution for balconies
A living wall is easy to install and maintain. It can be made as big or small as you like, perfect for a small space.
Creating a super-stylish backdrop, a living wall can also be used to grow herbs, adding a lovely fragrant scent with rosemary and thyme.
All 68 Dobbies stores across the UK are now open, adhering to strict social distancing rules. To browse the full online range or find your nearest Dobbies store.