Sumptuous Strawberry Cake For Wimbledon Season
---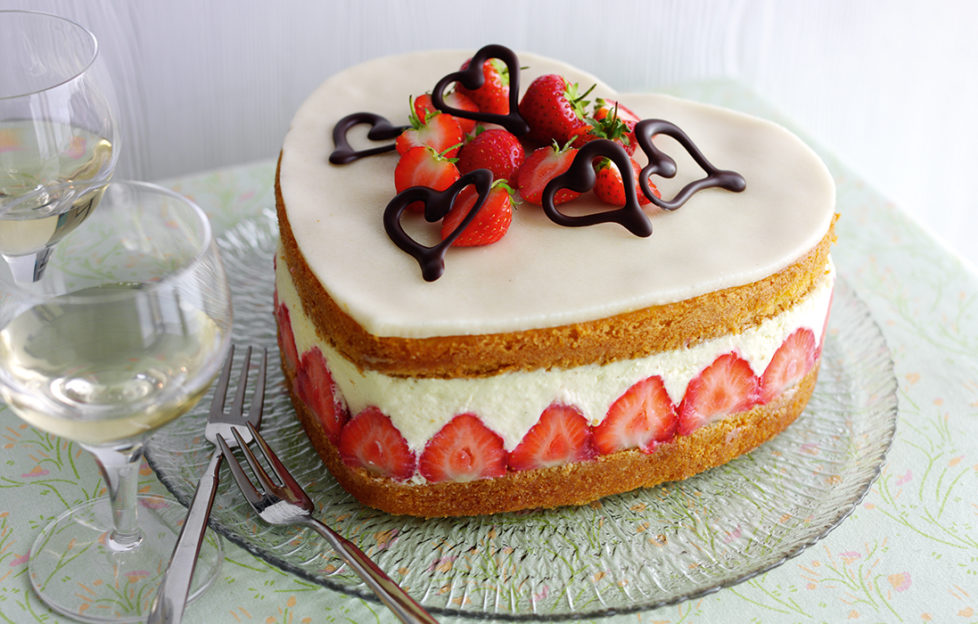 You'll win game, set and match with this impressive-looking cake. It's a classic French fraisier cake, but with a few short cuts, so you needn't be a master baker to make this version!
Serves: 10 
Preparation Time: 45min
Cooking Time: 35-40min + 4hrs chilling
Preheat the oven to 170°C (150°C fan) Gas 3. Grease a 20cm heart-shaped springform tin with a little oil, then line the base with a piece of non-stick baking paper.
Add the margarine, sugar and flour to a large bowl, electric mixer or food processor. Add the baking powder, lemon rind and eggs and beat together until smooth.
Spoon into the lined tin, level the surface and bake for 35-40min until well risen, golden brown and a skewer comes out cleanly when inserted into the centre.
Cool for 10min. Remove the tin and paper and cool on a wire rack.
When the cake is cold, slice in half horizontally, trimming the top level if it is a little domed. Spoon the limoncello over the cut sides. Wash the cake tin and line the base and sides with 2 strips of cling film. Put one cake half in the tin and pull up the cling film to overhang the tin slightly.
Sort the strawberries. Halve the medium ones and arrange on their ends around the edge of the cake in the tin, so the cut edges press against the cling film. Slice the larger ones and cover the base cake in an even layer.
Add the water to a small heatproof bowl, sprinkle over the gelatine powder and soak for 5min. Stand the bowl in a saucepan of just simmering water. Heat until the gelatine dissolves.
In a bowl, whisk the cream until it forms soft swirls. Fold in the custard. Fold in the dissolved gelatine in a thin, steady stream. Pour the custard mix over the strawberries in the tin. Chill for 10min until just setting.
Add the second cake half to the tin and press lightly. Gently spread the apricot glaze or jam over the top. Roll out the marzipan on baking paper and cut a heart, using the tin. Lift onto the cake and press into place with fingertips dusted with icing sugar. Chill for 4hrs.
When ready to serve, unclip the sides of the tin, peel off the cling film, then carefully transfer the cake to a plate. Decorate with small strawberries and piped chocolate hearts, if liked.
Cook's tips
Not a fan of marzipan? Top the cake with melted chocolate, or dust with sifted icing sugar instead.
To make chocolate hearts: melt 50g dark chocolate in a bowl over a saucepan of gently simmering water. Spoon into a piping bag made of baking paper, snip off the tip then pipe heart shapes over baking paper on a tray. Chill until set, peel off paper and add when ready to serve.