Alzheimers Memory Walk: Jeanette and Malcolm's Story
---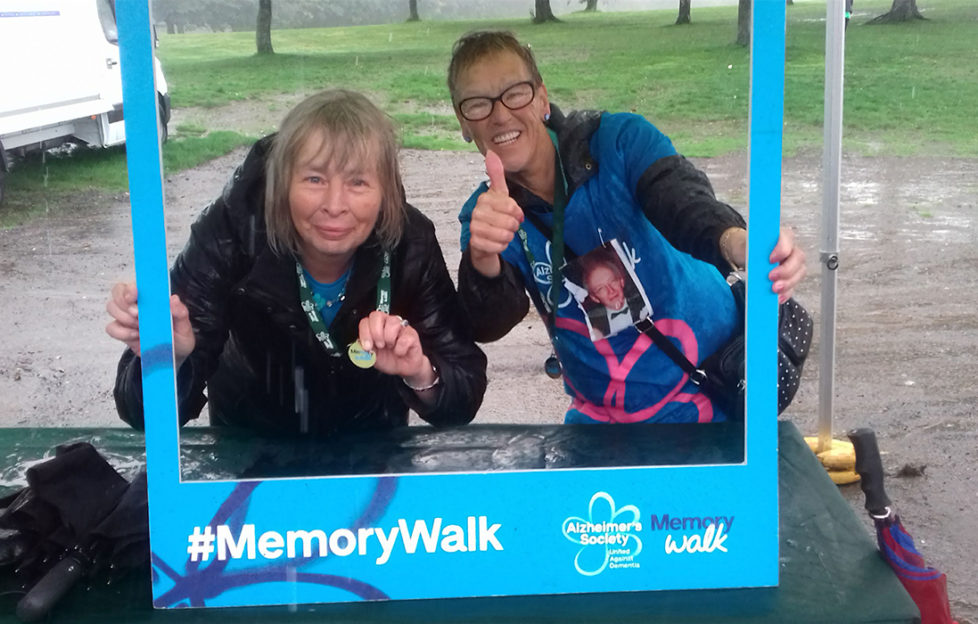 Jeanette and her friend Carol at last year's Memory Walk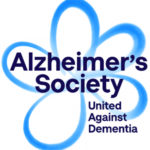 Supporters of Alzheimer's Society all over the country are gearing up for the annual fundraising Memory Walks. Jeanette – who lost her husband Malcolm to the disease – explains movingly why the charity is a cause very close to her heart and how fundraising is a positive experience for her.
What's your story? Please give us an overview of your experience.
"At first it was the little things. He suddenly couldn't tie a tie, and when we went to a hotel spa for a holiday, he began to sink. He'd forgotten how to swim.
"He was signed off work for depression and I knew something was wrong for over a year before his diagnosis. There was a lot of back and forth with the doctors because they couldn't believe someone so young could have the disease, but a little part of me knew.
"It took quite a while to get a brain scan because he was afraid of the machine. We eventually got a confirmed diagnosis when he was fifty-six.
"At every group, he was the youngest person there"
"That same day he went down to the Stockport Alzheimer's Society to get all the information he could, and for a while he did pretty well at home. He was always the baby of every group we went to and always the youngest person there so I think people took a shine to him.
"We had a carer who would come and visit. Then one day I came home and knew something was wrong.
"He collapsed in my arms and was rushed into hospital. He was there for three months and needed rehabilitation.
"We were told he couldn't come home – and that he'd never walk again.
"From there he went into a care home and with the help of some carers, I helped him to walk again.
Corned beef and profiteroles
"He could walk for another year and would even come home once a week for tea. I'd always cook him corned beef and profiteroles, every week.
"Unfortunately, Malcolm developed epilepsy from the Alzheimer's. The seizures got so bad he was fighting for his life. He was transferred to a nursing home to help better cope with this, and he lived there for six years.
"I visited him every single day, from morning through to evening. He never forgot me – we had a really strong connection and I was pleased the home respected that.
"They let me do as much as I wanted and left me alone to dress and shower him – I could always call them if I needed help.
"Then the seizures got bad again.
"On Remembrance Sunday in 2018 he'd been fine in the morning then suddenly deteriorated. He had a DNR [Do Not Resuscitate instruction] and they called me to ask what I wanted them to do.
"I thought about it long and hard – he'd fought and battled for so long.
"He lived until the Thursday and I was there with him. I whispered 'you can go, I'll be all right' in his ear and he opened his eyes and looked at me. He died then, in my arms.
Have you been helped by Alzheimer's Society?
"When Malcolm was diagnosed, he went to the Stockport branch of Alzheimer's Society that very day. They provided him with all the information he wanted and helped me get the support I needed too.
"A representative would also visit the care home and it was nice to speak to someone who fully understood what Malcolm and I were going through. She was a very reassuring presence.
"After he passed, they arranged bereavement counselling for me and people from the society came to the funeral. He was loved by so many, but I was really touched that they came.
Media, mud and medals
"I went to Manchester University to do some filming for a dementia research piece and have written a newspaper article about my experiences. I have taken part in lots of different fundraising campaigns, including Cupcake Day and GLOW.
"I do the Memory Walk every year. We had a bit of a mishap at the last one as it was pouring with rain and got so muddy they had to cancel it! We still showed up and even got a medal but it's quite funny looking back.
"Malcolm knew we were doing the walks when he was in the care home and he was so proud. When I got back, he would want to wear the medal and would keep it afterwards.
"I love doing them because you get the chance to chat to other people and hear about their reasons for walking. It's not just a day to raise money, it's a day to think about the illness and the person you're walking for.
"Afterwards I get a massive sense of achievement and I look forward to them every year."
Have you ever experienced feelings of loneliness or isolation as a result of a caring role?
"At the time I was so involved I didn't feel it at all, but I do now. Even though Malcolm wasn't at home, I could just get in the car and go and see him.
"I miss him terribly and I'll never get over seeing him deteriorate."
What's the biggest misconception about people with dementia?
"People just think you forget, but they don't realise that you forget how to do everything.
"In the end it was like looking after a child, and I was doing all the things I did as a mother.
"You don't get told the bad bits because they don't want to scare you, but I was grieving all the way through."
What do you feel when looking to the future?
"I keep in touch with a lot of the carers, and the other people I met who lost their partners too. I was involved in a lot of groups and Dementia Signpost (a local Stockport charity).
"We were our own little family and we'll always have a bond."
Due to the coronavirus, there will be no large scale organised walks this year. However, funds are needed more than ever. Jeanette and Carol will be undertaking their own fundraising Memory Walk along the canal near their homes – hopefully less muddy! – and the Society is asking as many people as possible to do the same. Find out how to get involved.