Golden Age Of Hollywood – Olivia de Havilland
---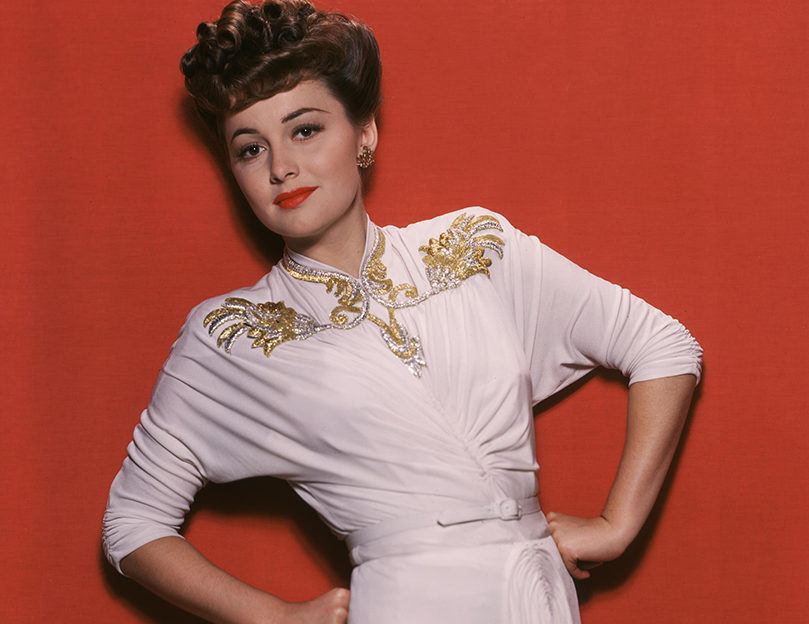 pic shutterstock: Photo by Warner Bros/Kobal/Shutterstock (5865035a) Olivia De Havilland Olivia De Havilland (c1942) Warner Bros. Portrait
Olivia de Havilland 1 July 1916 – 26 July 2020
"Playing good girls in the '30s was difficult, when the fad was to play bad girls. Actually I think playing bad girls is a bore; I have always had more luck with good girl roles because they require more from an actress" Olivia de Havilland
In Her Blood
Acting legend Olivia de Havilland's story began in Tokyo, Japan in 1916 where her British father Walter (a relation of aircraft pioneer Geoffrey de Havilland) was an English professor and patent attorney. Acting was in Olivia's blood; her mother Lilian was an actress and Olivia's younger sister also became an Oscar-winning actress, as Joan Fontaine. Settled in California following her parent's divorce, Olivia loved acting in school dramas. Her performance in A  Midsummer's Dream at Mills College, Oakland got the attention of director Max Reinhardt; a part for her in a film version followed in 1935.
Pioneering Woman
Warner Bros. signed Olivia to a 7-year contract, with 3 more film roles in 1935, including swashbuckler Captain Blood, starring with Errol Flynn (they co-starred in 8 films). Often cast as the demure heroine, her outward fragility could belie steely resolve beneath, never more evident than as Melanie Wilkes in 1939's Gone With the Wind (for which Warner loaned her to David O'Selznick), which gained her a Best Actress nomination. Back at Warner, she challenged the studio over her undemanding parts, resulting in a 6-month suspension. When this time was added to her contract, she sued the studio and won; the 'de Havilland Decision' was a landmark victory.
The Glory Years
By 1942 Olivia had been nominated twice for Best Actress, for 1939's Gone With The Wind and for Hold Back the Dawn, 1941. She lost on both occasions; to co-star Hattie McDaniel in 1940 then to her sister Joan Fontaine, who won the 1942 award for her role in 1941's Suspicion. However despite lost time during her court case and convalescence after an appendectomy, Olivia was back on screen by the mid-40s, winning Best Actress Oscars for 1946's To Each His Own and 1949's The Heiress. After My Cousin Rachel, 1952, her career took a backseat to her role as wife and mother. The 60s brought Light in the Piazza and Hush Hush Sweet Charlotte. Her last movie was The Fifth Musketeer, 1979.
Affairs of the Heart
Olivia admitted to a crush on co-star Errol Flynn. "I had a very big crush on Errol Flynn during Captain Blood. I thought he was absolutely smashing for three solid years, but he never guessed." Other significant leading men in her life included actor James Stewart, tycoon Howard Hughes and director John Huston. She married writer Marcus Goodrich in 1946. The couple had a son, Benjamin and divorced in 1953. In 1955, Olivia married Pierre Galante, whom she'd met at the 1953 Cannes film festival, and moved to Paris. Their daughter Gisele was born in 1956. Olivia remained in Paris until her death on July 26, 2020.
The Feuds
Stories of rivalry between Olivia and sister Joan Fontaine are legendary. Joan pipped Olivia to the Best Actress Oscar in 1942 for Suspicion. Joan claimed abusive behaviour by Olivia in her memoir No Bed Of Roses (dubbed by Olivia "No Shred of Truth") and Olivia famously snubbed Joan at the 1947 Oscars, following Joan's criticism of Olivia's husband. While Olivia largely kept a dignified silence, Joan was dismissive of the stories, putting them down to the press. Olivia is no stranger to off-screen drama; 2017 saw her lose her case with the creators of TV drama Feud:Bette And Joan (she regarded the portrayal of her as inaccurate), but was honoured by the Queen, becoming a Dame of the British Empire. She was a survivor. Her secret? In her own words, "love, laughter and learning".