50+ Skincare Q and A
---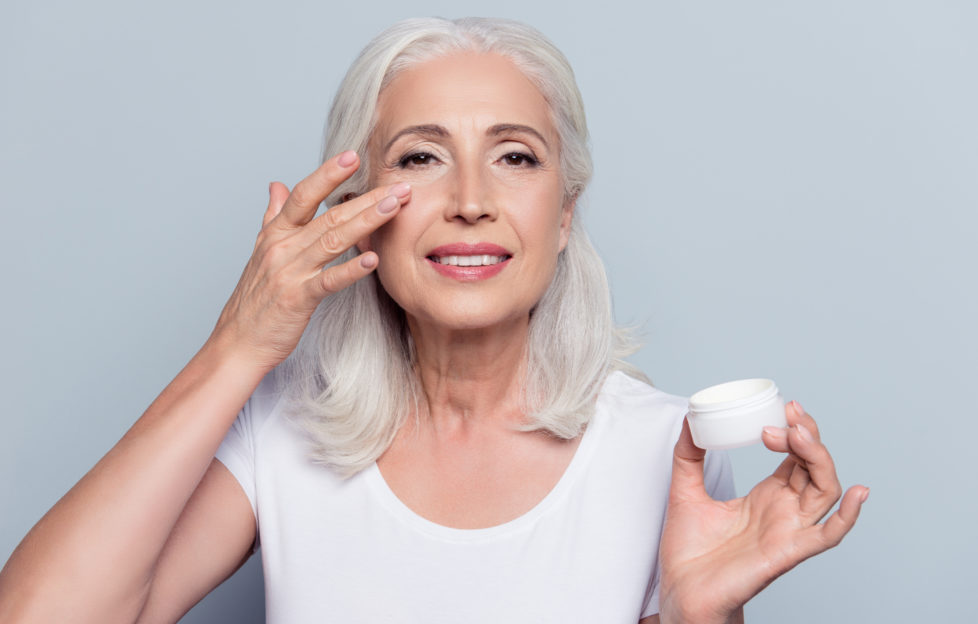 pic shutterstock
We asked the Boots No7 Skincare Experts for their top skincare tips for the over 50s…
Q: What should your daily morning skincare routine be?
In the morning  cleanse ywith a gentle yet effective cleanser, followed by a serum designed to target any skin concerns you have, then a day cream with SPF 15 5*UVA minimum to help moisturise and protect your skin throughout the day.
At night cleanse, apply  a serum and then a nourishing night cream.  Products such as retinol can form a part of your night time routine, as can masks and skin pastes; skin pastes being a hybrid between a mask and a treatment.
Q: Should facial oil be part of our skincare routine?
Mature skin can be drier than younger skin, so facial oils such as the No7 youthful replenishing facial oil with jojoba oil can help by adding oils to the skin to help lock in moisture. If you want to use a facial oil they can be applied to skin morning and/or evening before you moisturise, or in the evening mixed in with your usual night time moisturiser.
Q: Are serums essential?
Serums are different to moisturisers. They are highly concentrated with active ingredients in a fast absorbing formula and are therefore the most effective way to target skin concerns which rely on ingredients working inside the skin – peptides or retinol for example. So, if you want a product that most effectively targets mature skin concerns like fine lines and wrinkles, uneven skin tone or a lack of firmness, choosing a serum designed and clinically proven to target these signs is an essential addition to your skincare regime.
Q: Is retinol good for mature skin?
Retinol is a great ingredient for mature skin as it can target many concerns that people have as they age. It is thought of as an all-round skin transformer, with many studies proving its numerous benefits. In fact, our new clinically proven No7 Advanced Retinol 1.5% Complex Night Concentrate offers 10 skin benefits including targeting lines and wrinkles and uneven skin tone, and improving firmness, surface texture and radiance. With retinol though, use only at night and follow with a nourishing night cream, plus use an SPF 15 (minimum) day cream during the day.
Q: What are the key face cream ingredients we should look for?
There are many additional ingredients that can be added to face creams to give additional benefits to moisturising. For example, you can find protective antioxidants which help protect skin from pollution-induced oxidative stress, hyaluronic acid for an extra hydration boost, soothing ingredients or even peptide technology to help target wrinkles. I would recommend looking for what proven benefits and ingredients face creams have and see if it matches with what you are looking for in a face cream. With a day cream, looking out for SPF 15 5*UVA protection as a minimum is recommended.
Q: Should masks be part of our regular routine?
Masks can be a great addition to your skincare routine and are perfect if you want to feel pampered.  If you are wanting a mask with the skin benefits of a treatment I would recommend trying one of the clinically proven No7 Laboratories pastes, which are a mask/treatment hybrid designed to target specific skin concerns.
Q: What about toner?
Toners can be used, but as with double cleansing, it is a personal choice if you want to tone after cleansing. Just make sure you don't dry out the skin or damage the skin barrier. If you have mature skin that is on the drier side and want to tone, I would recommend looking for non-drying toners (eg Liz Earle Instant Boost Skin Tonic which is an alcohol free, non-drying formula).
Q: Are cleansing tools effective?
Cleansing tools are designed to provide a deeper cleanse than manual cleansing. For example the No7 Cleansing Brush has been shown to cleanse skin 3x more effectively than manual cleansing. However, I wouldn't recommend using a cleansing brush if you have very dry or sensitive skin.
Q: Do we really need eye cream and how should we apply it?
Eye creams are specifically designed for the delicate skin around the eye and can target issues relating to this area including dark circles, puffiness and fine lines and wrinkles, depending on the product and ingredients. Eye creams should be dotted around the eye area.
Q: If your face cream already includes SPF, do we need sunscreen on top?
If you are going to be outside and spending time in the sun I would recommend applying a sunscreen in addition to your normal day cream, especially in the spring and summer months, Daily Moisturisers with SPF are good for incidental sun exposure of a few minutes  as we walk around between meetings or to have a quick browse around the shops  but if you will be spending a prolonged time outside especially between April and November  always apply a sunscreen over the top
Q: Does it matter if we mix brands with our cleansing/toning/moisturising routine?
It is fine to mix brands with cleansing, toning and moisturising if you have found products you like from different brands. Although sometimes brands will have tested products in a regime together.
Q: What is your top skincare tip for mature skin?
I have two top skincare tips for mature skin.
As with all skin ages I recommend using a day cream with SPF 15 5* UVA minimum every day to help protect the skin from incidental sun exposure.
I would also recommend trying a serum if you haven't already, looking for a serum that targets mature skin concerns. No7 restore and Renew Face and Neck Multi Action serum is perfect for mature skin as it is clinically proven to address 5 key signs of ageing on the face and the neck, the neck and dec often being neglected as people focus on the face with their skincare.