My Passion For Fashion
---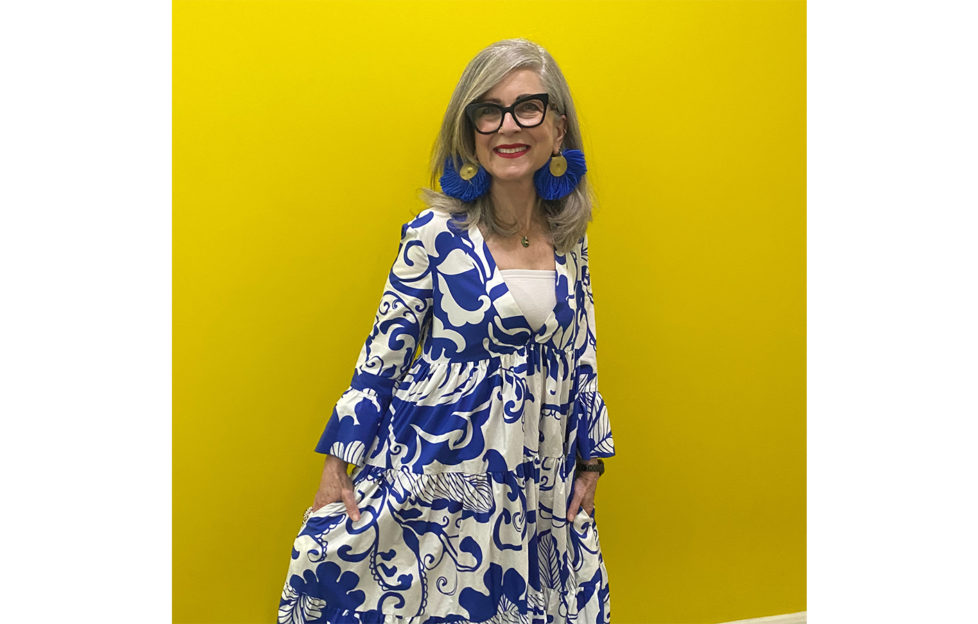 Melanie Cantor
Former PR guru and celebrity agent Melanie Cantor recalls with joy the clothes that have made her feel wonderful, and reveals the people whose personal style she admires… 
Fashion First
From the moment I was able to earn a fiver (Saturday job at Dolcis – platforms were all the rage) I immediately spent it on clothes.  My mother and I would get on the 28 bus to Kensington Church Street, start at Bus Stop (the shop) and work our way down through Mr Freedom, Biba and Kensington Market.
My purchases in the early seventies would stand the test of time today. Sadly they did not survive. My favourite Mr Freedom long sleeved tee, decorated with velveteen letters reading 'God Bless Woolworths' was worn until the words were barely visible. My puff sleeved mulberry coloured wool top from Biba would be an asset in my current wardrobe but shrank horribly when I decided to risk washing it (dry clean only was no lie).
I can't say I miss the Mr Freedom velvet hotpants in pink and blue check.  On the other hand, I loved the loon pants from Ken Market which cost about £1 a pair and were bought in multiple colours. My mother hated them.  The colour ran like crazy in the wash, a red pair once turning everything pink – she could have killed me.
Personal Style
Both my mother and father loved clothes.  They were always immaculately dressed (my mother looked good even in a tracksuit), so maybe it was inevitable that I would get the style gene.  That said, my brother seems to have been overlooked (sorry bro but it's true).  And even though I've always loved fashion, I think it has taken time for my personal style to evolve.
It's now very definitely mine, no longer influenced solely by the trends of the day but by what makes me feel good and how I put clothes together. I love messing things up.  Pink with red, leather with velvet.  I'm not a person with a monochrome wardrobe; the safe place we often turn to.
I love colour, I love print and texture in the same way I love those things when decorating a home.  I also enjoy mixing designer with high street which is something I've only truly been able to revel in since discovering the website Vestiaire.
Game Changer
Vestiaire was a game changer.  It allowed me to enjoy owning designer labels normally well out of my credit card range. And even though everything is second hand, it is well vetted for quality by the site.  Trawling through, you can find pieces you might never have seen in the UK shops because sellers come from across the globe.  Plus you can haggle – in a high end way of course!
But if you're tempted to visit, go with caution. You can't send anything back.  You have to relist. You need to be confident about your size and what suits you, or risk your wardrobe being overloaded with costly mistakes.
I've gained that confidence.  I can mix my Gucci with my Zara, my Dolce & Gabbana with my Stradivarius. Fashion is affordable, style can be learned.  And you're never too old.
My Top Tips
It's a total myth that when we hit our fifties we become invisible.  That misconception is a hangover from previous generations which needs to be ditched.
Wear whatever you want in a way that makes you feel good, because if you feel good you will carry yourself in a way that says you look good.  Now that you're old enough, why not be bold enough?  which was actually the inscription on a Valentine's card I got when I was 17.  I still don't know who it was from.
And if you don't enjoy clothes the way I do, just apply some red lippy.  Red lipstick and an eyebrow pencil are my go-to essentials even if I can't be bothered to apply full make up.  On lazy days, those two things make enough difference.
Then there's hair.  Defying all the odds, since embracing my grey, I've been noticed far more than when I was a blonde.  On turning 60, grey hair fully fledged, I was scouted by a casting agent for a Dove campaign.
I've now been a Dove real model twice, never expecting to be any kind of model (apart from a role model to my sons, of course).  And to top it all, last year I celebrated becoming a debut novelist.  If you needed proof that age is meaningless, look no further.  There are no rules – you're only as old as you want to be. Long hair short hair, who cares?
Wear It Now
So what are you waiting for? We're living through a pandemic. The time is now. Dust down your favourite outfit, the one you've been saving for best, and wear it to the supermarket.  Wear it around the house.  Dress like no one is watching.  You'll be surprised how good it makes you feel.
My Style Icons
I love Diane Keaton.  She is quirky and confident in whatever she wears.  Even in her seventies she looks terrific.  Some of her outfits are bonkers but she's Diane Keaton.  She breaks all the rules – that's my kind of bonkers.
Pru Leith has her own style and it works.  Her confidence shines through in whatever she wears and she just gets better and better. I love her use of colour, her joyful necklaces and her various pairs of glasses.  She is elegantly youthful.
I've only recently become aware of Lucinda Chambers via her website Collagerie.com which is filled with everything I love from fashion to interiors to beauty.   Of course she's always been a legend in the fashion world (she was at Vogue for ever) so I'm glad she's become more front of house. Her personal style is classy boho and the site mixes up everything from high end to high street.
I first noticed Olivia Palermo when she kept popping up on Pinterest.  I use Pinterest a lot when I'm not on Rightmove and have several boards!  Very useful when you're procrastinating over writing!  Olivia is supremely elegant.  Her label on Google is 'socialite and influencer' so everything she wears is probably supremely expensive but we'll forgive her for that!
© Melanie Cantor 2020
Melanie Cantor's debut novel Life & Other Happy Endings is available now in paperback