Captain Tom To Appear On Piers Morgan's Life Stories
---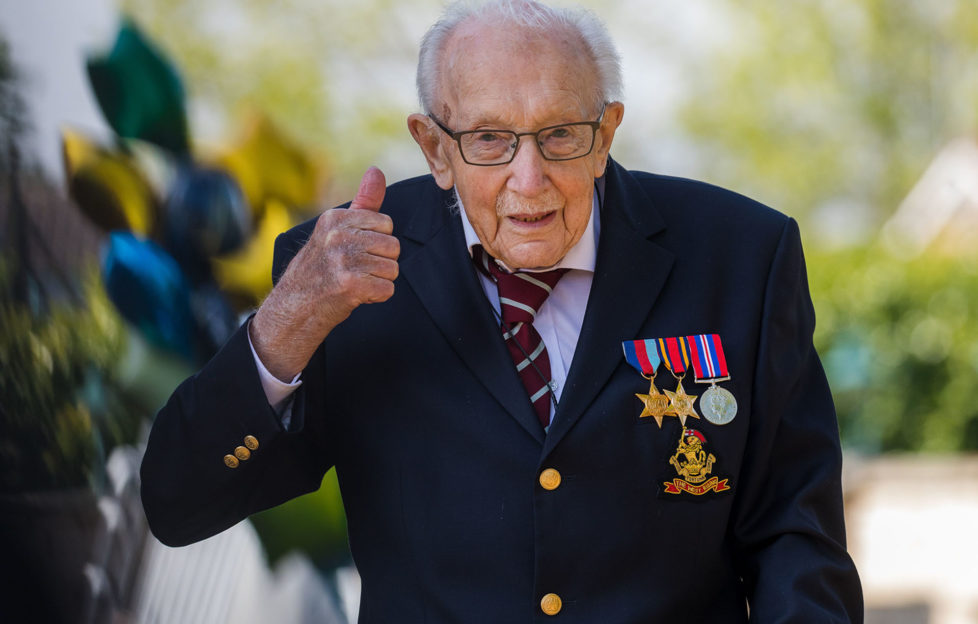 Captain Tom Moore reacts after completing the 100th length of his back garden. Pic: VICKIE FLORES/EPA-EFE/Shutterstock
Covid-19 hero Sir Captain Tom Moore will appear on a new episode of Piers Morgan's Life Stories to talk about his incredible life and NHS fundraising.
The 100-year-old veteran managed to raise almost £33 million for the NHS by doing laps of his garden in Marston Moretaine, Bedfordshire.
He'll also be discussing his time serving in India and during the Second World War.
"He's such a remarkable man who nobody had ever heard of six months ago, and now he is one of the most famous people in the world," Piers says. "He has been knighted, he has been promoted to Colonel, he's received a Pride of Britain Award, he's had the world's great and good ring him up and write to him."
Captain Tom performed the feat just before his 100th birthday and recently received a Knighthood from the Queen in a special outdoor ceremony at Windsor Castle.
"I know when I was campaigning to get Captain Tom a knighthood – which turned out to be very successful very quickly! – when I did that, I asked him what he would say to the Queen if he met her?," Piers recalls. "He said he'd say: 'this is a marvellous moment, you are a magnificent lady and we both served in your father's army'. It means a lot to him I think his military background."
The latest ITV episodes will also feature former footballer Vinnie Jones, a personal friend of Piers. It will be the first time a guest has returned to the show.
"The reason we decided to do this with Vinnie is he has this remarkable book that he has brought out about his wife Tanya, who very sadly died quite recently," Piers explains. "I knew Tanya for a long time and observed at first hand the extraordinary marriage that they had, through thick and thin for many years, and then ultimately their wonderful love story ending in complete tragedy."
Vinnie started his professional life as a hod carrier and went on to win to the FA Cup and captain the national Welsh team. He's also made more than 60 movies.
"He is a remarkable character, but it will be a very different Vinnie who I interview ten years on from our first Life Stories encounter," Piers says. "He has now been tee-total for seven years, and his beloved wife has so sadly died, he has a very different life now."
Piers Morgan's Life Stories starts on ITV on Saturday, September 5 at 10pm. The first episode will feature Vinnie Jones.