Anita And Laura Give Up Their Clothes For Good
---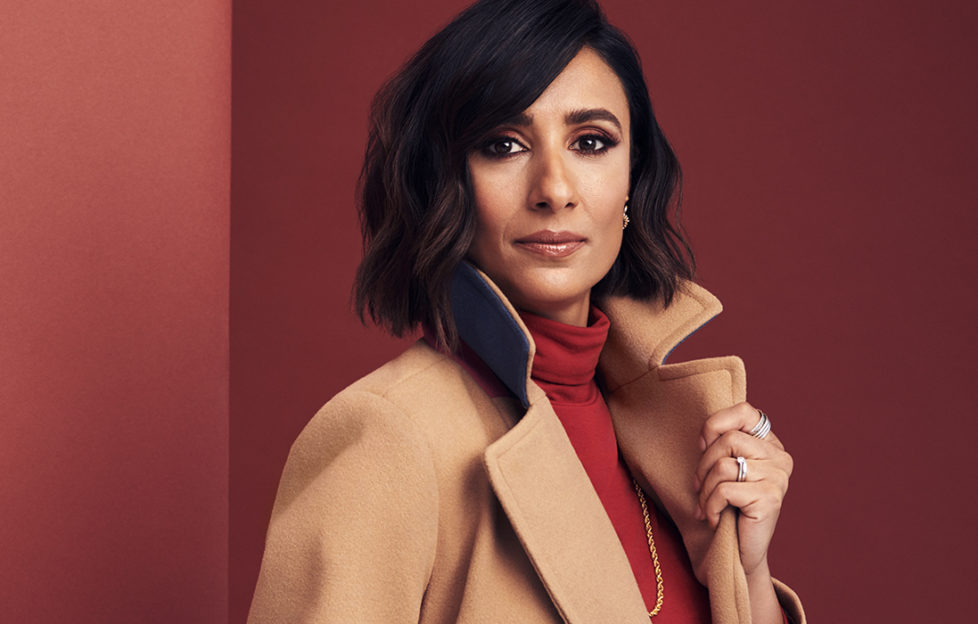 All photographs: Jason Bell
TK Maxx has today launched its latest Give Up Clothes for Good campaign, fronted by popular TV presenters Anita Rani and Laura Whitmore.
The campaign encourages people to donate their pre-loved quality clothes, as well as accessories and homeware, to raise vital funds for Cancer Research UK for Children & Young People.
Laura and Anita were captured by world-famous photographer Jason Bell in a high-fashion autumnal photoshoot. The outfits worn on set by the pair will also be donated to the initiative.
Many people will have had a clear-out during their extra time at home. The Give Up Clothes for Good campaign asks them to hand in good quality second hand items at their local TK Maxx store.
TK Maxx will ensure they  reach Cancer Research UK shops safely, so they can be sold on and enjoy a second life.
The pandemic may have slowed Cancer Research UK down, but the charity's work will not stop. Children and young people are still being diagnosed with cancer every day.
Laura Whitmore, who presents Love Island, said, "Give Up Clothes for Good is such an incredible initiative. This will be my third year getting involved.
After being in lockdown for so long, many of us will have been lounging in nothing but our PJs and sportswear. So there will be thousands of pre-loved items of clothing just sitting in our wardrobes that could go to better use and raise money for life-saving research.
"A tidy cupboard also means a tidy mind, so I would urge people to dig out their clothes and give them to this great cause."
A simple act that can go a long way
Anita Rani, who has presented many shows including the BBC's Country File, said, "It's been so moving watching the resilience of the nation during the coronavirus outbreak.
"I would love to encourage people to continue showing their kind spirit by donating their pre-loved clothes. Something so simple can go such a long way.
"It can have a huge impact, not just on the planet, but also on the lives of children and young people affected by cancer."
The year-round Give Up Clothes for Good campaign also has impressive environmental benefits, diverting garments from landfill.
Since it began 16 years ago, more than 1.7 million bags of clothing and household goods have been collected.
More than 8,500 tonnes of pre-loved items that have been given a second life.
This equates to a saving of over 190,000 tonnes of carbon emissions.
Since 2004, TK Maxx has raised over £37 million for Cancer Research UK's work into cancers affecting children and young people.
Each donated bag could raise up to £25 for Cancer Research UK for Children & Young People when sold in Cancer Research UK shops. TK Maxx accept donations all year round at special donation points in stores.
A centre of excellence for brain tumour research
As the largest corporate supporter of Cancer Research UK's research into children's and young people's cancers, TK Maxx has also committed to raising £3m through customer donations, fundraising and merchandise to support The Cancer Research UK for Children & Young People Children's Brain Tumour Centre of Excellence.
The initiative brings together expert researchers from across the globe to accelerate the development of better treatments, improve survival and better the quality of life for children diagnosed with brain tumours.
Deborah Dolce, SVP Group brand and marketing director at TK Maxx said, "The more people that get involved in Give Up Clothes for Good, the more money we can raise for life-saving research into children and young people's cancers.
"By taking part, not only are you helping more children and young people survive cancer. You're also giving your pre-loved items a second life and doing your bit to help the environment.
"Please do dig deep in your wardrobes and cupboards and drop off those pre-loved items at TK Maxx. We have careful safety processes in place throughout our stores, and we will make sure your items safely reach Cancer Research UK shops.
"Let's help more children survive cancer."
"Monumental achievements"
Caro Evans, Corporate Partnerships Director at Cancer Research UK said, "Give Up Clothes for Good has been monumental in its achievements.
"We'd like to extend a huge thank you to TK Maxx and everyone who has donated over the years.
"Children and young people are still being diagnosed with cancer, which is why we need your continued support.
"You can donate items all year round. So we would love to encourage as many people as possible to get involved in Give Up Clothes for Good.
"Your donations could help more children and young people survive cancer with a good quality of life."