Eight New Crime Titles Launch Canelo Crime Imprint
---
Canelo Crime launches today with eight exceptional new titles – and exciting extracts read by the authors.
Canelo, one of Europe's fastest growing publishing companies, has announced its first print imprint.
The list brings together gripping, original and atmospheric thrillers, police procedurals and historical mysteries from some of the most exhilarating and promising writers of the genre.
There are books by established reader favourites Rachel Lynch, Nick Louth and Sheila Bugler. Alongside them are exciting, growing names such as Bloody Scotland Debut Prize shortlisted author Marion Todd and the critically acclaimed New York-based novelist Radha Vatsal.
All titles are £8.99, paperback original.
Lies To Tell | Marion Todd
The latest thrilling and atmospheric new novel in the critically acclaimed DI Clare Mackay series. Marion Todd is an exciting new voice in Scottish crime fiction.
Early one morning, DI Clare Mackay is instructed to meet her boss in secret and he takes her to a remote location in the Scottish hills. There, she learns about a major security breach at Police Scotland. An ethical hacker will be based at the St Andrews station to find the source. Clare can tell no one of the hacker's true identity.
Meanwhile, Clare has a witness in protection and a murder investigation underway. A friend of the victim is terrified of someone. But who? Clare realises too late that she has trusted the wrong person, and put those she cares about in grave danger. Will it be a deadly mistake?
---
Lost Cause | Rachel Lynch
The latest gripping instalment in the DI Kelly Porter series, which have now sold almost half a million copies
One cold morning, the butchered remains of a woman are discovered. DI Kelly Porter knows this is the work of a monster. One who has killed before – and will kill again.
Kevin Flint has a reputation for being odd. He creeps around hidden corners of the Lake District and witnesses depraved acts. What he sees excites him. But will he cross the line from bystander to perpetrator?
Kelly is certain that the answers lie with Kevin. But complications in her personal life are a distraction. Will she miss her chance and end up with blood on her hands?
And will she ever be the same when it's over?
---
A Front Page Affair | Radha Vatsal
A vivid and engaging historical mystery debut. It's 1915 in New York City and an intrepid young journalist is about to get her biggest story yet…
The Lusitania has just been sunk. Headlines about the Great War are splashed across the front pages.
Yet instead of reporting the news, Capability 'Kitty' Weeks is stuck writing about society gossip on the Ladies' Page – until a man is murdered on her beat.
Kitty is determined to prove her worth as a journalist, and by chasing the facts she becomes caught in the midst of a wartime conspiracy. One that threatens the privileged life she has always known… and the security of the United States.
---
When The Dead Speak | Sheila Bugler
Having developed a strong following in her native Ireland, Bugler returns with the second novel in her Eastbourne-based series featuring intrepid journalist Dee Doran.
When a dead body is found at an Eastbourne church, local journalist Dee Doran is intrigued. Especially when it is revealed that another young woman was discovered in the exact spot sixty years ago. But what is the connection between the two?
The police advise Dee to keep out of their investigation, but her instincts tell her there is a big story here.
As she starts asking questions, Dee finds that the answers all point to the same conclusion – someone is keeping secrets and will do whatever it takes to keep them safe.
---
The Body Under The Bridge | Nick Louth
A taut and suspenseful crime thriller with an original twist. The latest in the DCI Gillard series which have sold half a million copies to date.
When a missing person case lands on DCI Craig Gillard's desk he isn't sure why he's involved. It seems like a routine disappearance that doesn't require a senior detective.
Until he learns the woman's father has political connections, and the British Home Secretary is demanding answers.
Nothing about the investigation is simple. How does a person simply vanish? The trail runs cold and the pressure is on.
Then it becomes clear that the perpetrator has another target: DCI Gillard himself.
Suddenly the detective isn't just running the case, he's part of it.
---
Small Mercies | Alex Walters
Drawing on the author's experience working with the police and National Crime Agency, a compelling new detective series set in the Peak District.
DI Annie Delamere is off duty and enjoying a walk on the Peak District's vast moorlands when she stumbles across a mutilated corpse.
Annie is put in charge of the case, but soon her personal life proves a distraction when her partner, the local MP, confronts a group of far right extremists – and almost pays for it with her life.
When more murders occur, Annie comes under increasing pressure. But can she catch the killer and still keep her loved ones safe?
And are the crimes the work of a deranged mind – or a cover for something even more chilling?
---
Home Fires Burn | Lisa Hartley
From one of British crime fiction's most exciting authors comes the return of her best-loved character. A crime thriller for fans of L. J. Ross and Simon McCleave.
DS Catherine Bishop's life was thrown into turmoil by the most brutal case of her career, and she is still dealing with the aftermath. But her own trauma must be put aside when she attends a horrific scene of domestic violence – and murder.
The investigation brings intense scrutiny for a police department already overwhelmed by an arsonist hell-bent on destruction. And as the evidence mounts, it leads to more questions than answers.
When the puzzle pieces finally align, Catherine is yet again in grave danger. Does she still have what it takes to bring a killer to justice? Or will her demons win after all?
---
When The Past Kills | M J Lee
From bestselling author M J Lee comes another completely un-put-downable gritty crime thriller, perfect for fans of Angela Marsons, Mark Billingham and Cara Hunter.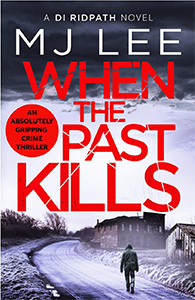 When notorious serial killer the Beast of Manchester was captured, the streets should have been safe. Except an innocent person was convicted, and only later was the culprit put away.
Now, those connected to the case are being targeted. DI Thomas Ridpath sees the bodies stack up once more.
He knows the answers lie in the mistakes made the first time round. But as he searches for clues from years ago, Ridpath risks overlooking the greatest danger of all – and losing more than he can stand.
See Canelo Crime's full catalogue here
---