Stars Reach Out To Families Coping With Dementia
---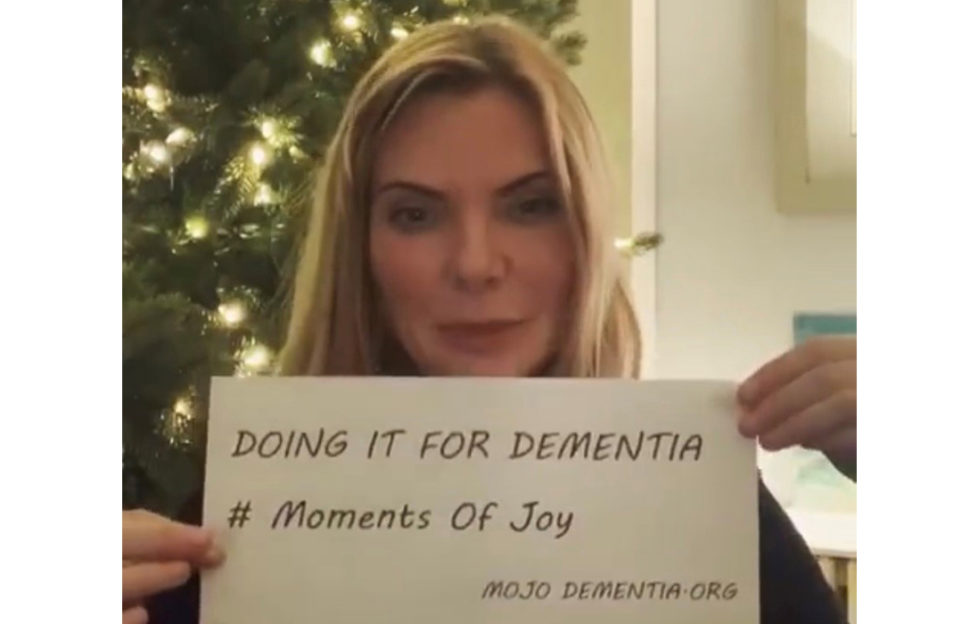 Celebrity-backed movement aims to find moments of joy during England's second lockdown
The #MomentsOfJoy movement has been launched to create positive messages for friends or family members who are caring for a loved one with dementia. The aim is to find moments of joy despite the current COVID-19 restrictions.
During lockdown, older members of the family are often most isolated, and family carers receive less support when they need it most. The #MomentsOfJoy movement encourages sending positive messages to loved ones who you can't see due to the pandemic.
#MomentsOfJoy already has the unpaid endorsement of a dozen celebrities including Sally Lindsay, Daniel Mays, Eleanor Tomlinson, Sam Womack, Chanel Cresswell, Jo Joyner, Anna Shaffer, Nicola Millbank and Luke Pritchard.
Anything that brings joy or raises a smile

The movement asks people to share an image, photo or video on social media channels that brings joy or raises a smile or reminds people of enjoyable shared memories. It's all about sending love to those you can't be with in person, or to those who need it most.
Sally Lindsay is known for her roles as Shelley Unwin in Coronation Street and Kath Agnew in BBC sitcom Still Open All Hours. In her video she said, "Older members of the family are often most isolated during lockdown, which is made even more difficult when a loved one has dementia."
Dementia is the biggest cause of death in the UK today with over 850,000 currently diagnosed cases.
Unlike with many other illnesses, however, it is the wider family who often provide the majority of primary care. There has been very little support available for them during this incredibly challenging journey.
Now, more than ever, family carers are in need of support and resources to help them deal with the challenges and frustrations of having a loved one suffer from dementia.
An app to connect carers
The #MomentsOfJoy movement was conceived by the founders of MOJO (Moments of Joy) which launched today. The revolutionary 360° dementia portal and app connects all those involved in the care of a loved one.
MOJO is aimed at reducing the stigma around dementia through a holistic support platform and positive, light-hearted philosophy.
The MOJO app provides practical tools to ensure medical treatment is monitored and reported in a simple yet ground-breaking way, and imaginative features to create a more comfortable care environment for the whole family.
John Thornhill, co-founder of MOJO, realised that technology could revolutionise dementia support. On launching the campaign, he said,
"#MomentsOfJoy is about reaching out to friends and family who you can't be with during lockdown, especially those who are caring for a relative living with dementia.
"The emotional and physical stress involved in accompanying a loved one on this awful journey can be unbearable during normal times. But when the wider family support is removed, the challenges may feel overwhelming.
"#MomentsOfJoy encourages us to think about those people in our lives. The aim is to find a way to show them that however isolated they may feel right now, they are appreciated and they are not alone."
How to get involved
Share a #MomentOfJoy on social media using the handle @mojo_dementia. For example, this could be a picture of you with an older relative, friends, family or your pet dog!
Tag three friends or work colleagues, to help spread moments of joy to those who might need cheering up the most.