Hello, Young Lovers
---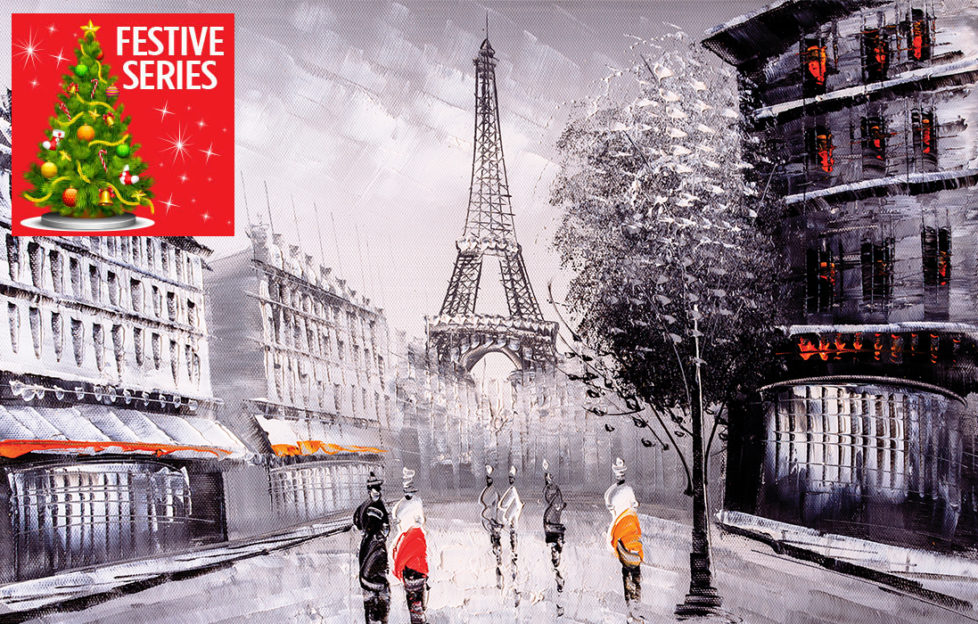 Pic: iStockphoto
We'd come to Paris hoping to recapture the magic of our youth. But had all the sparkle gone out of our marriage?
Here I am, a week before Christmas, in Paris – the most romantic city in the world. But to be honest, I'm not remotely interested in romance at the moment.
For one thing, we got soaked dragging our suitcases from the Gare du Nord.
"It's only a few blocks from the station to the hotel," I'd said to my husband, Kevin, as we hoisted our luggage off Eurostar. "We'll be able to see the fairy lights and the gorgeous displays in the shops."
It was a daft idea. We had our heads bowed against driving rain for most of the time. When we weren't dodging puddles we were trying to avoid bumping into people with our suitcases, so we didn't see the lights.
Now I've developed a splitting headache and I don't know where Kevin is.
Actually, I'm getting worried about him, wandering around Paris on his own. He only knows a smattering of French.
It's not that he isn't keen to learn the language. It's just he's more of a practical man than a bookworm.
Come to think about it, Kevin's not what I'd call romantic either. For special occasions he usually buys me "useful" gifts, like woolly mittens or umbrellas, rather than chocolates and flowers.
Still, I shouldn't complain. He does his share of the housework and he's a great father and grandfather.
I glance at my watch. Kevin's been gone for nearly two hours. The hotel restaurant was closed when we arrived, so he said he'd pop out for a sandwich while I unpacked the cases. He'd dashed out of the room before the word "baguette" had left my lips.
I pad into the bathroom to get a glass of water. As I'm running the tap I notice my contact lenses on the shelf.
Funny to think that a trip to the opticians led us here…
I was sitting in the waiting room while Kevin chose some new frames when I noticed a poster, advertising the very latest contact lenses.
It took me back to a few months before my wedding when I'd started wearing contact lenses. I found myself explaining to the optician that I'd worn them for many years until my eyes became too dry to tolerate them.
"There are a lot of different types these days," he informed me. "Why don't you give them another go? Of course…" He gave me a wry smile. "The new multifocal ones can take a bit of getting used to."
That was an understatement, I realised, as I squinted and stumbled through the next few weeks.
"They really suit you, Mum," my daughter, Ellie, said encouragingly when we met for lunch. She grinned. "Now you've got the contacts, I presume you're going to renew your wedding vows and have a second honeymoon."
"Not likely." I laughed as I imagined Kevin trying to squeeze into his wedding suit.
But, while Ellie studied the menu, I found my thoughts drifting back to our honeymoon in Paris, shortly before Christmas.
I remembered thousands of glittering lights adorning the Champs-Elysées, the decorated trees lining the boulevards, the enchanting window displays in les grands magasins.
My mouth watered as I recalled trying out some seasonal delights – foie gras, truffles, chestnuts.
This year, we'd been married thirty years. Where better to celebrate our pearl anniversary?
---
I had to unblock the sink in that honeymoon hotel," Kevin remarked when I brought up the subject that evening.
He looked up from the DIY catalogue he was studying.
"And I had to take out a loan to pay for all those coffee noisettes you drank."
He smiled at his own joke before adding, "But the Arc de Triomphe and the Conciergerie were interesting."
Now, as I gaze out of the window at lights sparkling all over the city, I am thinking that Paris is a place for young lovers – not middle-aged grandparents.
I sigh. Perhaps Kevin would have preferred a holiday destination more suited to his down-to-earth, no-nonsense mind. Like a builder's yard, I think, giggling to myself.
I'm still chuckling, a few minutes later, when Kevin walks through the door.
He looks as if he's been competing in the Iron Man triathlon.
His hair is wet and windswept, his face is flushed and he smells like damp dog.
"Where have you been?" I hurry across the room to him.
He grins and hands me a soggy bag containing a rain-washed baguette.
"I remembered you liked that French cheese with the blue bits in it," he explains. "We used to buy it from a little shop on the way to the Eiffel Tower…"
"That's miles away," I gasp.
"Exactly three point two kilometres. I bought a map."
I don't know whether to laugh or cry as I bite into the baguette. One thing I do know – a cheese sandwich has never tasted so good.
"The Eiffel Tower lights up every hour," Kevin tells me as he rubs his hair with a towel. "Apparently, it uses 20,000 light bulbs." He pulls open the wardrobe and takes out some dry clothes before adding, "I hope they're low energy ones."
I roll my eyes but before I can comment, Kevin says, "It's stopped raining. If your headache's better we could go for a stroll and soak up a bit of the atmosphere."
He gives me a bewitching smile and my heart lurches.
"You know what they say about Paris – love is in the air everywhere." He chortles. "You never know, Mary, some of it might rub off on us."
"That's a great idea," I say, giving him a peck on the cheek.
I drop the baguette wrapper into the bin and shrug into my jacket.
"Aren't you going to put your contacts in?" Kevin asks.
I shake my head. I don't need contacts, multifocal or otherwise, to see that I've got the most wonderful husband in the world.
Romance isn't all about chocolates and flowers, is it?
I'd lost sight of that for a while. But, everything's crystal clear now – thanks to that wet baguette and Roquefort cheese.
Look out for more heartwarming Christmas-themed stories from our archives, every Monday and Thursday throughout December. Pick up My Weekly magazine for lovely new short stories every week. Subscribe here and you'll receive a free gift too!