Liz Nugent talks about Our Little Cruelties
---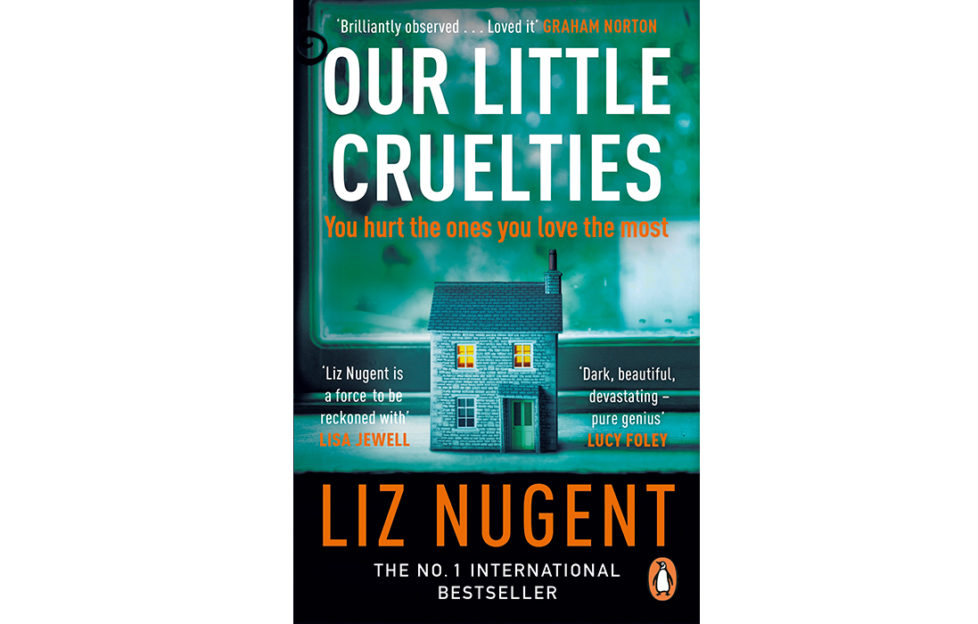 Each of Liz Nugent's three previous books has reached the number one bestsellers list in Ireland, and her latest title, Our Little Cruelties, looks set to follow. The story opens with three brothers at a funeral – one of them is in the coffin. But which brother put him there? And why? Liz reads from the opening chapter, then tells us more about her writing…
Our Little Cruelties is published in paperback original by Penguin on January 21, £8.99, and available from Amazon.
---
When did you first start writing fiction?
I'm not sure about writing fiction, but I was a compulsive liar as a child. I made up wild stories all the time. When my parents divorced, I told my little brother that Mum had locked Dad in the potting shed in our garden. I carried that on for quite a while and used to let him "catch" me smuggling food out to the shed (I was the only one with a key).
I thought being adopted was terribly romantic and I couldn't believe that my parents were so ordinary, so I told my friends that my real mother was an Italian Countess who would one day reclaim me. I could actually get a book out of the stories I made up. Maybe I will one day! Thankfully, I grew out of that phase and am now a fierce advocate for the truth.
I didn't really start writing fiction until about 2003 when I wrote a few nostalgia pieces for radio, and then a radio play, a TV play, and a few short stories for broadcast. One of those short stories nagged me until I developed it into a novel, and that became Unravelling Oliver, my first novel.
Tell me a bit about your journey to getting your first novel published?
It was annoyingly straightforward (well, annoying for other struggling writers to read about) but it wasn't without its hurdles. I sent Unravelling Oliver out to six agents, and four came back with offers of representation. I chose Marianne Gunn O'Connor, and she asked if I'd be willing to do a bit more work on the manuscript before she sent it out on submission. I worked with an independent editor to fix up the ending for about two weeks and then Marianne sent it out.
And then the rejections started to come rolling in! They all said the same thing – the editors liked it but their marketing people didn't know how to categorise it. It wasn't high concept enough to be literary fiction and yet it didn't quite fit the crime label, because there was no detective involved and it's a story told by several different narrators telling a story that runs over forty years.
I got nineteen rejections before Penguin took the bait three months later (a lot of writers wait years for this so I know I'm lucky). I think within a few weeks of publication it sneaked into the top ten bestsellers list in Ireland, and then people started talking about it and it took off! I was number one for a good chunk of that summer and it sold right up through Christmas time. I was so shocked. And delighted, obviously.
How does your new novel Our Little Cruelties start?
In the opening chapter, there's a funeral and we know that one of three brothers is in the coffin and we know that one of the other brothers murdered him but we don't know which of the brothers is dead and we don't know which brother killed him, or why. *Cue "dun dun dun" sound effect!
What was the biggest influence in the writing of Our Little Cruelties?
I'd been thinking a lot about fame and celebrity. When I made it big with my first novel, I got a lot of media attention overnight and my dad took me aside and said, "Lovey, do you want to be a writer or a celebrity? Because you can't be both…" and I realised he was right. I wanted to write books and all of the events and interviews and media appearances were just a distraction from writing.
I decided to write about this family over the course of about thirty or forty years, all touched in some way by fame. Celebrity wrecks one brother, allows another one to become an abuser, while yet another spends most of his life riding on their coat tails, and of course their mother is desperately clinging on to fame by a thread as she gets older. Her grandchild too gets caught up in it in modern day as an "influencer" and uses social media to expose some family secrets that everyone would prefer never to be revealed.
Tell me a bit about what you hope readers will love about it…
I hope they see the humour in it. Even though it's a dark tale about thoroughly dislikeable people, I did my best to lighten it up. It's certainly dark, but not grim.
Jamie Lee Curtis' boobs almost get their own chapter in the section set in 1984 when teenage boys across the world were transfixed by the briefest glimpse of said boobs in the film Trading Places. I try where I can, to counter the tragedy with some moments of comedy. So even though you might be devastated on one page, you'll be laughing on the next.
What's next? Are you working on another book?
I am working on a book, a play for the stage, and a screenplay based on Our Little Cruelties. My first two novels have been optioned for the screen too and I'm waiting to see if I will be involved in the writing process. I'm pretty busy.
Of your four books, which is your favourite?
Unravelling Oliver was my first born, and really gave me the freedom to quit a job I disliked, so he'll always have a place in my heart. Lying in Wait was the most commercially successful and was picked for the Richard and Judy Bookclub and that bought me to the attention of UK readers, so I can't be ungrateful to that book.
I don't know how Our Little Cruelties is going to do internationally. It's my youngest book so I'm worried that it will be bullied in the playground. But Skin Deep, my third novel was one that I really poured my heart and soul into, although readers didn't really latch on and it was really hard to get any publicity for it. My mum says that you always love the child that needs you the most, and I feel that Skin Deep is a little left out and neglected. That's my favourite child. Don't tell the others.
Which writer do you most admire?
All of them! It is very satisfying to see your book on a shelf in a library, but the work that goes into it is painstaking. And it's probably as difficult to write a bad book as it is to write a good one, so all writers have my admiration. I know what it's like to cry into your laptop at 7pm in your pyjamas covered in toast crumbs because you haven't got dressed or eaten properly and your characters are refusing to cooperate. I read widely across all genres and I love Jane Casey as much as I love Sebastian Faulks or Marian Keyes. They are all extremely hard workers. Writers, unite!