Diary of A Modern Gran | Homeschooling
---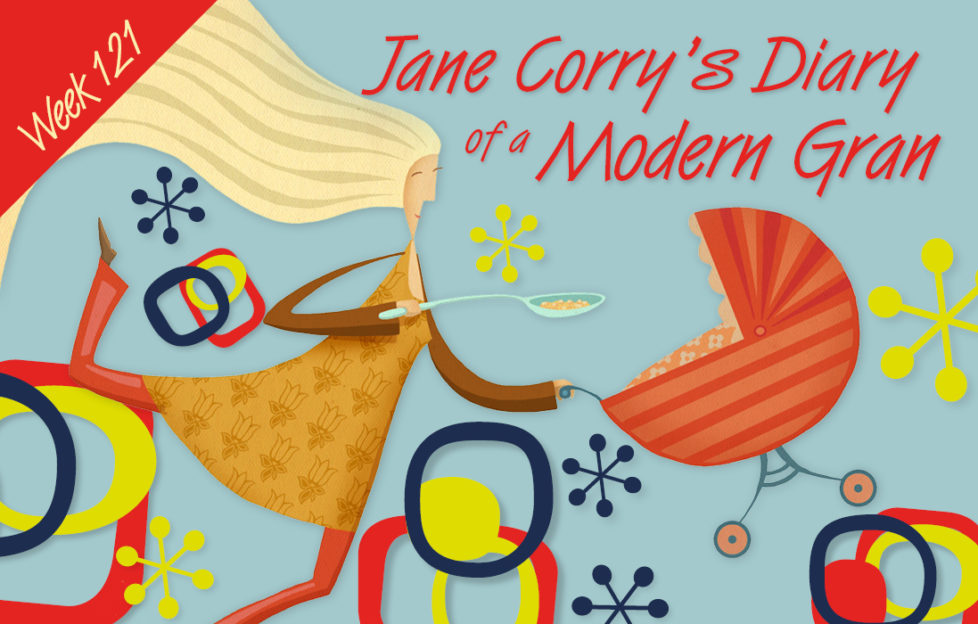 Illustration: Shutterstock
"Gan Gan!" chirps my five-year-old granddaughter excitedly when I ring in the morning. "Guess who was the first person on the moon?"
Before I can draw breath to give her my reply, she tells me. "It was a man called Neil Armstrong!"
I'm very impressed.
Rose's newly-acquired knowledge is all part of home-schooling. Her class is doing a project on astronauts. In fact, she and my daughter have even made a rocket!
But as most parents would agree right now, home-schooling is all pretty stressful – especially when there are children at different educational stages under one roof.
Add to that the fact that many mums and dads are also working from home, and the pressure can be immense.
"I only wish I could help out more," says 59-year-old Eileen from Birmingham who recently emailed me about the strain on her daughter-in-law who is home-schooling her three grandchildren under ten. "I'm part of their childcare support bubble but I'm also working myself from home."
It's not easy, is it?
Kate loves to see her granddaughters on screen
Then I happened to be chatting on the phone to one of my granny friends who mentioned that she helps to home-school their two grandchildren, aged nine and seven, every morning on Zoom!
"We haven't been able to see them since Christmas," says Kate, 66, who lives in Hampshire and is retired. "Our daughter and son-in-law both work and we really wanted to do something to help. We're not computer experts but Zoom was surprisingly easy to get to grips with. And it also means we can see them every day on screen which is really nice!"
Every morning, Kate starts with listening to each of her granddaughters read in turn. "I watch out for words which they seem to stumble over or feel unfamiliar with. At the end I make a note of them. Then I try to make up sentences with these words in them which I'll use in future sessions."
The reading "lessons" usually last 10 to 15 minutes. "Sometimes we break it up and have a chat about the characters. Otherwise it can be hard to keep the concentration going when you're on screen."
Kate also does some spelling and arithmetic tables. "School sends out weekly spelling lists. So I'll pick one and ask one of my granddaughters to write it out. It gives them practice."
Sometimes Kate shares a whiteboard screen on zoom where she can write down words and numbers for the girls.
However, you don't have to be skilled at computers to help out with home schooling!
Maggie has found a great way of helping out
Maggie, from Manchester, sends photographs on her phone to her grandson aged 10 and her granddaughter aged seven. "I ask them to write down some sentences, describing each picture. It might be a shot of my garden or our cat, for instance. Their mum – my son's partner – will supervise that bit at the other end. Then she'll photograph what they've written and send them back to me. I don't mark it. It's more like fun learning. But I like to think it might help them with their school work. And because we can't see each other at the moment, it helps me feel I'm still part of their lives.
I have to confess that I don't do any official home-schooling myself, mainly because my grandchildren's lessons take place in the morning which is when I write. Besides, my daughter is a trained teacher so she's the expert!
But I do try to do my bit when I'm helping out as part of their support bubble. I like to buy them each a children's comic which is a great starting point. They always have lots of puzzles such as finding the odd one out on a page of pictures, as well as number games.
Mind you, it's just as well that my grandchildren aren't doing more complicated arithmetic or else they would be teaching me!
Creative learning
Instead, I like to do creative things which also encourage learning. In fact, last Saturday we had a brilliant afternoon. We made a scarecrow! It started because the scarecrow on my allotment patch is looking distinctly the worse for wear. My intention was to take little George and Rose down to my patch and try to mend it. But then the heavens opened with torrential rain!
"Why don't we make our own at home?" asks Rose.
What a good idea! But we need a pole. So I ring my friend over the road who is an artist. Yes! She has one. We arrange for her to leave it at a social distance by her front door.  It's quite short but we can still make a mini scarecrow. Now for the head. I could cut up a pair of tights and make a balloon out of a chopped up leg. But my hosiery is all in pretty good nick and I don't want to spoil that – besides the virus has made me particularly frugal.
Ah! This old muslin square will do! We have great fun painting a face on it, even though it does get a bit messy! "Look," says George. "He's got orange cheeks."
Oh well. It will have to be a scarecrow who doesn't know how to put on his make-up properly!
Then we stuff the square with some bubble wrapping to plump out the face. A few elastic bands and some green string later and we're ready to fasten the head to the pole.
"What shall we call him?" I ask.
"Ernie," says George solemnly.
So Ernie it is.
Now what to dress him in?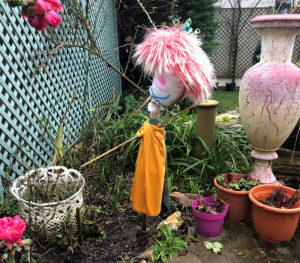 The children follow me upstairs to their uncles' chest of drawers where they've left abandoned clothes. I come down with a few T-shirts. "You can't use that," says my eldest son who is living with us until he can return to his job in Spain. "I like that one."
So we choose an old yellow vest plus a pale green tie which belongs to my husband which I've always disliked. "What about the arms?" asks George. Good point. I strap a horizontal garden cane across his top half.
"But he hasn't got any hair," says Rose doubtfully.
Good point. I run upstairs and find an orange wig, last worn for my mermaid and pirate fancy dress party to celebrate my 60th. Perfect!
"Let's put Ernie in the garden," says Rose.
Really? Ours is rather small and it will dominate my flower bed. Besides, my scarecrow looks a bit of a mess, to be honest. But then again, it's rather special. I've made it with the children, haven't I? And I can never bear to throw away anything we've done together. I'm not exactly sure that Ernie counts as home schooling but it was great fun.
In case you'd like to see our efforts, here's a snapshot!  Anyone can have a go. I'm sure you'll have a better result than me! Do send me pictures.
Hang on. My husband is calling. "Has anyone seen my green tie?"
Whoops!
Grandparent of the week – Robin, London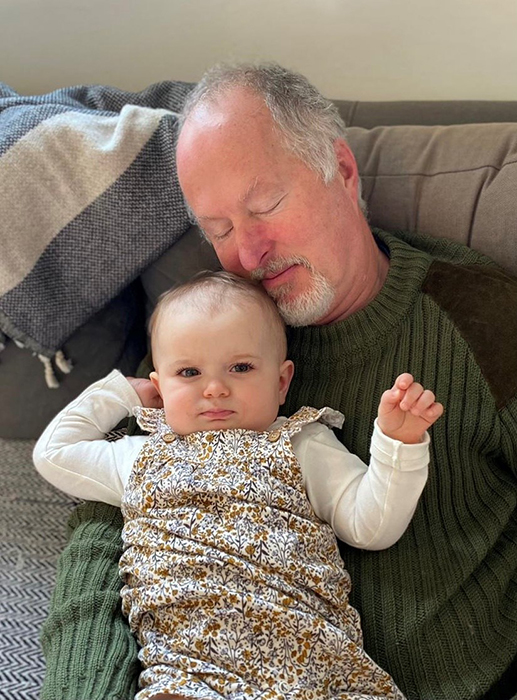 Meanwhile, thanks to everyone who emailed me about their life as a grandparent for our GRANDPARENT OF THE WEEK.
Robin Macdonald, 65, an artist from London, helps to look after his one-year-old granddaughter Ophelia on certain Fridays so his son Dom and daughter-in-law Kim can work from home.
"I start at 8am until they finish in the afternoon so it's pretty full-on! But I love it. Ophelia sleeps on my chest between 11 and 12 which is so sweet. I remember Dom doing the same at that age. It also helps that she loves her food! When I first started, it felt pretty daunting but then I realised I could do it. The moment they accept you, you're there! Ophelia isn't quite walking yet but it won't be long. If she's anything like my boys were, I'll need to keep my wits about me! What am I known as? Mad Grandpa!"
---
Do get in touch if you'd like to be our GRANDPARENT OF THE WEEK. We'd love to hear from you. Just email me at janecorryauthor@gmail.com. See you next week!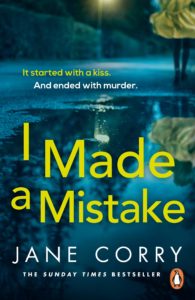 Jane Corry is the author of five top ten best-sellers. Her latest novel I Made A Mistake is about Betty, a grandmother who lives with her son's family. Published by Penguin, £7.99 in paperback and also available as an e-book and audio, narrated by Emilia Fox.  http://bit.ly/IMadeaMistake OR https://www.hive.co.uk/Product/Jane-Corry/I-Made-a-Mistake/24376830