Chocolate Valentine's Cake
---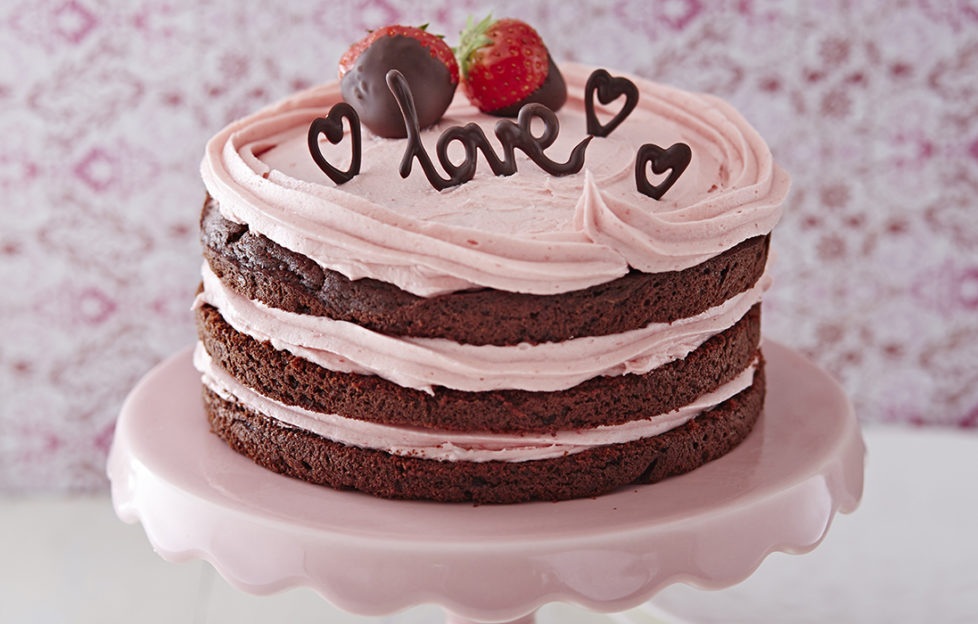 Embrace your sweet side and treat your loved one to this decadent chocolate cake. And don't miss 8 more sumptuous Valentine's Day recipes in the pages of My Weekly mag, out this week!
Serves: 8
Preparation time: 45min
Cooking time: 45min
Heat the oven to 180°C, Fan Oven 160°C, Gas Mark 4. Grease and base line a 15cm round cake tin.
Put the butter and chocolate into a small pan and heat gently, stirring until melted. Leave to cool. Sieve the flour, baking powder and bicarbonate of soda into a bowl. In another bowl whisk together the eggs and soured cream. Add the chocolate mixture and the egg mixture to the flour and mix until smooth. Pour into the tin and bake for 40-45min.
To make the strawberry syrup, put the fruit and sugar into a small pan with 1tbsp water. Heat gently until the sugar has dissolved and the fruit is beginning to soften. Cook over a medium heat for about 10-15min until the mixture is reduced and syrupy. Remove from the heat and sieve – there should be about 2tbsp of syrup. Leave to cool.
To make the icing, put the butter in a bowl and gradually beat in the icing sugar. Add the cold strawberry syrup and 1tsp hot water and beat until smooth.
Slice the cake into three horizontally. Put just over half of the butter icing into a piping bag fitted with a large star nozzle. Spread a very thin layer of icing onto the bottom layer of the cake, then pipe a ring of icing around the outside edge of the cake.
Fill the centre with half the sliced strawberries. Place the second layer of cake on top and repeat the filling and piping. Fill the centre with the remaining sliced strawberries. Place the final layer on top and spread with a thick layer of icing and pipe around the outside edge as before.
Allow the melted chocolate to cool slightly so that it thickens. Dip each whole strawberry halfway in the chocolate, shake off the drips and place on the top of the cake. Put the remaining chocolate into a disposable piping bag. Snip off the end and pipe the word 'LOVE' onto nonstick baking paper. Pipe hearts with the remaining mixture. Leave to set.
Carefully peel the letters from the paper and place on the cake. Either place the hearts on the cake or use to decorate each slice when served.