A Dermatologist's Guide To Winter Mole Checks
---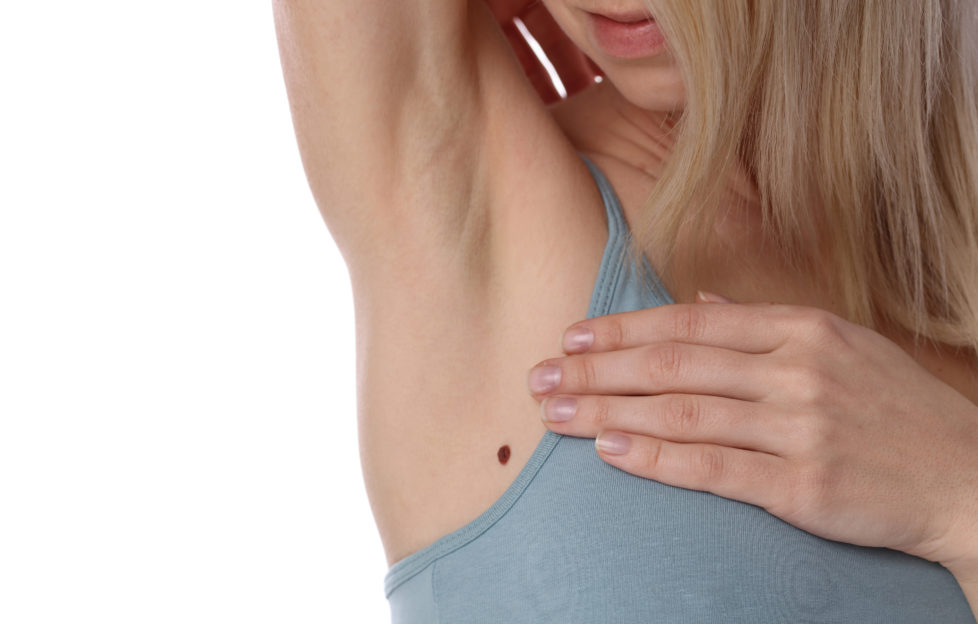 Pic: Shutterstock
Dr Adam Friedmann, leading consultant dermatologist at Stratum Dermatology Clinics answers some frequently asked questions on skin cancer and explains how to check our moles at home this winter.
Can I counteract the effects of sun damage?
You cannot undo chronic sun exposure and intense burning episodes. This type of sun damage has a memory, and the damage it causes to cellular DNA can start to show up many years later.
There is no solid evidence to show that specific skincare ingredients reverse sun damage but there is a theory that the healthier your lifestyle, the less likely you are to develop a melanoma. Eating a nutrient dense, balanced diet with plenty of antioxidants will have a positive impact on your skin and might reduce your long-term likelihood of developing cancer.
Monitoring the skin for signs of skin cancer is also crucial because if caught early enough, a melanoma is very easily treated and can be cured. Continuing good sun habits will reduce adding to the existing risk.
Should we wear an SPF in the winter?
It's not necessary to wear an SPF from December to February from a skin cancer perspective but being sun smart during the winter months will still help with photo ageing.
Sunlight is by far the biggest single cause of photo ageing because UV radiation causes the breakdown of collagen. So, to slow down the ageing process, it is crucial to protect your skin by wearing high factor sunscreen all year round.
Wear a SPF sun cream with at least factor 15, but ideally 30 on your face to protect from the photo ageing effects of ultraviolet B (UVB).
Am I more at risk of developing skin cancer as I get older?
Yes, you are more at risk as you get older. However, melanoma is one of the commonest cancers in young people because UV rays are hazardous to the skin no matter how old you are.
There are other types of non-melanoma skin cancers that come with an increased risk as we age.
What exactly is a mole and are they always harmful?
A mole is a spot on the skin which is usually brown in colour. It is made up of a cluster of cells known as melanocytes, which are responsible for producing the pigment in your skin. Occasionally these melanocytes grow in a cluster instead of being spread out, which results in the formation of a mole.
The vast majority of moles are benign, but occasionally they can turn into a skin cancer; melanoma. Any mole that's changing shape or continues to get bigger needs to be reviewed, whether it is new or pre-existing.
How to check moles at home
Look for anything that stands out from the other moles, changing in size, shape or colour. In short, anything that looks markedly different.
Repeat this at the beginning of the month, then again six and twelve weeks later if you believe you are high risk. If not, then once or twice over the winter is fine.
If you're unsure, visit www.stratumclinics.com/mole-quiz to take an interactive self-assessment to find out if your moles are likely to be safe or need to be checked by an expert.
Mole watch – top things to look out for:
Any mole that stands out differently from the other moles on your skin is one that should be taken seriously. This sign is sometimes called the "ugly duckling" sign by dermatologists and means your mole should be checked as it is different to the rest.
Cancerous moles (melanomas) do not normally have a rough, warty surface like benign moles often do. Warty rough surfaces are usually a benign growth pattern. Early melanomas are often completely flat to the skin.
The "halo" naevus results from the immune system attacking a mole and destroying it. Sometimes, in the battle against melanocytes, the immune system will destroy the normal surrounding skin pigmentation and the mole will have a white ring around it. Although these halo naevi are usually benign, it is worth having your mole checked if it develops a white ring around it.
If you have odd-looking or irregular moles you may be concerned that they could be cancerous or precancerous. However, if you compare your moles and they all look very similar to one another, then it is much less likely that they are cancerous, but instead, that your moles just happened to look like this.
The ABCDE guide is a memorable way to recall the warning signs.
Asymmetry – Does the left side of the mole look like the right side, or does the top half look like the bottom half? Both halves should usually look same.
Border – Is the border well-defined and sharp? Watch out for unclear and irregular or blurry borders.
Colour – Is your mole all the same colour? Keep an eye out for any changes in colour, especially black or blue colours, multiple colours or pale areas.
Diameter – Is your mole smaller than the end of a pencil? A melanoma is usually more than 6mm in diameter. However, anything growing should be reviewed as melanomas can start small.
Evolving – Is the mole the same size it was when you first noticed it? Monitor any changes in size, colour, crustiness, itching or bleeding of existing moles.
Skin cancer & mole check service
A single mole check at Stratum Dermatology Clinics costs £45 and involves a nurse producing a digital report for a consultant dermatologist to review.
For a top to toe inspection, a full skin cancer and mole check service is available by a consultant dermatologist, with access to treatment if required.
Full body mole mapping involves a full review by a consultant dermatologist, followed by a mapping of all individual moles using the state-of-the-art, laser guided Fotofinder system. Its ability to compare images and identify change makes it a highly accurate tool in identifying the development of skin cancer.
A virtual consultation service is also available to help people who are self-isolating or practising social distancing in the current climate.