All In A Day's Work
---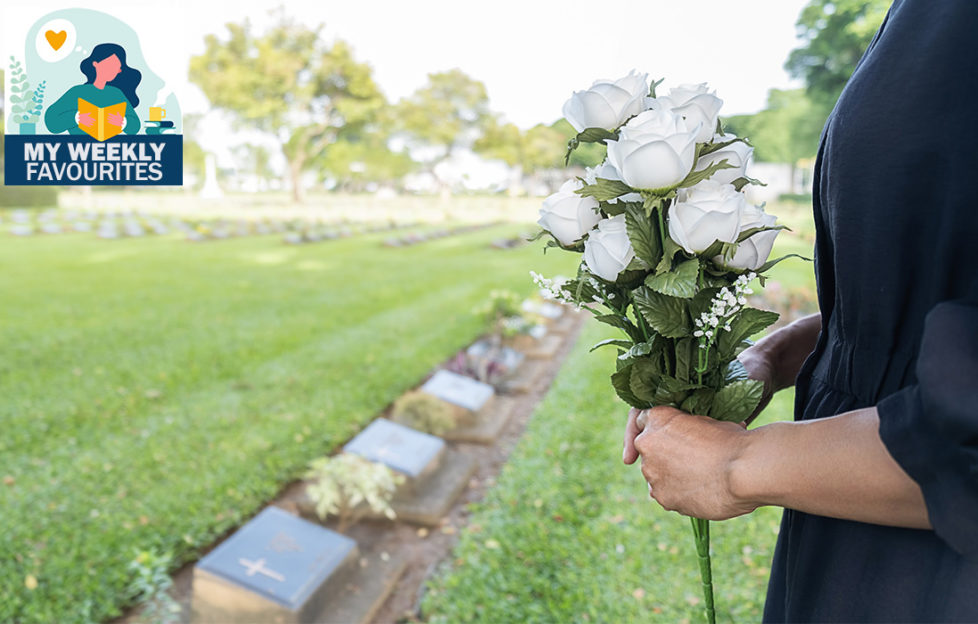 Pic: Shutterstock
Verger Fran's lonely evenings watching TV crime shows did not go to waste…
Mostly, after a burial, the widow or widower would be the last to leave.
From the shelter of the vestry, Fran watched the grieving man toss a solitary fuchsia into the open grave.
His sons loitered nearby, flanking him as he finally left and made his way towards a waiting black car.
As Fran gazed after them, the vicar's voice rang in her ears… Make sure you don't forget to buy some coffee, Fran. I'm going to need it after that wedding on Saturday.
No mention of all the work that Fran had done. No mention of how Fran herself would more likely need a double shot of espresso than a mug of instant coffee.
The last stragglers left the churchyard deserted, the lane outside clear once more.
Tom, the vicar, had popped home straight after the service, leaving Fran to sort everything inside the church.
Half an hour later, she'd had her fill of moving chairs and writing up the burial register, reminding Tom by text, yet again, that he needed to sign it.
The sun was surprisingly warm for November and Fran abandoned her task of clearing the flowers and stepped outside for a while.
There was a lot to love about her job as a verger but it would have been far more rewarding to work for a vicar who actually appreciated all that she did.
Minutes later, she found herself gazing down at the fuchsia, thinking about the woman who had just died and the family she'd left behind.
They'd seemed very close-knit and Fran had felt desperately sad, particularly for the son whose wife was heavily pregnant. Lily Erickson had just missed out on meeting her first grandchild. Life could be cruel.
---
"Fran?"
Startled, Fran turned towards the voice, steadying herself for fear of toppling into the grave.
The interruption had come out of nowhere but now she saw a familiar figure approaching.
Two days before the wedding and the bride-to-be was doubtlessly tying up some frantic, last minute loose ends.
Fran pasted on a smile and walked towards her.
"How's everything going?" she asked, clocking the bottle in Kelly's hand.
"Oh, goodness, I can't believe I'll be married the day after tomorrow!" Kelly gushed, sweeping her gleaming mahogany locks from her face. "But I just wanted to pop by and say thank you to the vicar.
"Perhaps you could pass this on to him and say he's more than welcome at the reception and evening party? I'm sure he's too busy with more important stuff but the offer's there."
Fran bristled at the word 'busy' but accepted the proffered gift and invitation with a smile.
"That's so generous, Kelly. Of course I'll pass it on. And don't you worry about Saturday. Everything's ready on our front.
"The choir's booked, the paperwork's checked, the flower ladies are organised, the bell ringers are sorted, and the organist knows what time to arrive. The marriage register will be written up and the church seating organised."
"I know! Tom told us all about it. I honestly can't believe how much he has to do, alongside his usual stuff of writing sermons and the like. He's just amazing!"
Fran's chin nearly hit her chest but she was an expert at putting on a front.
"I honestly couldn't agree more. Our vicar's incredible. Anyway, I'd better get on. I'm absolutely gasping for a coffee."
"Oh, of course. I expect you'll be off home soon. It's nearly 3pm."
"I will. Nothing much to do here. Good luck with the last minute wedding preparations. Here's praying for blazing sunshine on the big day."
Kelly's laugh tinkled around the churchyard.
"Better ask Tom to pray. I expect he has a direct line!"
Fran's own laugh pierced the air.
"That's a new one!" she replied, holding up the bottle. "Don't worry, Kelly, I'll pass this on. See you on Saturday."
"Can't wait!" Kelly smiled and waved as she turned and skipped off.
---
Fran placed the whisky bottle on the ground and sat with her legs dangling into the grave. Regardless of the body beneath her, it was a great place for contemplation.
In fact, perhaps because of the body beneath her, it was a fantastic place for sobering thoughts.
There was still stuff to do inside, tidying up after the funeral ceremony. But she'd earned a rest and it was rare at this time of year to be able to sit on dry grass.
A direct line, she repeated silently, rolling her eyes at the expression. As if she'd never heard that before!
"Slacking off again?"
Fran's shoulders stiffened but, in that moment, she decided not to get up.
"Contemplating," she replied, without looking round.
"Well, I'd have thought you'd be contemplating how you might get your next pay rise, Fran. It's unlikely to be like this. Isn't there furniture to move inside the church?"
"There is," Fran agreed, her finger running along the embossed hallmark on the whisky bottle. "There's a lot still to do. But there always is. There's even still coffee to buy."
Tom moved into view at the foot of the grave. His floppy blond fringe hung annoyingly over one eye and Fran wondered if he modelled himself on the vicars of the 1700s, imagining himself to be the pinnacle of the community, with everyone eager to do his bidding.
Women appeared, to him, to be an inferior species. She'd met plenty of clergy in her time as a verger but she'd met very few whose views were still stuck in the Georgian past.
Despite his age, Tom Mannering was a relic, something out of a Jane Austen novel – but without the humour of Jane's prose to soften the sexist blow.
"Take a break, Tom," she suggested, patting the ground beside her. "You must be in need of a rest."
Tom moved alongside Fran and sank onto the grass. She caught a waft of his aftershave which, admittedly, was always far from unpleasant.
He'd changed out of his work clothes and was wearing pale chinos and a crisp white Fred Perry shirt. In the summer, he often wore designer polo shirts, and she harboured a suspicion that he had his own gym at the vicarage.
By the looks of his biceps, he must grace it with his presence daily, and she knew he often went for a run.
"You look a bit tired, Fran."
For a moment, Fran froze. In the four years that she had supported Tom as his verger, he'd never once noticed how Fran was feeling… not even after her mother had died.
She turned to look at him, suddenly seeing how easy his dark brown eyes would be to wallow in. How had she never seen that before? Perhaps they had never sat quite this close.
"You really should get to bed earlier," Tom continued. "My mother always says never to sleep less than eight hours. It'll ruin your memory. Which reminds me, have you bought the coffee yet?"
"Perhaps you won't need it," Fran replied, holding up the whisky bottle.
"Kelly, our Saturday bride, brought this for you. You're invited to the reception."
Tom's admittedly handsome face lit up.
"Wonderful! Saturday was looking a bit quiet. You can cope here after the wedding, can't you, if I go along and show my face?"
---
Fran looked down into the grave in dismay. She barely knew what had happened except that the bottle had suddenly felt terribly light.
The sound when it had hit Tom's skull had been somewhat sickening, but not as bad as the thud when he'd landed headfirst on top of the coffin.
Poor Lily Erikson. Fran was sure her plan had not been to share.
Nevertheless, it was the only option. There was no way to retrieve a vicar's body from six feet below ground. Not on her own.
After the initial panic and hyperventilating, Fran pulled herself together and began the mammoth task of shovelling dirt back into the grave. There was no doubt that Tom's earthly life was over. The rolled open eyes told their own story.
Fran looked at her watch. An hour until the digger was here to tidy Lily's grave.
Plenty of time to bury the body. She'd tell them the family had a tradition of covering their loved ones before leaving the graveside. Then, time to go to the corner shop and make a thing about buying Tom's coffee.
Kelly's wedding might be a problem if they couldn't get a replacement in time, but Fran knew she couldn't report Tom missing until tomorrow.
The whisky was oh, so tempting but she needed to leave it untouched – maybe sneak it into the vicarage later. Make it look as though he'd made it back home.
All those recordings of Midsomer Murders. Fran broke a sweat as she continued to shovel dirt on top of the vicar, thinking how the lonely evenings in front of the telly at least hadn't gone to waste.
Our My Weekly Favourites series of short fiction from our archives continues on Mondays and Thursdays. Look out for the next one. 
Don't forget – you can find brand new, uplifting short stories every week in My Weekly magazine! Subscribe now for a great money-saving deal.