The Lucky Shoes
---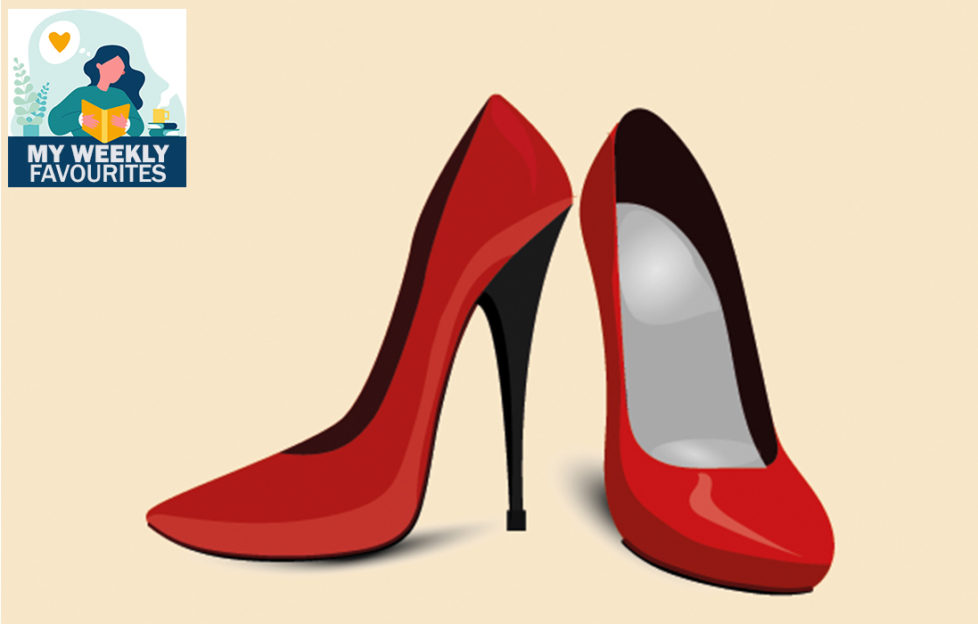 Those stunning stilettos might only represent heartache for Sally, but they had one last job to do…
"Sorry, but it's time you went."
Sally is talking to a pair of red stilettos. The shoes show no emotion whatsoever as she places them in an oversized paper bag with numerous other items of footwear.
"Talking to yourself again?" Sally's flatmate Esme teases.
"Yes. I'm getting rid of the past. No more shoe-buying for me. I've got plenty others without these clogging up the cupboard!"
Sally giggles at the play on words.
"It looks like you're over Jake at last. And about time too, if I may be so bold."
Esme nods in approval at her friend's fresh outlook on life.
"I'm off to the charity shop with this lot," Sally says.
"As far as I remember, there's a very smart shoe shop in the same street as the charity shop," Esme says. "I bet you won't be able to resist!"
"OK, you're on! I'll treat you to supper if I don't stick to my word. But I better warn you, I'm determined."
Stopping at the traffic lights, Sally rests a hand on the bag of shoes.
The pair of red stilettos wink cheekily up at her in the afternoon sunshine. These were her lucky shoes weren't they?
Sally sighs deeply. The shoes remind her of her first date with Jake.
She'd met him at a friend's wedding, this tall, dark impossibly handsome man who was utterly irresistible to women.
Unfortunately women were utterly irresistible to him also.
At first everything was perfect in their relationship, but gradually Sally had started to be suspicious of the number of times Jake was "unavoidably delayed" and after catching him out being unfaithful to her she had dumped him. She deserved better than him.
Sliding the car neatly into a parking space close to the high street, Sally hoists her bag of unwanted shoes onto one shoulder and starts to walk towards the charity shop.
Suddenly she experiences an overwhelming urge to wear the red stilettos one last time.
"Like a sort of lap of honour, to congratulate myself on getting rid of a bad relationship," she thinks, sitting down on a bench and replacing her shoes – dull and dowdy in comparison – with the red stilettos.
She picks up her bag again and takes a couple of steps.
Now, it's a well known fact that shoes can reflect the way you feel and suddenly Sally feels like a million dollars. Never mind about the shoes' associations, she strides out of the car park, gaining speed as she begins to walk up the high street.
It's at that moment that she catches the heel of her right shoe in a gap in the pavement, executing a couple of spectacular and unintentional dance moves before crashing to the ground in an untidy heap.
"Dear me, are you all right?"
She finds herself looking up into the worried face of a man.
His dog, a Yorkshire terrier, licks her hand as the man gently helps Sally to her stockinged feet.
He picks up the offending red stilettos and stands them side by side on the pavement as he stands back to survey Sally for any possible injury.
"I'm fine," she says with what she hopes is a convincing laugh.
"Would a coffee help with the shock?" asks the man.
By now he has introduced himself as Derek, and his dog as Fudge.
"That would be lovely."
Sally puts on her dowdy shoes, packs the offending stilettos in her bag and accompanies Derek – who is shorter and older than her – the few steps to the coffee shop.
Two lattes later and Sally and Derek have already discovered they're each recovering from a broken relationship.
Derek asks Sally whether she likes dogs. She loves them, although she and Esme aren't allowed to keep one in their rented flat.
So it's over an hour before Sally delivers her cast-off stilettos and their chums to the charity shop.
On the way home she cannot resist popping into the shoe shop. By now it's clearly necessary to purchase a pair of sturdy lace-ups which will be ideal for dog-walking.
Our My Weekly Favourites series of short fiction from our archives continues on Mondays and Thursdays. Look out for the next one. 
Don't forget – you can find brand new, uplifting short stories every week in My Weekly magazine! Subscribe now for a great money-saving deal.