Create The Perfect Summer Balcony Garden Set Up
---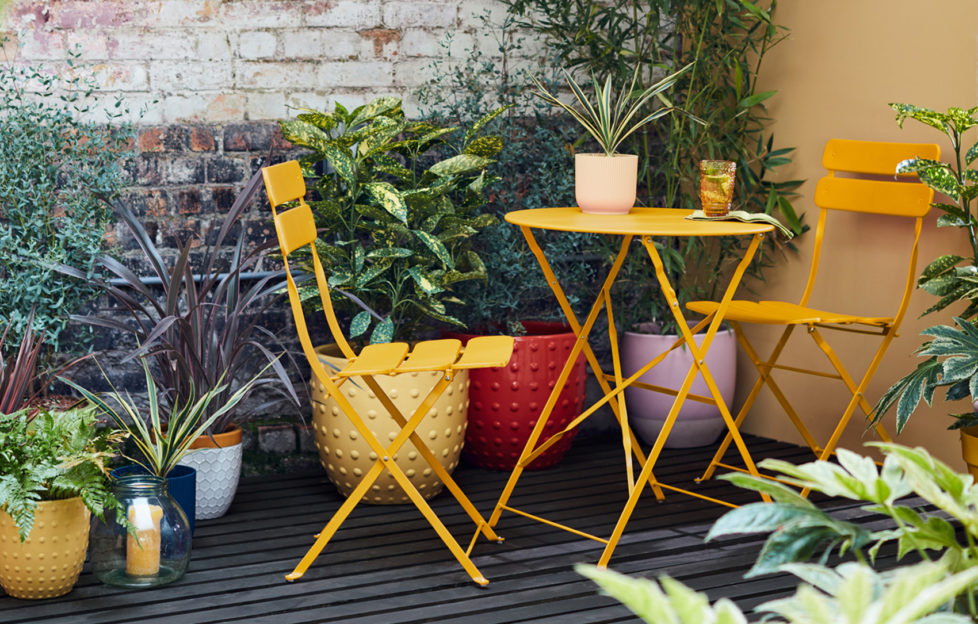 Pic: Dobbies
Now that we can invite friends and family to our gardens, having the perfect location for that long overdue catch up will make it even more special. Many people living in the city don't have the luxury of huge garden space, but that shouldn't stop them from having a stylish outdoor space. 
Now the clocks have gone forward, lighter nights and warmer weather is upon us and what better way to get yourself in the summer mood than creating the perfect balcony garden set up. 
Apartment rental brand, Essential Living has teamed up with Lynsey Abbott, Outdoor Living Buyer at Dobbies Garden Centres on five tips for creating a stylish balcony garden set up ideal for summer. 
Pick a scheme
Regarding the look, pick a theme with an overall look and feel, as this will help you to decide on colours, planting styles and accessories. Experts recommend two different themes this summer, 'Tropical' and 'Calm Sanctuary'.
Tropical typically includes bright and vibrant colours such as yellows, oranges and reds, giving you great energy making your space feel warm and exciting. These high- energy colours are visually stimulating and uplifting, helping to boost your mood. Lynsey Abbott believes a tropical trend will be big in 2021 because it's so versatile.
Alternatively, opt for a 'calm sanctuary' scheme, featuring soft, harmonious shades such as fresh blues, earthy greens, and muted grey tones. Blue will help promote serenity and just like the ocean waves, can calm your mind, whilst green signifies nature, and restores equilibrium so will soak up any negative tensions. 
To enhance earthy green even further, trailing ivy is a beautiful way to create this sanctuary feeling, whilst purifying the air it only needs watering once a month, making it extremely easy to maintain when you are busy socialising.
Utilise your space
When you're planning the space, think about what you want to use it for and what would give you maximum use and enjoyment. Having a clear idea of what you want to achieve from the space will make it much simpler to make a space you'll love. 
Lynsey says, "You might want to keep the floor space mainly clear so you can do home workouts such as morning yoga, then fill the borders and corners with greenery to create an outdoor oasis of calm."
Alternatively, if you want to extend your living space and give yourself another area for dining, invest in some foldable furniture that is stackable and easy to store away. This way you can bring them out with ease when you want to create a cosy summer dining area.
Lynsey says, "If you want the luxury of using the space for dining but your balcony isn't very well protected and you don't have a lot of storage space for bigger items, foldable bistro sets are the perfect solution. If you're working from home and setting up outside, this option also means it's super easy and lightweight if you need to move it around to get more or less shade."
Let's not forget how excited we all are for our first barbecue of the year, and whilst they can also take up quite a lot of space, you can invest in a portable barbecue for outdoor cooking. This Mini Pantry 16″ Cohan BBQ Portable Charcoal Grill is perfect for the beach, a picnic, and your balcony offering new levels of convenience.
Compact gardening
You don't require huge amounts of outdoor space to get growing. Although balconies are usually narrow, that doesn't mean that there is not enough space to grow a variety of plants and even fresh produce. 
It is important to keep it simple to stop the space from becoming too busy, for example, a hanging basket to grow tomatoes, or kitchen herbs, plus a few containers with low maintenance plants or seeds to add to each season. 
Lynsey Abbott says, "If you don't have much ground space, choose saddle pots or rail rack planters, that can both be hung over balcony railings and will give the space a planting colour fix. A living wall is great for small spaces."
Pick a statement piece
We are still spending a lot more time at home, therefore making the most of every corner is important.  Why not use your balcony as a plug free space for relaxing, a space to shut the door on household chores and unwind? 
Lynsey Abbott says, "One single statement piece of furniture is a great way to achieve this, from a laid-back lounger, outdoor rocking chair, stylish chaise lounge or standing egg chair to snuggle up in – your very own slice of garden balcony bliss!"
Bring the indoors out with accessories
Just like you would inside your home, use accessories to soften what could otherwise be a very practical space. Borrow accessories from inside your home rather than buying new ones, from houseplants to cushions and throws, just don't forget to bring them in when it rains! Colourful pots and cushions offer a quick solution to make a space feel summery. 
Lanterns can also help to add a pop of colour and can double up as lighting. Some will have space to add a tealight candle and other designs will come with a solar light, giving the space a magical glow on warm summer's evenings.