Mix It Up This Weekend!
---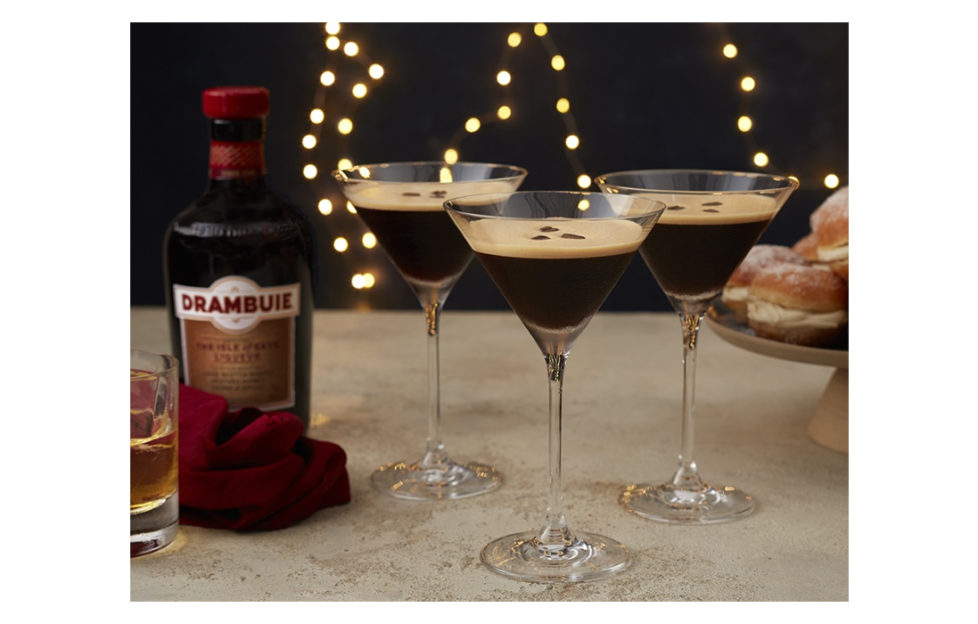 Iced Beekeepers Honeyed Espresso
At-home bars are a growing trend – and just in time for us welcoming garden guests once again. Freddy May – Drambuie's Global Ambassador and Mixologist – has some great prep ideas, and a recipe to try this Easter!
With the hospitality industry still closed, there's no need to miss out on your favourite tipples!
1.Variety is the Spice of Life!
Many of us have been enjoying a tipple at home during lockdown and if, like me your drinks have started to dwindle, or you have become unsure what's lurking in the back of your bar, now is the time to take stock. You'll have your own favourites, but my repeat offenders are whisky, Tequila, gin and Drambuie of course, with a handful of oddball spirits and liqueurs. Look up classic cocktail recipes with your favourite base spirits and you'll discover more bottles to increase your repertoire, this avoids the guesswork of what to buy and ensures you know what to do with them. One of the forgotten stars of the home bar to have on hand is both dry and sweet vermouth.
2. Don't forget the bitters!
Bitters are also essential to create a perfect cocktail. They are like the salt and pepper of the drink's world – no bar should be without them.  Bitters add complexity to your drinks and accentuate other tastes, like sourness or sweetness, and give your drink more depth of flavour. The classic two are Angostura and orange bitters, but these days you can find anything from electric Szechuan to grapefruit and hops to add to your drinks. Just think along the same lines as seasoning food, start less as you can always add more.
3. Get ahead and make your own cordials and syrups
I'm giving you one of my cheater secrets that will save you time and impress your guests so much that they'll be asking for the recipe. I make my own citrus cordial – not only does it taste delicious, but it is also economical and lasts for ages in the fridge. Start by peeling and juicing either four lemons or 6 limes and reserve the peel. Next dissolve 200g of sugar into 225ml of hot water, and combine with the citrus juice which should be approximately 150ml. Using a blender, in more than one batch if necessary, combine the liquid and citrus peels. Strain the whole mixture into small leftover glass bottles and you should have enough for at least ten Drambuie Whisky Sours or Margaritas. The magic of these cordials is that you're also extracting the aromas from the skins and being less wasteful by using the whole fruit.
4. Ice, the most important ingredient you've never considered an ingredient
You've got all your spirits, cordials and mixers ready and your guests will of course drop over with wine or beer. Then you look in your freezer to test out a cocktail before they arrive and find yourself staring into the small empty voids of the little ice tray that came with your freezer. The best purchase you can make is by spending the price of a lottery ticket on two bags of commercially made ice which you can pick up from freezer stores. I also replaced my old ice tray with a few small Tupperware boxes about half the size of a block of butter for making my own ice. I use these for large stirred tumbler cocktails, like Old Fashioned's and Negroni's.
5. Jiggers, Shakers and Tumblers
The best purchase I made in the last few years is a miniature 60ml measuring jug, combine this with a good Hawthorne cocktail strainer and everything else in my opinion is optional. Even without a gold plated cocktail shaker you can use a clean empty jam jar, and remember when we all went to the office with our thermally insulated coffee cups? I use mine for making stirred drinks like Rusty Nails or Martinis.
We also need a vessel to drink out of, so now is a really good time to make sure you've more than a couple of nice whisky glasses. The next time you pass a charity shop or antiques store have a look for some cool vintage martini or sherry glasses. Don't just put them in a cupboard as they also make good display pieces.
6. Stay casual and keep it fun
I've made the mistake in the past of preparing too much, so keep the H2O flowing. The biggest compliment you can receive is that your guests remember a great time – and you get a gold plated cocktail shaker for your next birthday!
Try my Iced Beekeeper's Honeyed Espresso recipe now…
The perfect drink to end your meal, or to liven up your coffee!
Serves: 1
25ml Drambuie
25ml Espresso
Add ingredients to a cocktail shaker.
Shake with ice and strain into a cocktail glass.
Top with coffee beans (optional).
Enjoy!