Must-have Make up For Spring
---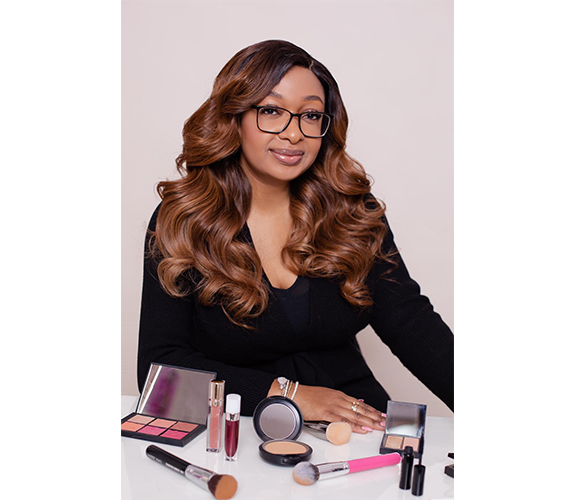 Joy Adenuga
Celebrity makeup artist, Joy Adenuga, has revealed the colour trends to snap up for Spring. The Make-up Artist, who counts the likes of Michaela Coel, Sarah-Jane Crawford and Keisha Buchanna amongst her clients, is tipping Grey, Organge, Green and Brown as her must-haves, and reveals how to get the most out of the trends in an accessible way. 
Grey
From throwback Rihanna Pon de Replay to Rachel from Friends iconic 90s grey shadow, we are SO READY for this time-warp colour refresh!
Joy says, 'For Spring we'll be seeing the new colour of the year, grey! Whilst it's not a particularly flattering colour on your cheeks, this would look most amazing on the eyes, and if you're daring – on the lips!'
Brown
Channelling our inner-Em-Rata (we can dream). If you've not been living under a social media/Pinterest rock, you'll have seen the colour of the moment, with no exceptions to makeup! 'Another colour on the rise are richer toned browns. We can thank wearing masks for this trend. People who prefer nude browns are now getting bolder with this shade. Hello Smouldering eyes!'
Green
Update your liner and eyeshadow with hues of green, with hues to compliment every eye colour and skin tone! 'A trending colour I've been noticing lately are greens! Not your usual go-to colour but when done right, the colour is quite striking . The trick to nailing wearing this shade? Stick to the under tone of your skin – Warm undertones look mesmerizing in warm jewel toned greens and Cool undertones can rock cool shades of green. Like the grey – I wouldn't recommend using this shade as a blush except if you're Pat Mcgrath that can transform any colour to an editorial look for the runway.'
Orange
Get excited for warm, glowing orange hues for a transformative spring look. This new-look orange is bold, bright and incredibly complimentary to brown eyes and darker complexions. Joy continues, 'One colour I'm slightly obsessed with at the moment is the colour orange! On women of the colour, this brings the complexion to life and can be worn on the eyes, cheeks and lips.'
Still Feeling Unsure About Rocking These Colours?
'If you find wearing bright colours overwhelming, my advice is to start with a bright coloured pencil. Apply the pencil close to the lash line and use a pencil brush to smudge. Wear this a few times and when you're comfortable start adding a bit of corresponding colour to the liner. This builds your confidence to wearing colours.'