The 2021 Alcohol Trends You Need To Know About
---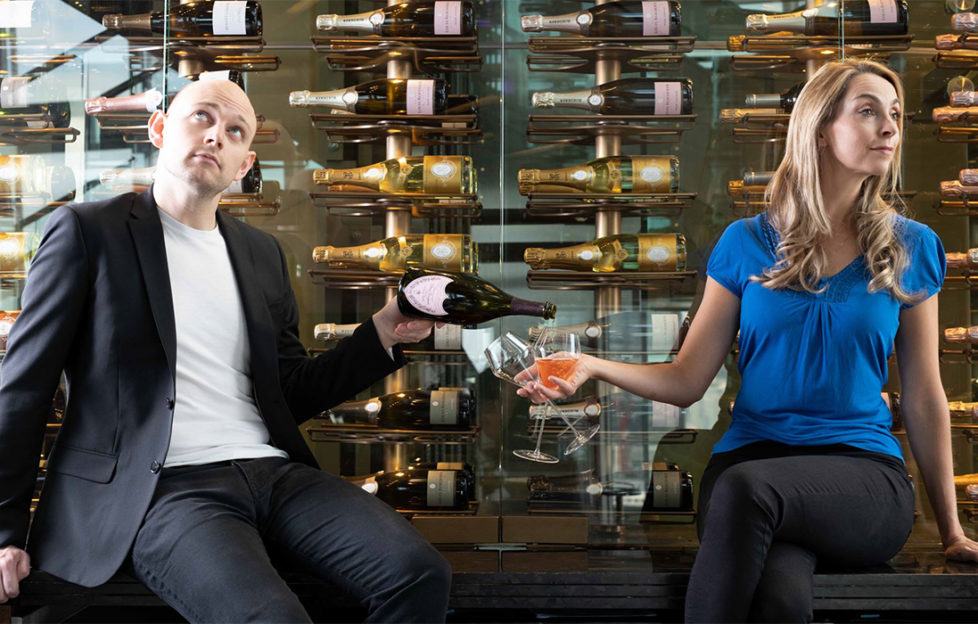 From clean wine to pink Prosecco, it's been a fascinating time for the world of drinks. COVID-19 has completely reshaped the way we explore what's in our glass.
From brand new wine styles and home bars becoming a part of people's everyday lives, to the massive increase of no and low alcohol alongside clean and wellness drinks,, it's been a busy year!
Aidy Smith and Helena Nicklin from Amazon Prime's The Three Drinkers TV series are on hand to share with you the no-lo and alcohol trends to look out for as lockdown begins to ease and we can once more clink glasses with those we love. We'll say cheers to that!
Clean And Wellness Drinking
While the past couple of years have witnessed many of us being more mindful about what we put in our bodies, it seems this has finally evolved beyond just drinking 'less but better'. There are now brands that live and breathe with the sole purpose of helping you improve your health. From non-alcoholic sparkling wine alternatives that contain a surge of health-boosting vitamins to CBD drinks with the aim of helping you become calm, collected and focused. There's even low-alcohol beer containing isotonics that end up giving you a health boost due to lower alcohol levels in drinks.
OTO CBD Seltzers (£31 for 12)
Wild Botanicals (£16)
Small Beer (£15 for 6)
Hard Seltzers Are Here To Stay
What started as a bit of a fad from the USA has really taken off. Countless new brands have been developed over the past 12 months with hundreds more on the horizon, all surrounding something we refer to as 'Hard Seltzer'.
It's basically flavoured sparkling water with alcohol, but there's so much more to it than  the description might suggest. There have even been evolutions of hard seltzers, pushing more flavour and more experimentation across the category.
Here's some of our top picks, all of which come in a multitude of flavours:
Served (£10 for 4)
Clean & Press (£20 for 12)
LuvJus (£25 for 12)
Berczy (£26 for 12)
No and Low Alcohol Beer
Over the past year, no and low alcohol beer alternatives began to surge and they are showing no signs of slowing down. Research in this area has paid off immensely and beers with very little or absolutely no alcohol now taste just like their counterparts with higher ABVs.
You still have to do your research to find the best, but there are some stunning examples out there where you honestly would have no idea whether there was booze in it or not!
Small Beer (£15 for 6)
Lucky Saint (£25 for 12)
Adnams Dry Hopped Lager (£25 for 24)
Pink Prosecco
Who would have thought? Last year we saw the legal launch of Pink Prosecco to the shelves. It's been quite an exciting turning point for the wine world and an evolution to the bubbles this nation has come to adore.
Exploration may have taken place at home throughout 2020, but in 2021 we fully expect to see these gracing the tables of those bottomless brunches. Top-up, you say?
Bottega Pinot Noir Sparkling Brut Rosé (£25)
Villa Sandi Rose Brut  (£15)
M&S Prosecco Rosé Brut (£8)

The Rise Of The Home Bar
According to Google search data, Home Bar related searches increased 658% between 2020 and 2021. As people have been at home they've been delving into those dusty cupboards to finish off remaining bottles but more importantly ordering more alcohol to explore with – a staggering 762% increase according to Nielsen.
While we will return to restaurants and bars as soon as we can, that won't stop the in-home exploration. A new level of understanding and appreciation of at-home mixology has been witnessed. So we fully expect those midweek cocktails to be a thing well into the future.
Now, who wants another martini?
You can follow Aidy (@Sypped) and Helena (@HelenaSips) on social for more drinkspiration. Or watch their TV Series The Three Drinkers on Amazon Prime.