11 Times Sneaky Pets Took Over Their Owners' Beds
---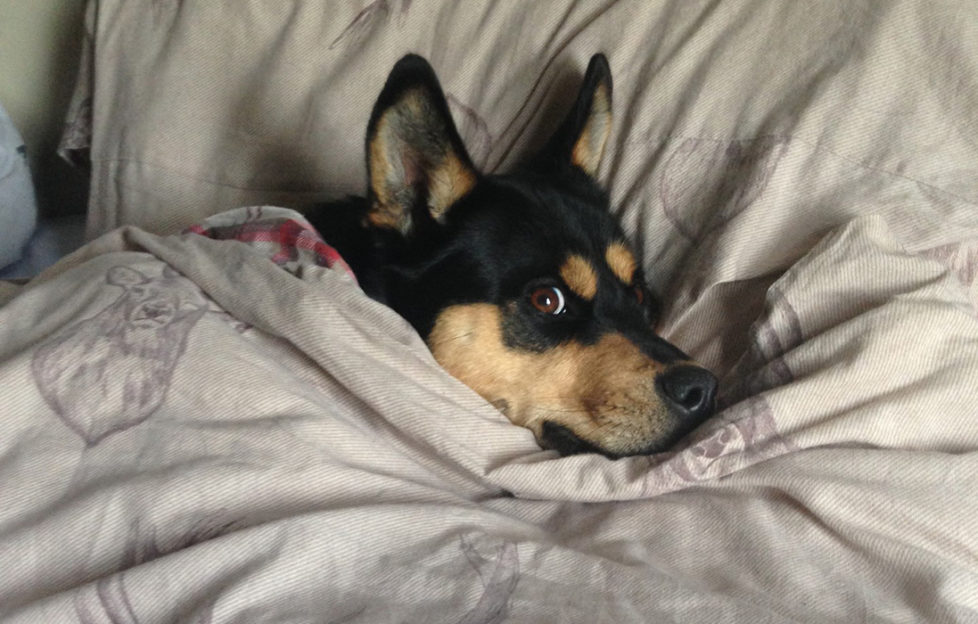 Adorable pictures of sleepy pets have taken the UK by storm as a nationwide competition searched for an animal to crown King of the Bed.
Research shows that two thirds of Brits (66%)1 are happy to allow their pets to sleep in bed with them. However it is equal parts annoying and irritating to head to your bedroom after a long day, only to find that your furry friend is already sprawled out as if they own the place.
Online bed and mattress retailer Bed SOS, which specialises in next day delivery, wanted to see just how many pets love to snooze in their human's beds, so challenged the nation to send in pictures.
Offering the prize of a free bed worth £200, Bed SOS was inundated with entries from all manner of pets who like nothing better than to tuck themselves into bed after a long day.
However, there can only be one winning entry. That position was nabbed by Susannah Flood from Chelmsford whose two cats, Paddy and Ollie, both demand their space on the bed.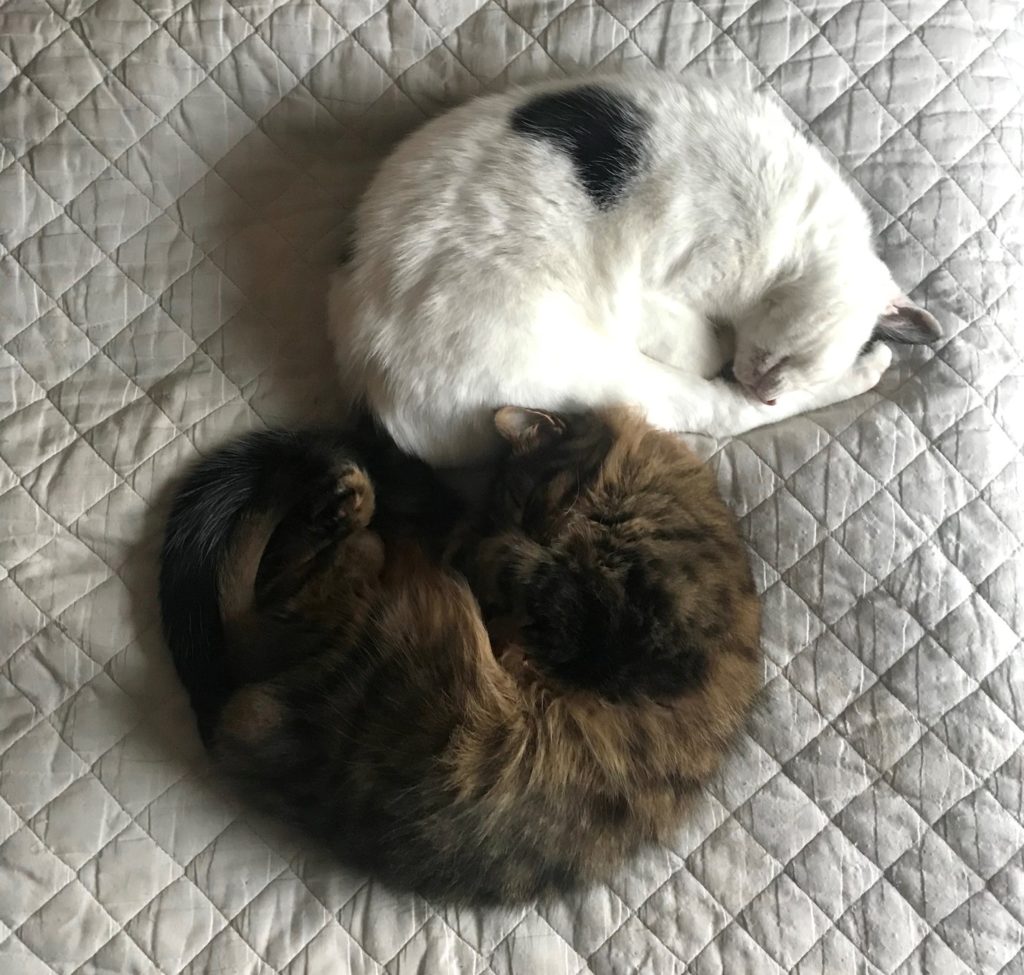 Susannah said, "Ollie is eight years old and he's a brown Norwegian Forest Cat. Paddy is a white and black British Short Hair and he's six. We've had Ollie with us since he was a kitten, but we rescued Paddy after he'd had his leg amputated due to an injury. As you can see, they're very close and they love taking over my bed for a communal snooze!"
Danny Richmond, Managing Director of bed and mattress retailer, Bed SOS, said: "Huge congratulations to Susannah, and especially to Ollie and Paddy! We were only expecting to have one winning pet, but when we saw this adorable picture of the two of them napping, we immediately knew that we'd found our 'Kings of the Bed'.
"Thanks again to Susannah, and we hope you enjoy your new bed. But from the looks of things, Paddy and Ollie might get more use out of it!"
While snuggling up in bed next to your pet is adorable, studies show that the companionship of a furry friend at night can also
have a positive effect on your mental health
help you get a better night's sleep
decrease feelings of loneliness.
When to reclaim your space…
However, while sleeping with your pets can provide these benefits, it is important to stop if it creates any issues for you. If your pet is
restless and preventing you from having a good night's sleep,
beginning to display signs of dominance
aggravating your allergies, then it's best to stop allowing your pet into the bedroom.
Sarah Mackie, writer and area co-ordinator at Pets as Therapy, said, "For those in relationships, sharing a bed with a larger pet can create extra challenges. But those sleeping alone could benefit from some animal company. Our primal need for the feeling of a safe place is often filled by a pet, whose steady heartbeat and lack of personal space provide the perfect conditions for calm.
"Whether sleeping with your pet is a good idea or not is a complex question. A married couple sharing their bed with anything larger than a spaniel is, in my opinion, akin to sharing with a sprawling toddler – all bony bits and wriggling!
"However, for those people who might otherwise sleep alone, then an animal can take the place of a teddy and, as such, can aid a very restful sleep indeed."
A sleepy rogues' gallery
A mixture of pets that love to sleep in bed with their owners, and some pets that would just rather have the bed to themselves… Below are ten more of the best competition entries: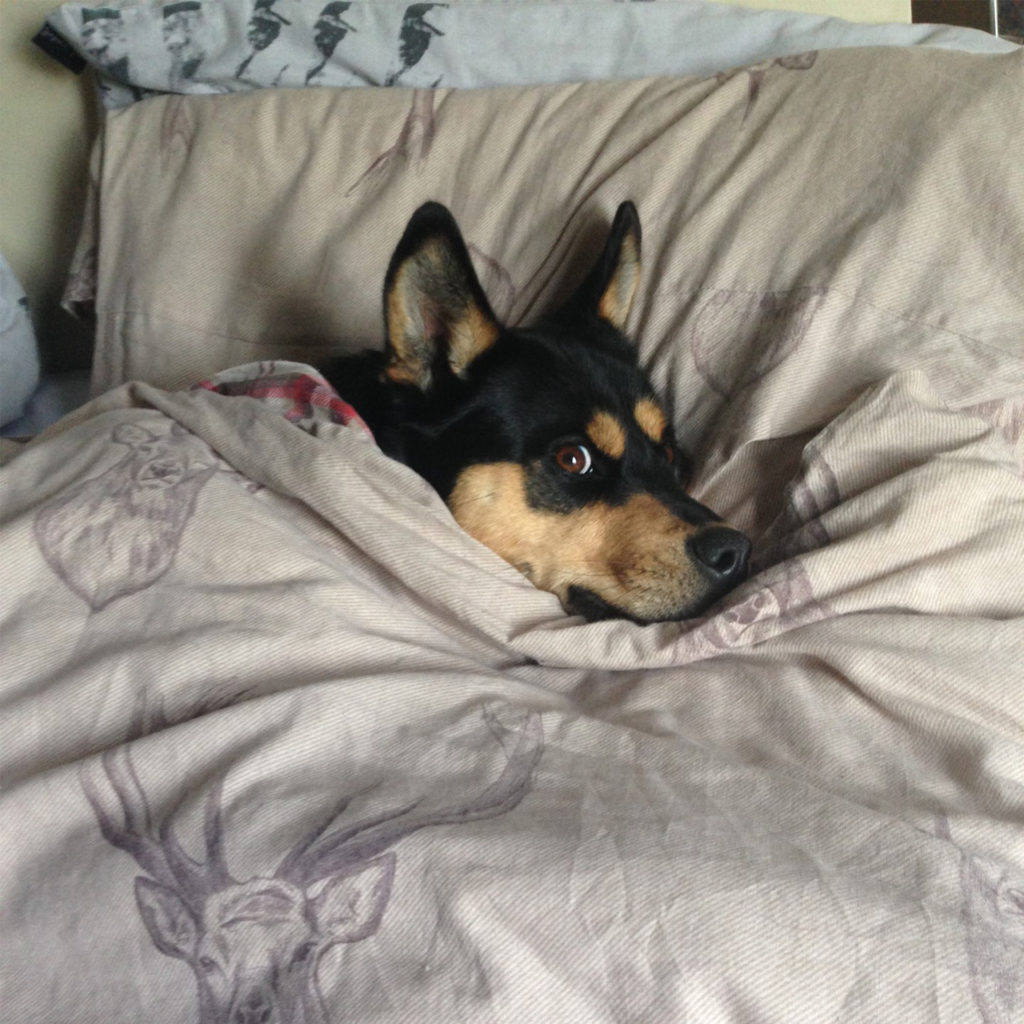 Skyla, a Husky and Rottweiler cross, looks absolutely fuming that her owner is disturbing her nap. Do you mind? A little privacy, please.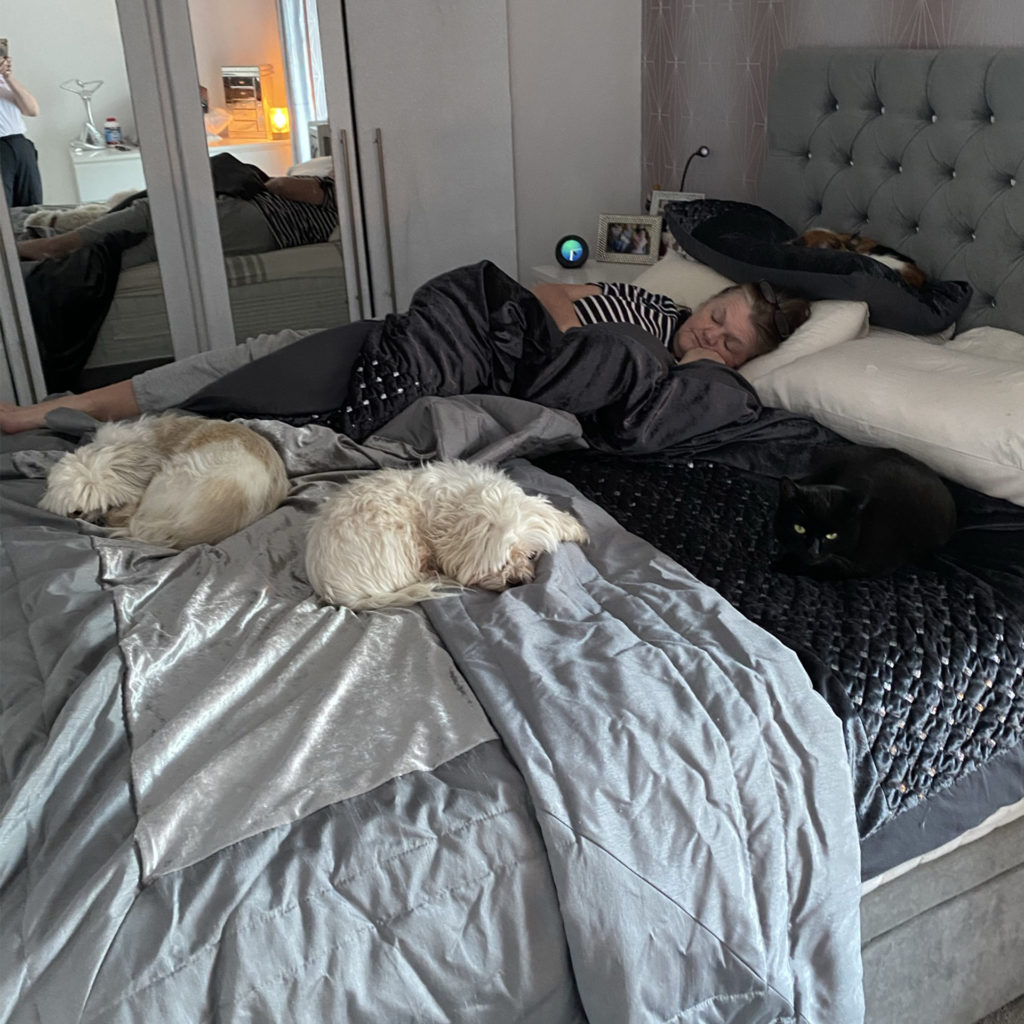 Karen from Glasgow can barely get any room in her bed thanks to the bevy of pets who've taken over. With two cats and two dogs, she tells us, "If you don't get in first, you don't get a space!"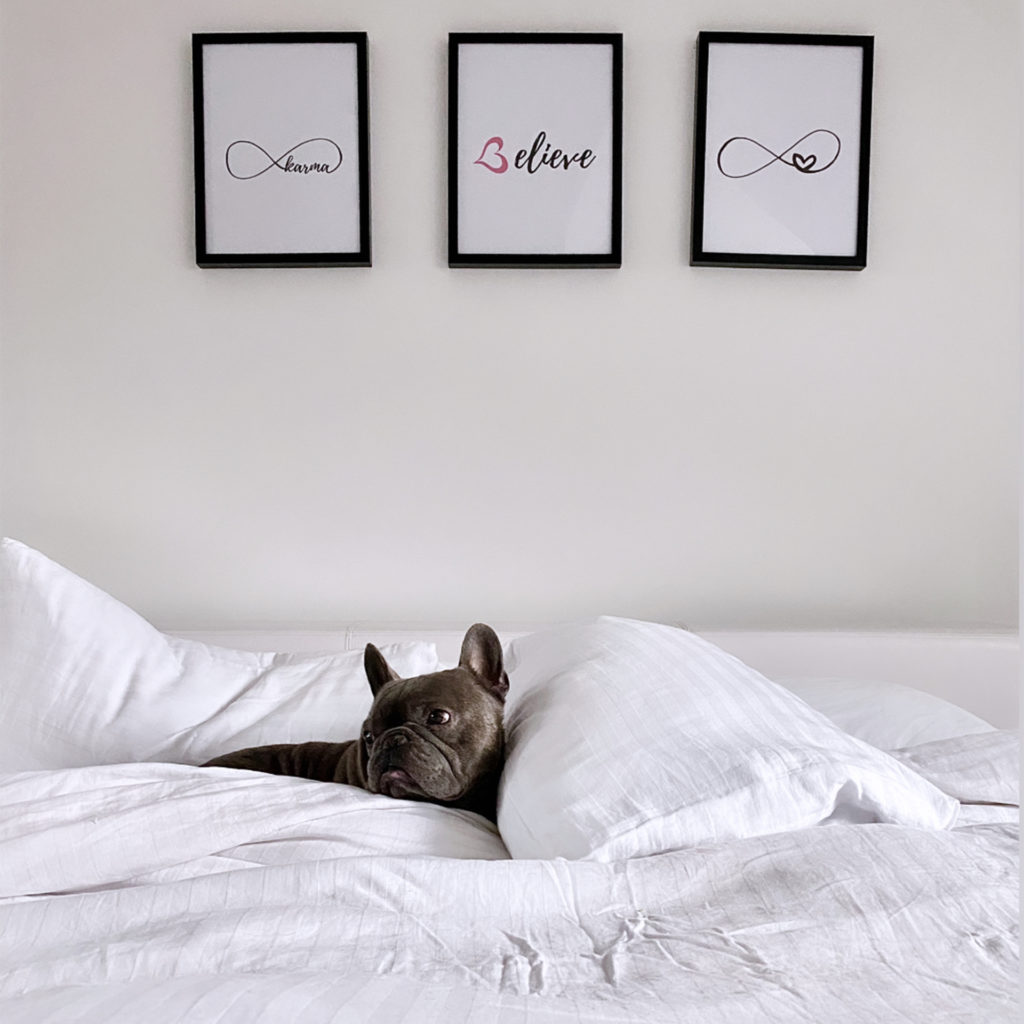 A big fan of minimalism, Herbie the French Bulldog loves being wrapped up in a freshly washed white duvet.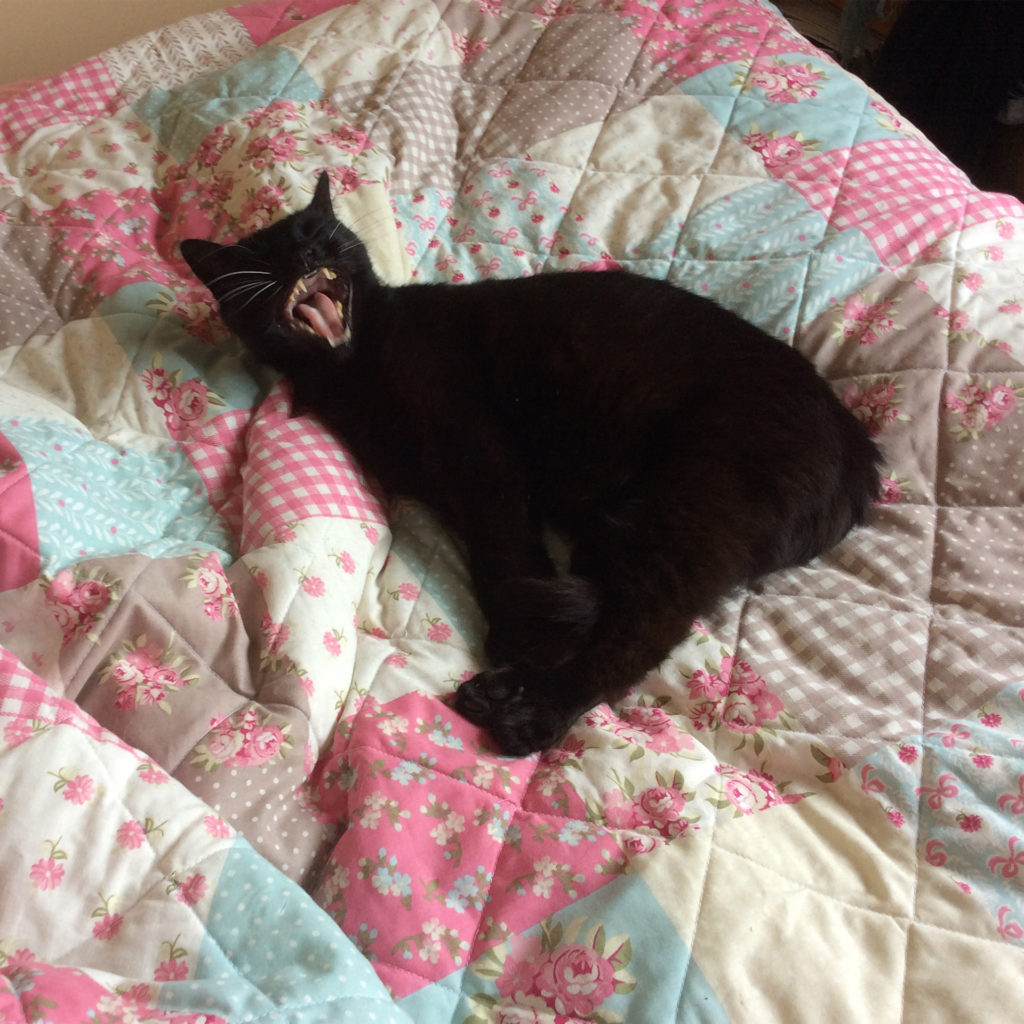 Rescue cat, Buttons, has clearly had a very long day, as evidenced by his huge yawn. Hopefully a nice long nap will do him some good.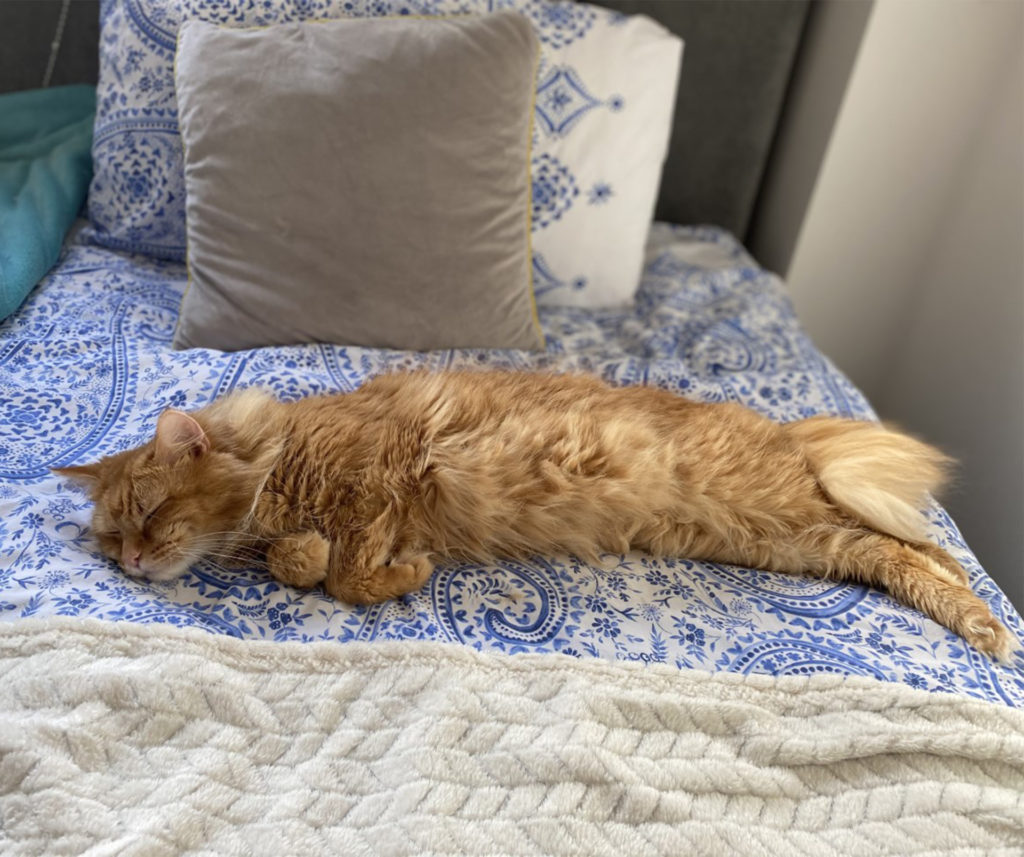 Chickpea, a three year-old Maine Coon from Leeds, sleeps soundly on his owner's bed without a care in the world. Must be nice.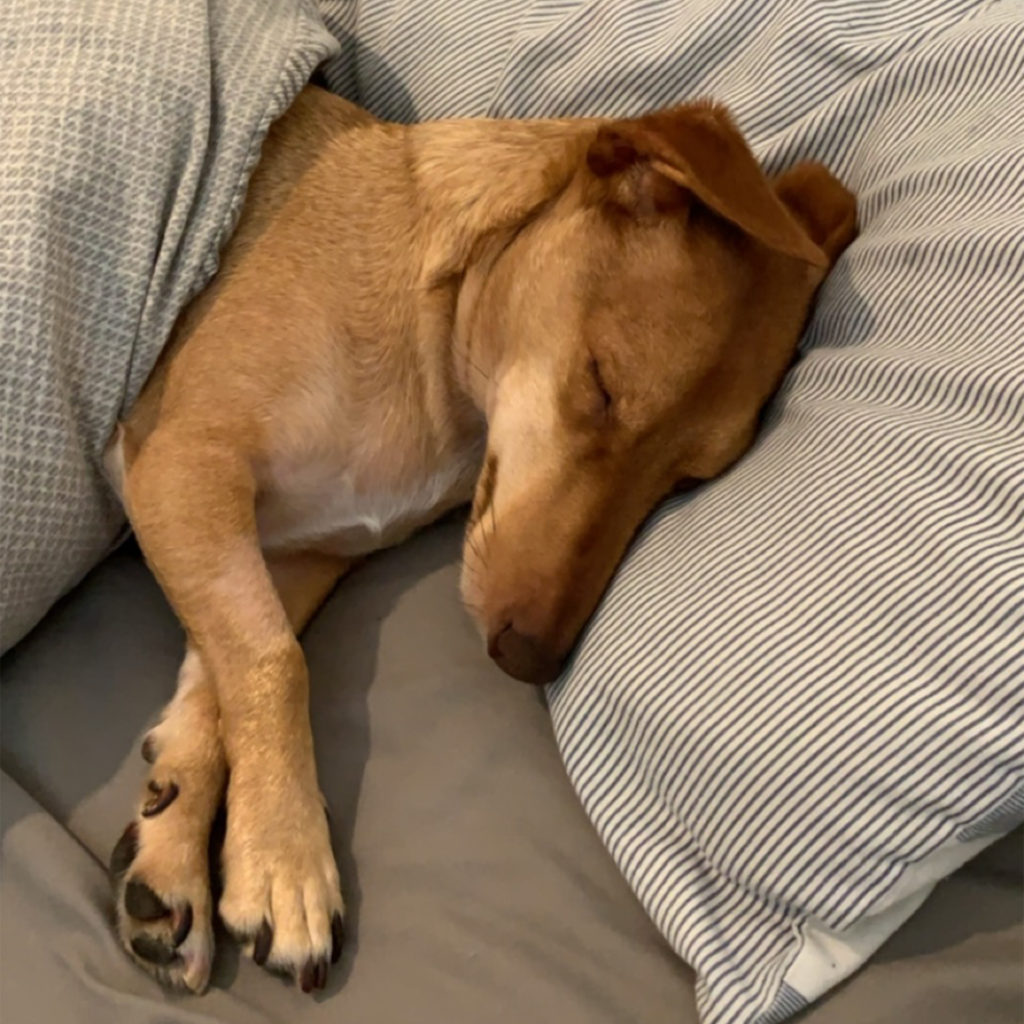 Crossbreed Ziggy was picked up by his owners as a stray. He has wasted no time in making himself comfortable, taking over the bed as if he owns the place.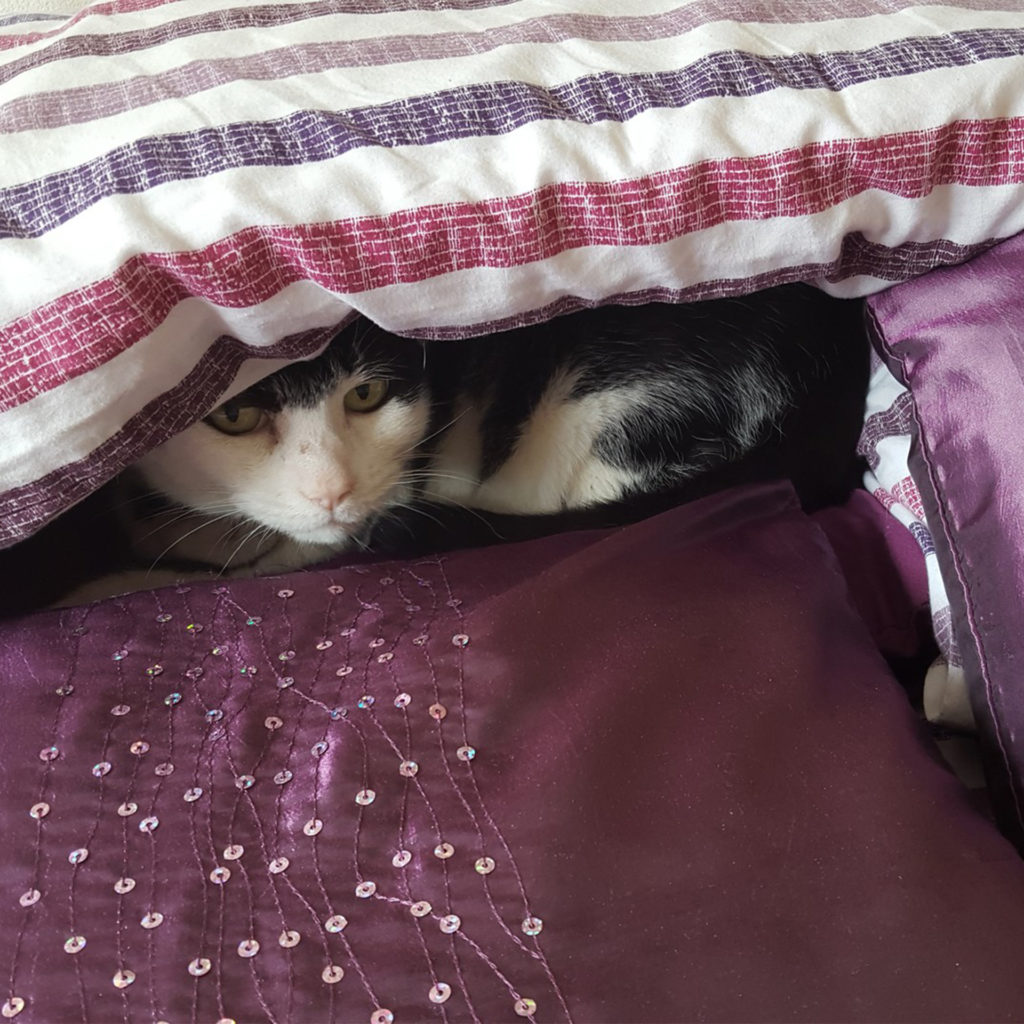 For 17-year-old moggy Pip, there's no such thing as too many duvets!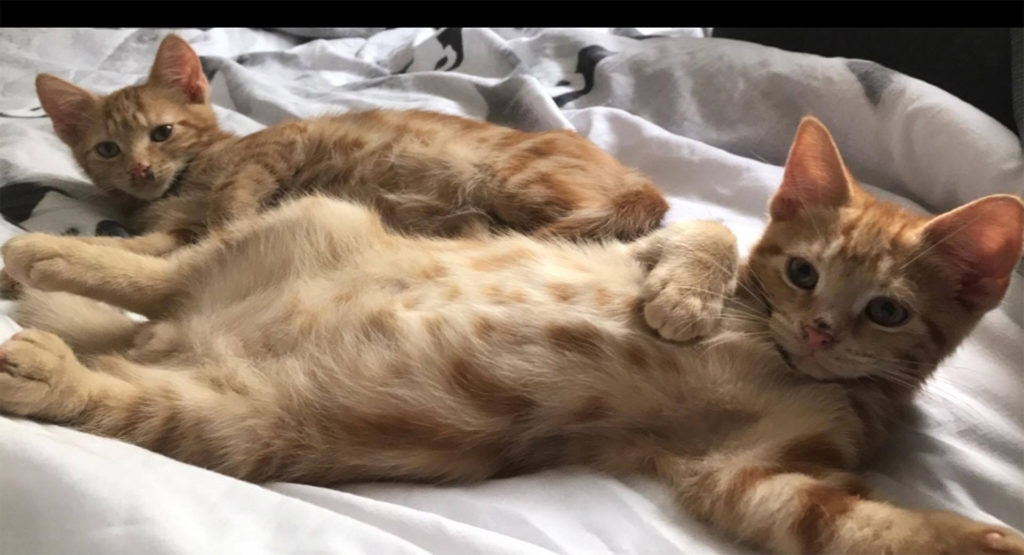 Scooby and Chester's owner tells us that they have loved snuggling in her bed ever since they were kittens.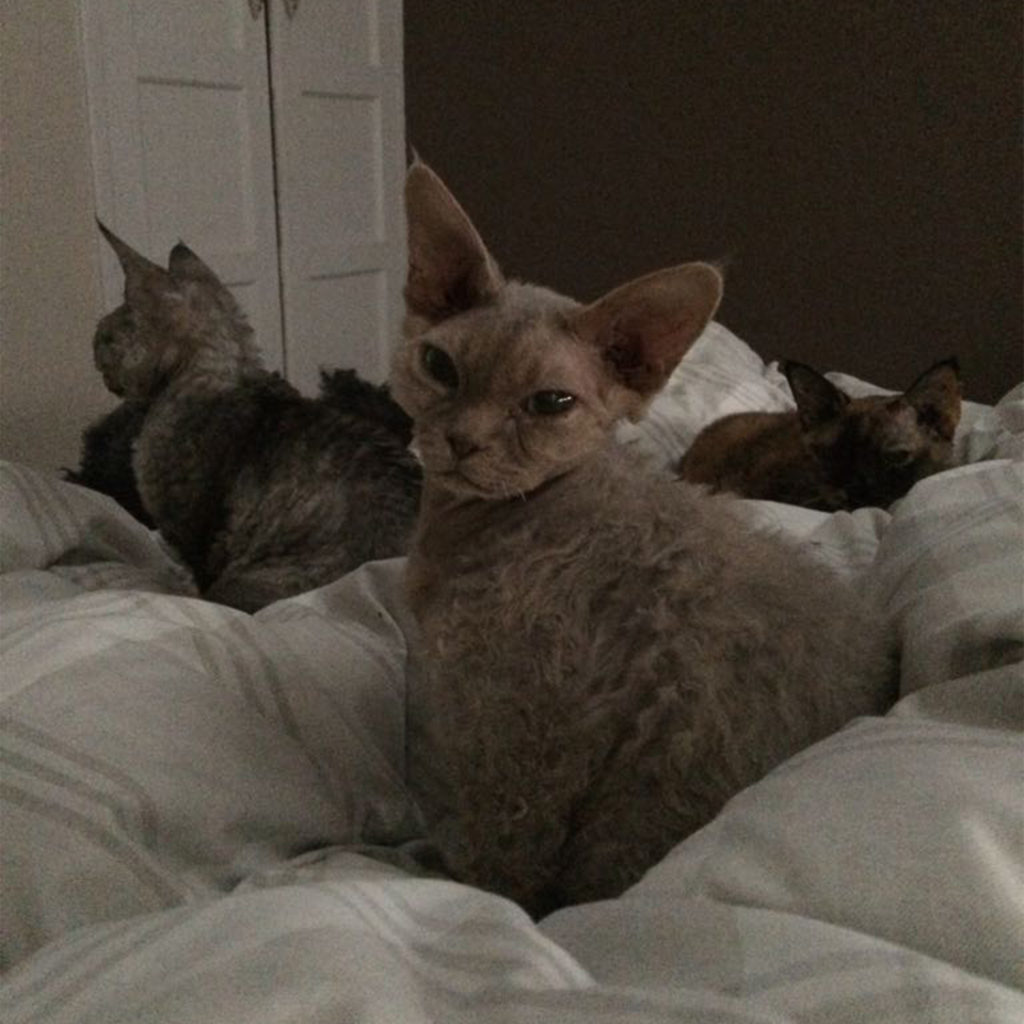 Another crowded sleeping situation. Sarah from Norwich struggles to find a corner of the bed for herself with three Devon Rex cats — Barba, Bonnie and Gremi — and Alfred the toy poodle.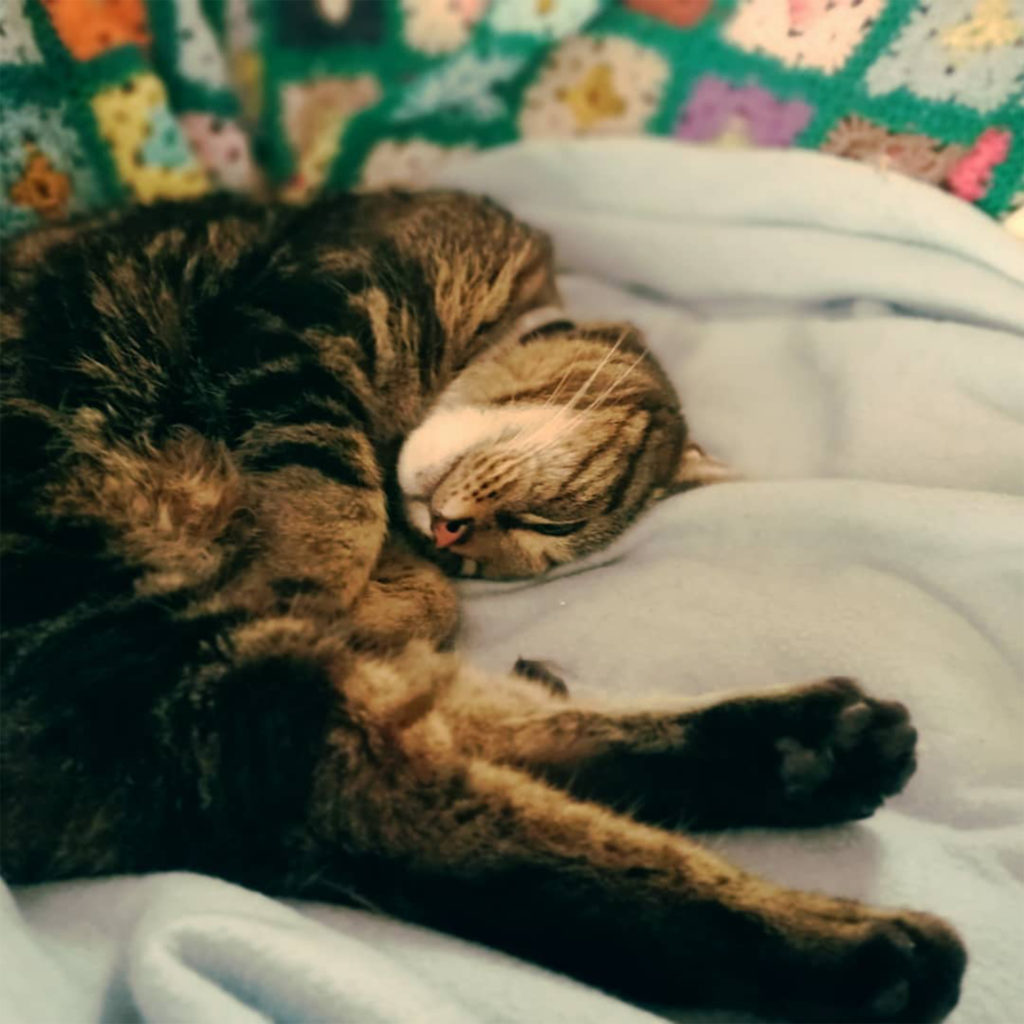 Finally, here's Figaro – a rescue Tabby from Sheffield. He looks so cute curled up on the bed that his owner can never bring herself to disturb him. Sofa it is then!
See even more adorable competition entries!