10 Reasons To Staycation On The Gower Peninsula
---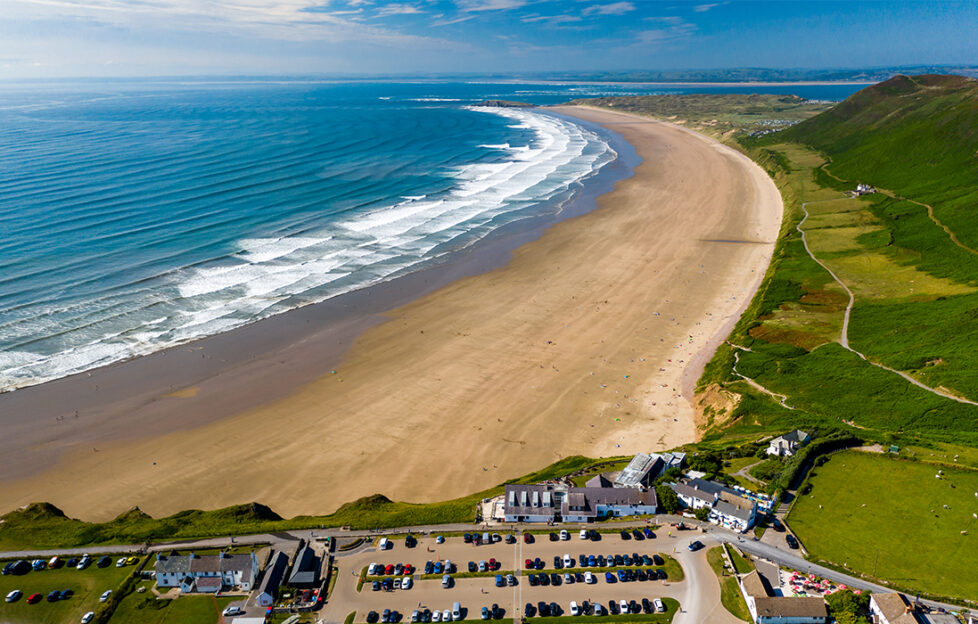 Pic: Shutterstock
On the hunt for a holiday option within the UK? Try the picturesque Gower Peninsula in south-west Wales.
Recently named the most desirable property hotspot in the UK, the area has an abundance of natural charm. There are many wildlife wonders on Gower, which visitors can experience entirely for free.
Here are 10 reasons to treat yourself to a staycation in Gower this summer…
1) Holiday In Safety
Gower is a very special location. Just 19 miles long, it accounts for close to 70 miles of coastline, and is one of the biggest tourist draws in Wales. It starts at Mumbles and then projects westwards.
It was the first named Area of Outstanding Natural Beauty in the UK, and received the award in 1956. It was voted the best AONB in Wales in 2002.
Holidays should always feel like a peaceful break, and unfortunately due to the current health crisis, ensuring that you are sufficiently distanced from others is something that should be considered.
Gower is the best place in the UK for achieving good social distancing, according to the 2020 Safecation report. In addition, the population density is low with just below 150,000 visitors per year.
Rhossili and South Gower are able to welcome around 2.2 million visitors while still ensuring there is a 1 metre distance, and for 2 metres it is 1.1 million.
In other words, this is a relatively remote area perfectly suited for those who want an escape from the crowds. You have the opportunity to fully enjoy your trip to a gorgeous area with loved ones, while also having the confidence you will never have to worry about being in close contact with large groups of people.
2) Stunning Scenery
Gower has an incredibly abundant and diverse environment. It has an impressive combination of limestone cliffs, wild moors, heathland, limestone grassland, fresh marshes and salt-water marshes. In addition the area boasts dunes, oak woodlands and beautiful sandy beaches of a lovely golden shade.
A large section of Gower's coastline is classed as Heritage coast, while 33% is either a National Nature Reserve or a Site of Special Scientific Interest.
It has an eclectic mix of scenery and a fascinating mix of different types of geology, despite the area being  fairly small in size.
The cliffs, interrupted by beaches and rocky shores, transition into a coast at a much lower level, with marshes and dunes.
The jagged promontory which reaches Rhossili Bay is named Worm's Head. Exploring this landmark is a great way to spend a day, as long as you are mindful of tides.
There are also amazing sunsets to enjoy, which are brilliant for photo opportunities. Options include Pennard Castle, Three Cliffs Bay beach, Worm's Head and Swansea Bay.
The coastal path around the peninsula passes through a fascinating range of coastal habitats. The Burry Inlet is a site of international importance. It boasts perhaps the most exciting array of species in the area, with wildfowl, waders, dunlins and shelducks.
Gower is understandably very popular with birdwatchers. However there is something in the area for any nature lover.
3) Swansea City Break
One of the best aspects of the Gower area is its proximity to the city of Swansea which makes for an ideal city break, or day trip. This provides visitors with a great balance between a small and quiet area and a modern city.
Swansea is in many ways at the centre of the culture of Wales. Tourist attractions to experience include the Liberty Stadium, the Dylan Thomas Theatre, the National Waterfront Museum and the Dylan Thomas Centre. There are also a large quantity of festivals and the chance to admire stunning artwork at the Glynn Vivian Art Gallery and the Mission Gallery.
Swansea Market is Wales' biggest market located indoors, with over 100 traders. Tourists can grab delicious fresh produce or unique handicrafts.
Activities catering for families ensure children remain occupied. The LC is a popular leisure centre and water park, along with the National Waterfront Museum which has many interesting exhibits. Plantasia is an indoor tropical wonderland, with everything from insects and reptiles to fish, and even monkeys!
Although there are many wonderful parks and gardens in Swansea, the Clyne Gardens stand out from the rest. They have an impressive variety of plants, with rhododendrons, Elephant Rhubarb and American Skunk Cabbage among others. Visitors would surely love to pose in front of the Japanese garden with its beautifully-coloured bridge.
The Liberty Stadium, opened to the public in 2005, seats 20,000 and is the place that the Ospreys – one of the most successful UK rugby teams – and Swansea City FC call home.
4) History
Gower's history dates back to ancient times. There is natural evidence here of the end point of the last Ice Age.
The peninsula has an abundance of archaeological remains which give researchers some of the earliest proof of human life and land use in the UK.
The name 'Gower' was given during the Norman period, when the Welsh area of Gwyr became the lordship of Gower.
Europe's oldest formal human burial ground has been found here, not to mention many historic attractions such as Neolithic and Bronze Age monuments. There are also relics from the Iron Age and Roman times.
The earliest evidence of humans in the area was during the Palaeolithic period. Hunters and gatherers would move throughout Gower and leave a trail of stone tools, seashells, human remains (discovered at Goat's Hole Cave) and flint axes (found at Rhossili beach).
In the Neolitic period, people would construct commemorative communal graves and chambered tombs for their dead, such as those found at Rhossili Down.
The medieval period was dominated by the Welsh community with their carved stones, and then the Normans with their castles, such as Penmaen Castle Tower and Pennard Castle.
The people who resided in the area used the riches that the sea had to offer. This combination of people and customs developed the area into what it is today.
5) Walking
Gower is a brilliant place for hikers or those who enjoy a casual stroll in nature.
The coastal walk from Langland Bay to Caswell Bay is a two-mile route with many opportunities to stop for a rest. Why not have a bite to eat at the Langlands Brasserie which has a beautiful terrace with a view of the beach?
Then you can walk by the golf course towards Snape Point. There is a viewpoint nearby which allows you gaze at the Bristol Channel. The walking route then works its way to Caswell Bay where there are more restaurants for lunch or a quick coffee. You can laze around the beach before you decide to trek to Langland Bay and finish the route.
Other walking options include the Three Cliffs which allows you to encounter a multitude of geological wonders, or woodland and dunes on Oxwich Bay – a route which involves passing a whimsical church and historical manor house.
Rhossili Beach and Down is another great option for walkers and allows tourists to examine a shipwreck as well as a glorious bay. For the more adventurous of us, Worm's Head is one of Gower's most well-known attractions and involves a three-mile walk. Timing is essential as it is imperative you venture there at low tide and wear appropriate footwear.
At the Outer Head you will discover caves, rock formations, rock pools, crabs, shrimps and seabirds. It is perfect for immersing yourself in the wildlife which Gower has to offer, because sometimes lucky visitors even spot dolphins and seals!
6) Beaches
One of the main reasons that should convince you to take a trip to the Gower area is the glorious beaches. The South and West coasts have lots of sand and limestone cliffs, while the Northern coast develops onto part of the tidal Loughor Estuary which has lots of nature reserves.
Many of the beaches at Gower have been awarded on a national and international scale. Rhossili Bay was voted one of the best beaches worldwide, and more importantly, the best place for picnics in Britain!
It is vital to note that some of Gower's beaches have rules in place which prevent owners from taking their dogs with them from May 1 to September 30. This applies for certain locations only.
Rhossili Bay has a great number of amenities including shops, cafes, and a Green Coast Award. Although the sand is beautiful, there are many bird nests on the cliffs, so even those who don't much care for a beach stroll will find something to enjoy. Bluepool Bay is a much more sheltered and craggy inlet popular with ornithologists.
Caswell Bay is another popular beach which is a haven for surfers and boasts numerous accolades. It is great for relaxing in the sun, or examining rockpools. Mewslade Bay is perhaps one of Gower's most aesthetically-pleasing bays.
Pennard Burrows is a wooded valley intersected by a river called Pennard Pill. It is a wide area with sand dunes and other coastal features. Pennard Castle actually rests at the highest point of the hill and is perfect for exploring. All of the beaches and bays have unique attributes.
7) Water Activities
Gower has a number of activity centres which offer a variety of water sports for thrill seekers. These include surfing, body boarding, paddle boarding, canoeing, kayaking, gorge walking and coasteering. Otherwise there are kite riding courses and surfing schools if you are interested in more rigorous training.
Oxwich Watersports is brilliant for a family day out and is located in Oxwich Bay. Sailing is a popular choice, and the company Euphoria Sailing has a base at Oxwich Bay. There they offer dinghy sailing or more in-depth courses. If you want to live lavishly, you can go aboard a 43ft yacht. Powerboating, water-skiing and donut riding make for fun afternoons for children.
Another way to involve the whole family is to take advantage of the accredited tuition offered by sailing companies which cater to individuals and larger groups of any skill and experience level.
The Gower Peninsula and the Swansea Bay have the second greatest tidal range globally. Although there are many companies which make life easier for tourists by providing introductory sessions and longer term coaching, the area is also beloved by keen surfers, sailors and watersport-lovers due to its perfect conditions.
This makes it an exhilarating environment to stay in and it is inspiring to witness the athletic prowess of those who you pass while walking along the beach. Even if you are not interested in attempting a career in sports any time soon, you can always paddle at one of the bays or go for a bathe if you feel brave and are vigilant with tides.
8) Inland Activities
If you wouldn't exactly consider yourself an adrenaline junkie, perhaps opt for the Fairwood Park. It is the only so-called Championship status golf course in the Gower area as it has been the location for the Welsh PGA Open twice-over in the past few years.
However, if danger is what you crave, Gower also has coastal scrambling and rock climbing to try. The Pembrey Park Riding Centre is fairly close by and provides an active experience which is safely on dry land. Likewise, the Perriswood Archery and Falconry Centre is incredibly popular.
Those after a cultural experience during their staycation should slot in some time for a trip to the Swansea Bus Museum, the Cefn Coed Colliery museum,  the Attic Gallery or the Taliesin Arts Centre which is a theatre and cinema in one. Still within Swansea, Skidz Karting is perfect for children to let off some steam, but adults are bound to enjoy it as well.
The Gower Heritage Centre is a 12th century mill. It is still working, but now has shops, a café, a craft centre and a host of different events and festivals to keep an eye out for.
9) Fabulous Food
Joe's Ice Cream Parlour is a must-visit. The company have been delivering iced delicacies to customers for over a century. However, Forte's Ice Cream at Bracelet Bay is the oldest in the area.
There are farmers' markets to be found with an array of amazing local food at Llangennith, Loughor, Mumbles, Penclawdd, Pennard and Sketty. The Gower Wildflower and Local Produce Centre is owned by an ecologist and has its own café where you can indulge in delicious produce from the area.
In terms of restaurants, the Fairyhill Hotel and Restaurant is not only an organisation which has been awarded 5 stars, but is one of the first eateries in the country to locate all of its ingredients within 10 miles. The vegetables and eggs you consume are sourced directly from their garden and ducks.
Maddock Cakes have a cutesy tea shop in Pennard where you can try Welsh cakes. There is also an independent chocolatier, aptly named Cocoa. If you fancy a truly indulgent treat, try some Gower fudge which makes use of Gwyr gin in its recipes.
Other favourites include The Cliff Restaurant close to Three Cliffs Bay, and Cwm Ivy Café & Crafts which is a wooden shop also serving wonderful coffees and cakes. The Gluten Free Baking Company makes sure that coeliacs are catered for while Parc-le-Breos provides high tea in their conservatory or decadent vegan options on their terrace. And yes, there is fresh fish, locally sourced-meat and ingredients straight from their orchard on offer. All the more reason to tuck in.
10) Drink Choices
The No Sign Wine Bar is a great spot to dine in, and have a drink. It has been around since the 17th century and has live music to enjoy during the weekends which gives the overall experience an upbeat atmosphere.
The Gower Brewery opened in 2011 and is one of the fastest expanding breweries in Wales. In 2019 they opened their own restaurant within the bars at the Grand Theatre in Swansea. The company promises ales with natural ingredients, and even provide a range of vegan beers.
The Gower Gin Company have their own gin garden where small groups have the chance to attend a tasting and purchase their favourites directly from the distillery shop. Otherwise you can choose to spend 2 hours viewing the micro distillery and ensuring you have tried every gin on offer.
Perhaps one of the best locations in the world to have a beer? The Worm's Head Hotel in Rhossili. Although it has fairly nondescript seating and decor with a few picnic tables, it has the most magical views. You have the ability to not only see Worm's Head point, but a beautiful and extensive golden beach.
If proximity to the beach is what you're after, the Oxwich Bay Hotel has a beer garden within 10 metres of the sands, and of course, plenty of wines, beers, and food to choose from.
The Britannia Inn makes for a slightly different experience, offering close proximity to furry and feathered creatures. The beer garden, with a daily menu, is situated on the Loughor Estuary. It has the unique attractions of a rabbit hutch and an aviary, which houses a parrot, budges and quails, making for interesting company.
What's your favourite staycation destination? Email us a photo to the address in My Weekly magazine and you could win £25!