Could These Historic Greenhouse Tips & Tricks Work For You?
---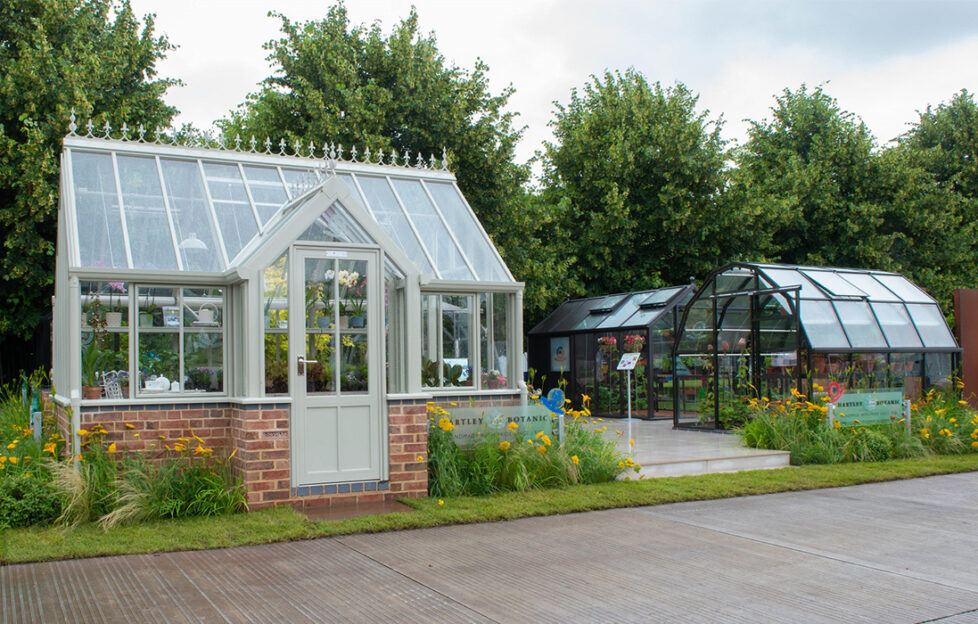 Hartley Botanic's RHS Hampton Court Garden Festival 'Heritage and History' stand
English Glasshouse and Greenhouse manufacturer Hartley Botanic is at the Chelsea Flower Show this year with a stand that celebrates retro greenhouse trends through the decades.
The historic manufacturer, celebrating 83 years in the business, has worked with gardening expert Matthew Biggs to uncover tips and tricks from yesteryear that still work well today.
At RHS Chelsea Flower Show, Hartley Botanic is showing four handmade greenhouses, each representing a different era in its trading history.
Visitors can view a vintage Semi-Dodecagon Greenhouse (built in the 1950s,) a Hartley 6 Grow and Store (the 60s & 70s), Victorian Terrace (90s) and a Modern Horticulture Opus Grand Botanic (present day).
Company CEO Tom Barry said, "Hartley Botanic has certainly moved with the times and trends – from a neat greenhouse and storage shed solution in the 60s and 70s to our elegant and ornate Victorian-style Glasshouses in the 90s (the launch of the Victorian range.)
"But as we look back, we can see the timelessness of some of these historic designs. Honed over 83 years, the structure, shape and detail of these glasshouses have become iconic, originally designed decades ago but very much in demand by the modern gardener."
The post-war gardeners' greenhouse
Britain entered the 50s with wartime rationing still in place. Many gardeners remained in 'Dig For Victory' mode, when parks and playing fields had been turned over to food production. But now, at last you could take down your Anderson shelter, and replace it with a state-of-the-art Hartley Botanic Greenhouse.
Planting was fairly basic by today's standards, and often consisted of growing flowering plants to add a splash of colour to the garden and vegetable seedlings for planting out. Anything more exotic would have been hard to come by, and in any case, the 50s British palate was not quite ready for fiery chillies or Cherimoya.
Inspiration: The New Illustrated Gardening Encyclopaedia ed. Richard Sudell c.1950
50s growing inspiration: plant tomatoes in an 'L' shape
 "Tomatoes – Bad gardeners sometimes allow their tomatoes to grow 'leggy', a state which can be remedied somewhat by laying the stem horizontally into the soil at planting time."
Matthew Biggs said, "Leggy-looking tomato crops are often the result of tomato seeds being sown too early in the year, when there is an incorrect balance between light and heat. Too much heat, and plants become tall and spindly, or 'leggy' as they try and grow towards the light. The idea from this c1950s encyclopaedia of laying the roots almost horizontally so the plant formed an 'L' shape, is intriguing. Tomatoes produce roots on the stems, so planting them deeper increases the size of the root system, but you don't need to lay the roots horizontally, just modify this tip from the 1950's and plant them vertically, with the stems buried 5-10cm below the level of the compost. This means that if your plants are not excessively 'leggy' you can still get decent crops, you don't have to put them on the compost heap and start again."
50s growing inspiration: tailor your soil
 "The final potting compost should consist of two parts fibrous loam and one part each of leaf mould and well decayed manure with a good sprinkling of sharp sand."
Matthew Biggs said, "The complexity of creating the right compost in the 50s has been completely removed today thanks to the good range of peat-free multipurpose composts which are available from your local garden centre. However, this does remind us of the importance of choosing the correct compost for different crops. Most Glasshouse crops need multipurpose compost or multipurpose with added John Innes. It is a good idea to warm the compost in the Greenhouse for 24 hours before sowing or transplanting, as tender crops don't like the shock of cold compost."
50s growing inspiration: your vegetables can also be ornamental
"Sown under glass, these half hardy annuals are usually grown for bedding. Their handsome graceful foliage is an admirable foil to beds of such subjects as begonias."
Matthew Biggs said, "In the 1950s no-one thought of sweetcorn as an edible crop, instead, they thought of them as ornamentals for use in bedding displays. This sparks a nice idea – to consider aesthetics when growing your vegetables. The French create ornamental gardens or potager's with panache and you can, too. Choose varieties for your Greenhouse to create a display that is both ornamental and edible. Tomatoes of different colours, from yellow to black, white or orange aubergines and bright skinned peppers and chillies are among the best plants for creating a glamorous Greenhouse display."
1960s and 70s – gardens grow trendy
Foreign holidays and ever-more diverse cuisines in 70s and 80s Britain saw us broadening our horizons in our Greenhouses and gardens. We had many more varieties of vegetables, flowers, and shrubs to experiment with, but we still liked to plant out in neat, regimented rows in very segmented layouts. The marigolds were still precisely 12 inches apart, but you might also find figs in the Greenhouse, or a grape vine, and certainly Gardeners' Delight tomatoes. At Hartley Botanic in the 1970s, they felt combining the Greenhouse with the garden shed would be helpful for the new breed of the busier gardener, hence this Grow & Store dual-purpose structure (Greenhouse/Store) was developed. We were all using very much more plastic too, in pots, seed trays, watering cans and those new-fangled growbags.
Inspiration: The Readers Digest Gardening Year ed. Roy Hay 1974
70s growing inspiration: consider your watering
"It is important not to splash the foliage of pot plants like Begonias. Apply water gently, from a can with a long spout, close to the rim of the pot. If necessary, wedge a sliver of wood in the spout to reduce the flow."
Matthew Biggs said, "There is much debate as to whether or not you should water plants' leaves as they can scorch in the sunshine. You certainly should avoid wetting the foliage of Greenhouse plants with hairy leaves. This 50s tip suggesting you should apply water to the roots where it is needed, is correct and the idea of wedging a sliver of wood into the spout of your watering can if you have mislaid the 'rose' is a great one. This will help to reduce the strength of the flow of water, so compost is not washed out of the pots."
70s growing inspiration: clean your pots!
"Sow seeds in pots or trays, cleaning the containers thoroughly before use. Sow the seeds thinly on the surface of the compost covering all but the smallest with finely sieved compost, coarse silver sand or horticultural vermiculite."
Matthew Biggs said, "I wrote an article a while back in the RHS' magazine about whether you need to wash your pots or not. I think it is good practice to keep everything clean as is suggested in this extract from the 1970s, it makes your Greenhouse look more professional and avoids the spread of pests and diseases. It is important you take extra care when cleaning non-plastic, such as terracotta, as these alternative materials tend to have rougher surfaces where nasties can lurk. Scrubbing your pots in warm water with environmentally friendly disinfectant is a job for late in the season, when they can dry out in the sunshine on the patio or lawn. Carefully washed terracotta pots look immaculate when they are all lined out on the Greenhouse bench together. What is the point of having a beautiful Hartley Botanic Greenhouse or Glasshouse if your floor is unswept or your pots are dirty?"
70s growing inspiration: try your hand at bedding plants
"Sow seeds of Coleus, tuberous and fibrous rooted Begonias, celosias, abutilons and streptocarpus in February. Place in pans or seed boxes in a propagating frame heated to 16-18C (61-64F.)"
Matthew Biggs said, "All of these plants were really popular in the 1970s, before the age of 'plug plants' when it was common for gardeners to grow their own bedding plants from seed. It is still a lot cheaper to do this, but seedlings of bedding plants do need lots of care. I think the main benefit we can take from this today is the pleasure around watching these plants grow from start to finish. I have been gardening for many years and there is still a wonderful sense of excitement and anticipation as your seedlings start to emerge. There is a clear psychological benefit to caring for plants, it an absorbing and satisfying experience which brings a little mindfulness into our lives."
1990s – Gardens as an extension to the home
By the 90s, timeless style was returning to the garden. The Greenhouse was still a functional building, but many people wanted theirs to enhance the overall aesthetic of their garden space. The idea of the garden as an additional room was taking hold, and we began to think of gardens more as leisure spaces, with less formal planting and more places to entertain or relax in. At Hartley Botanic we looked to the classic Glasshouse designs of the Victorian period and reinvented them for the late 90s, complete with elegant finials, subtle colours, and handsome brick bases. Planting-wise, we were more adventurous than ever, with exotic herbs, aubergine, chilli, and sweet peppers joining the growing mix.
Inspiration: The New Royal Horticultural Society Dictionary of Gardening, 1992
90s growing inspiration: try natural predators
"Biological Control is another technique increasing in use and scope. Predators and parasites can be brought into the Greenhouse and placed among the crop to control such difficult pests as whitefly (Encarsia formosa) and red spider mite (Phytoseiulus persimilis)."
Matthew Biggs said, "The 90's marked the arrival of biological control in home gardening, and it is still something that not everyone knows about – especially if they are just starting out. Instead of dumping lots of chemicals on your plants, use natural predators to manage any pest problems. This technique uses nature's own controls. It isn't particularly complex or involved – now you can buy predators online or from the garden centre and they are simple to manage within the Glasshouse. There are predators for aphids, whitefly, scale insect and a host of other pests. Use environmentally friendly solutions – let's think natural!"
90s growing inspiration: tailor your approach
"Edible peppers have requirements in cultivation similar to tomatoes, although they need slightly higher temperatures and humidity."
Matthew Biggs said, "Although most gardeners grow tomatoes and peppers happily together, with a few degrees making little difference, this does demonstrate the need to understand that different crops have different tolerances. You don't have to be that specific, but different plants do have different needs. Peppers, basil, and tomatoes, are happier near the Greenhouse door where it is hot and dry and I grow my cucumbers at the back of the Greenhouse, where the air is still and humid."
90s growing inspiration: think about temperature
"Sow French beans under glass for early crops. Germination will not take place below 10C(50F) and is slow at 15C(60F) The optimum temperature for germination is 30C(85F.)"
Matthew Biggs said, "You don't need to be following guidelines on sowing temperatures down to the last degree, but it is important to understand that temperature has an important role in producing successful crops. It is vital not to sow some crops too early. If it says on the packet you must sow in February but your Greenhouse feels very cold, it is best to wait until the weather warms, especially at night. When sowing outdoors, make your decisions according to the weather conditions and the needs of the crop, not by the instructions on the packet. You can, however, to beat the weather, sow hardy vegetables like lettuce and broad beans, earlier in the protection of your Hartley Botanic Greenhouse."
A proud company history
Hartley Botanic was founded in 1938 by brothers Vincent (RHS fellow) and Norman Hartley following their ground-breaking aluminium Greenhouse design. It is believed to be the first time aluminium had been used in Greenhouse construction, marking a huge improvement on its wood and wrought iron Victorian forerunners.
The English manufacturer has been making elegant made-to-order horticultural buildings for over 83 years from its original factory at the base of the dramatic Pennines' Chew Valley in Greenfield, Lancashire.
A hugely respected brand within the horticultural world, it is the manufacturer of choice for leading organisations, institutions and designers. Hartley Botanic structures have been commissioned by the RHS, the National Trust, Kew Gardens, Glasgow Botanic Gardens, Massachusetts Horticultural Society, Oxford Botanical Gardens, Le Manoir aux Quat'Saisons, Blenheim Palace, The Lingholm Estate and Hampton Court Palace…to name a few. Its entire product range is endorsed by the Royal Horticultural Society.
In April of this year, the manufacturer was awarded a prestigious Queen's Award for Enterprise in the international trade category, thanks to the significant growth of its international business. This was driven largely by demand for its beautiful, handmade English Glasshouses and Greenhouses from customers in the United States.
Each Hartley Botanic is beautifully handmade to last a lifetime. Find out more here.