Annabel Karmel's Animal Cupcakes
---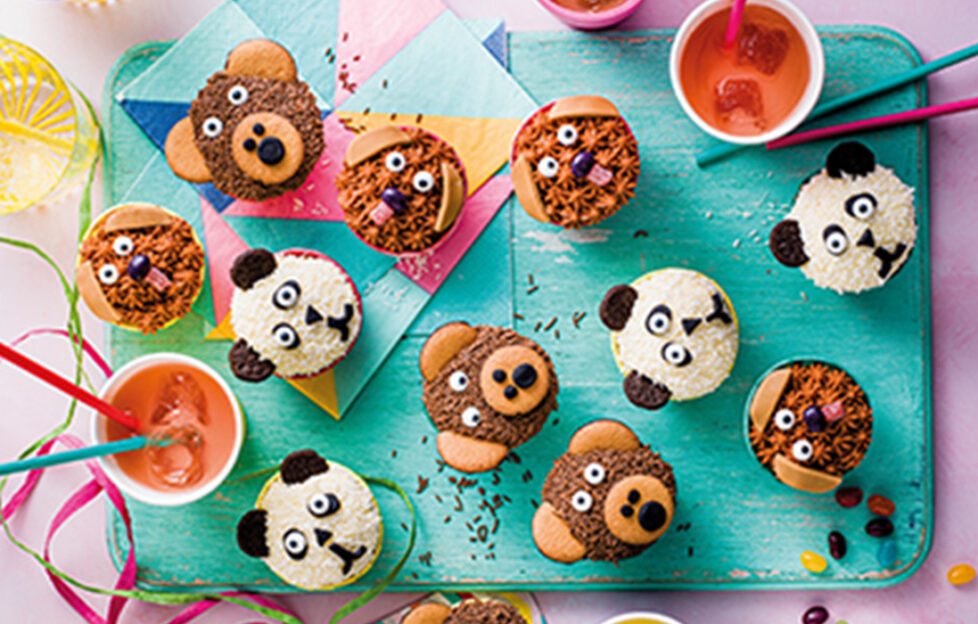 These fun bakes are perfect for party animals!
Once your cakes are baked and cooled, why not create pups, pandas and cheeky monkeys? Or you can decorate them with your own favourite animals.
Preparation Time: 20min + decorating
Cooking Time: 20-25min
Makes: 12 cupcakes
Preheat the oven to 180°C/Fan 160°C/Gas 4 and line a 12-hole muffin tin with paper cases.
Measure all the cake ingredients into a large bowl and beat together using an electric whisk until light and fluffy.
Spoon the mixture into the paper cases and bake for 20-25min, until golden.
Remove from the oven and transfer to a wire rack to cool.
Meanwhile, to make the icing, place the butter, milk and icing sugar in a large bowl. Beat together using an electric whisk until fluffy and pale.
Once the cupcakes are cool, spread or pipe the icing on top as follows.
PUPPY DOGS: Add cocoa powder to the icing and pipe it onto the cakes. Cut ear shapes out of brown fondant and add edible eyes, a jellybean nose and a piece of strawberry lace for a tongue.
PANDAS: Dip the iced cupcakes in desiccated coconut. Cut noses, mouths and oval shapes from black fondant and place edible eyes on top. Add mini Oreos for ears.
MONKEYS: Turn the icing brown with cocoa powder and ice the cakes, then dip them in chocolate sprinkles. Use half a mini Jaffa Cake for each ear and a whole one for the face, drawing on nostrils and a mouth with black fondant. Lastly, add edible eyes.
£14.99 HB, out now
The new kitchen companion for the whole family from the international best-selling author is filled with easy recipes, foodie facts, cooking tips and kitchen tricks to make kids fall in love with cooking. With everything from teddy bear burgers and sunshine paella to Tutti Frutti ice lollies, Annabel focuses on fresh, wholesome ingredients and simple instructions.