Diary of A Modern Gran | Help – We're In Charge!
---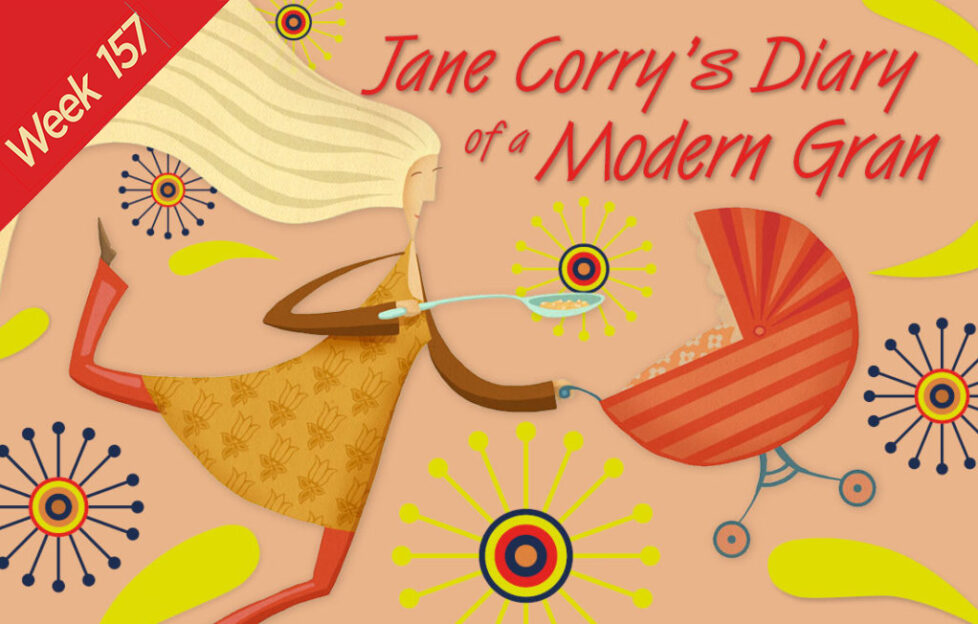 Illustration: Istockphoto
'I'll miss you,' says my daughter.
'We'll miss you too,' I say.
My daughter and one of her friends are off on a well-deserved two day girly break. My son in law is absolutely brilliant at holding the fort but it's me I'm worried about!
I've offered to help out with school runs and take care of little Rose and George until their daddy gets back from work.
Before the virus, I did two full days from morning until night. But then everything changed. Now I'm out of practice!
My daughter – who is far more organised than I am – has left an hour by hour itinerary on the fridge door.  She's also left a letter trail for the children telling them that she loves them very much and will be back soon.
It's a sort of treasure hunt. Each ends with a clue on where to find the next letter. There are three each in total and Rose and George are meant to open each one on successive days.
What a brilliant idea! There's only one problem.
The children – who love puzzles – immediately open them all before I can stop them! Oh dear.
The first day of school runs goes quite well – mainly because Grandad comes too.  It makes it much easier if he sits in the car with George while I queue up to collect Rose.
But then he needs to go home to rest and I have to cope with tea time alone.
Now my daughter is quite strict about them eating at the table. But the children have other ideas.
'We want to have supper in front of the television,' they chant.
---
It looks like there's going to be a mass uprising so I do what seems sensible. I give in. Yes, I know. I shouldn't have. But I don't feel up to an emotional meltdown.
Besides, this is a big thing for them to be parted from Mummy for three days.
When Daddy comes home, I have to say I feel a sense of relief at being able to hand them back safely.
That night, I don't sleep very well. That's because my son in law has an early meeting and I need to be at their place by 6am.
Just as well we only live round the corner!
'When and how do I wake the children?' I ask. Sounds a silly question, I know, but I'm very rusty at this.
'Just go in and say morning at about 7am,' suggests my son in law.
I make myself a cup of tea and start doing my Spanish Duo Lingo, waiting for 7am. Then I hear crying at 6.30. It's George. He's still half-asleep and needs the loo.
I carry him in my arms and he goes back to sleep. But it's nearly time to wake up again!
Honestly, I don't know how I did all this with my three all those years ago.
But miraculously it all goes really smoothly.
Rose wakes first and then George as if he hasn't just woken up half an hour before. We have breakfast and get dressed without any objections.
After dropping Rose off at school, I go back home with George for breakfast even though it feels it should be lunch after being up so early. Then it's off to Forest School.
I mentioned this in an earlier column about bat watching, but this is another group which meets in the woods to do all kinds of wonderful activities for children.
There's an obstacle course this week with a tightrope (and something to hang onto), half-pipes you roll balls down, a fort to climb up and – best of all – hot chocolate!
Only one more day until my daughter comes back. Meanwhile she's been phoning regularly.
'I miss Mummy,' said George at one point, his eyes filling with tears.
---
Oh dear. I knew this would happen. Luckily my thoughtful son in law has bought some cards for them to write Mummy a welcome back note and picture.
Then I lose their door key. Oh no! Where did I put it? After a frantic search, it turns up in my jacket pocket. Phew.
There are more crises involving a slightly terse negotiation over the cleaning of teeth (I won this one) and going back for a spare school dress for Rose.
'I don't need one,' she says.
'You might if you fall in a puddle in the playground,' I point out.
'The Queen doesn't have one,' she retorts with the authority of one who received a reply from Her Majesty when she wrote to Buckingham Palace two years ago.
'We don't know that,' I say.
'Yes we do.'
My granddaughter is clearly heading for the Bar.
I also have to put George in non-matching boots which, luckily, are the same size.
The following evening, just as I'm doing bath time, there's the sound of the key in the lock.
'Mummy!' they call out.
My daughter comes running up the stairs and flings her arms around them in the bath. Suds and all.
You'd think they hadn't seen each other for months!
'Thank you, Mum,' she says.
'Any time,' I say.
Then I go home. If I was the drinking type, I might have had a stiff one. But alcohol doesn't agree with me. So I had a mug of herbal tea and went to bed at 8pm.
(By the way, just in case you're wondering about the non-matching boots, it turns out that this is intentional. George had sprung a hole in each of the matching ones so my daughter just put the remaining two to good use.)
DO TELL US! Have you looked after your grandchildren while their parents have been away? Do let us know how you coped! Send an email to moderngran@dctmedia.co.uk.
A Problem Shared
Do you have a family problem? Share it with Modern Gran by emailing @moderngran@dctmedia.co.uk.
Kara writes:
"I know this might sound silly but I'm worried that my grandchildren might pass on the virus to me.  They are coming to stay for half-term with their parents and two of them have got colds. My daughter says they've been tested and are clear. But I've got myself into a bit of a state about it. On the other hand, I want to see them."
Modern Gran Jane Corry writes:
"I understand how you feel, Kara. In fact, many of us grandparents are concerned about catching the virus from our little ones and also passing it on. You could ask your daughter to do tests on the whole family again before they come to you. You could do the same. As you probably know, tests are free from chemists and through nhs.uk. Maybe you could suggest delaying their visit until they are free from colds. At the end of the day, however, mixing with our grandchildren has to be a personal decision. You might feel that at some point we have to get back to normal. Or you might want to wait until you feel more comfortable."
Grandparent of the Week: Martin
"We have two granddaughters, Betsy (four) and Olive (20 months). My wife and I are lucky enough to live in the same village as them so we see them most days. They are great fun and we have a great bond with them.
"Betsy is a creature of habit. She likes the same things such as going out for tea and cake and also playing on the beach. She's happy to sit quietly but Olive is on the go all the time!
"We also dance to disco and film music like Let's Fly A Kite. We even have 'our' song which is I Love You Always For Ever by Donna Lewis.
"I like driving and Betsy is fascinated by cars.
"She likes to twiddle knobs when the car is stationary and organise a playlist on the music system.
"They often have sleepovers at our place. I don't want them to go home! 
"When you're a new parent, it can be quite scary. But as a grandad, you know they are fairly resilient and can enjoy them more.
"When I come back from a job, they come running out. It gives you a lovely warm feeling.'
JANE CORRY is a granny, journalist and author. She writes psychological suspense novels about families for Penguin.
Love reading?
Jane Corry's new Penguin family drama, THE LIES WE TELL, is the story of Sarah who will do anything to stop her teenage son from going to prison. Even if it means breaking the law herself. You can buy it from supermarkets, bookshops and online at https://linktr.ee/thelieswetell.