Prep Your Garden Now For A Blooming Brilliant 2022
---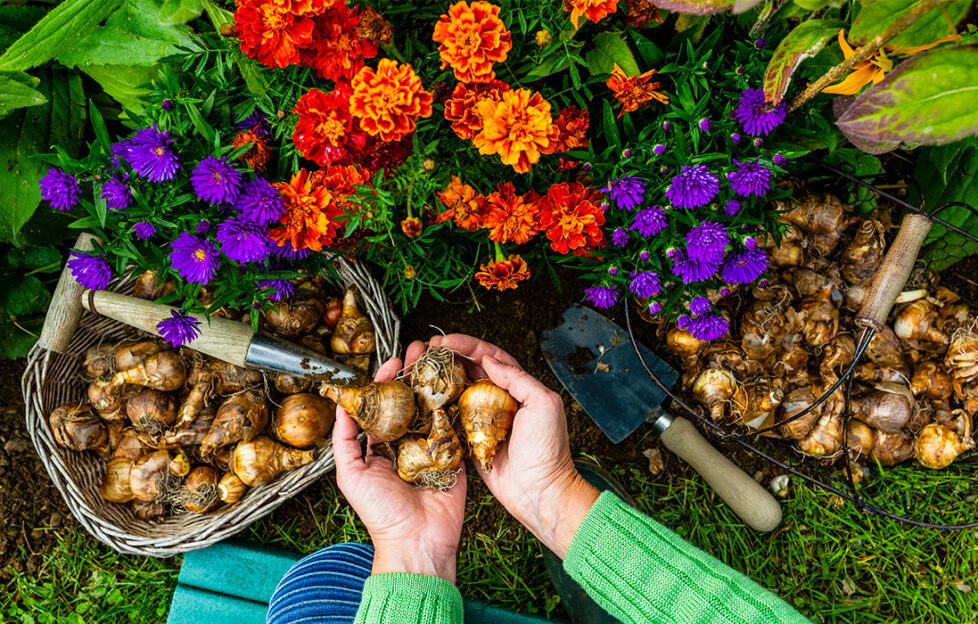 Pic: Shutterstock
Temperatures start to dwindle as we edge towards the final quarter of the year. But now is the time to get outside and lay the groundwork in your garden, to allow it to spring into bloom in 2022.
The expert team from Dobbies garden centre retailer is here to help you along the way.
Whether you have a seasoned green thumb or are new to planting, freshly moistened soil, some evening light and relatively comfortable temperatures mean the autumn garden is packed with opportunity. This should be embraced to maximise a garden's potential for the year ahead.
Trim and tidy
Dobbies Horticultural Director Marcus Eyles advises that autumn is the key season for sprucing up gardens. He recommends
regular deadheading and cutting back of herbaceous plants and roses, allowing them to produce some tidy growth,
pruning (remember to keep sticks and stems so they can be used as plant supports next year)
continued weeding of perennials.
Marcus said, "Autumn is the perfect time to wind down, restore and prepare our gardens for the new year. Spring bulbs, vegetables and leafy crops will welcome your attention throughout the season, as we prepare for winter and anticipate a healthy 2022 spring bloom."
"Root systems will find it easier to develop under cooler weather, so now is an excellent time to plant potatoes for your Christmas dinner, or try beetroot and carrots for a hearty Sunday roast. Maintenance is key during the autumnal months, so make use of a quieter time to weed perennial plants and prune shrubs, but most of all, be sure to sit back and take a moment to wonder in the magnificence of the season's rich colours."
Autumn colour
As Marcus highlighted, autumn is not simply for maintenance. Lots of bright plants revel in the cooler conditions of the season. From fiery reds and oranges of the seasonal foliage to gorgeous greens from the vegetable patch harvest, for fans of colour, autumn can be beautiful.
Dogwood and Birch will keep your borders looking suitably seasonal while Acers, Cyclamen, Pansies and Ornamental grasses make for beautiful displays in containers.
Planting spring bulbs
In preparation for spring blooms, be sure to plant flowering bulbs, so they'll burst into colour once the weather heats up again.
Daffodils, Crocuses and Hyacinths can all be planted in October, but it's best to wait until November for your Tulips.
For planting in the ground, firstly check the planting depth of your bulbs and dig a hole as deep as required. Mix in Bulb Starter and add a layer of grit – this is important if you have very wet or heavy soil as it will prevent the bulbs rotting during the winter.
Go green, go peat free
Autumn is a season of change and transition. Peat-free compost is a great way to encourage sustainability in our gardens, and a healthy foundation for budding spring blooms.
With a target to be peat-free by the end of 2021, Dobbie's own brand peat-free compost, which is now available instore, is a sustainable alternative for those hoping to garden without compromising the environment.
Veg for all seasons
If food is at the forefront of your thoughts, autumn is an important time for the vegetable patch. Planting in this season gives crops a chance to start their life in warm soil giving them a strong base to establish themselves before winter and makes way for an earlier yield.
Broad beans are one of the simplest vegetables to grow in autumn, doing well in most soils and climates. Excellent in risottos, stews or as a snack, these hardy vegetables have large seeds that are easy to handle and don't require any specialist equipment. For the best results, sow your seeds in two close rows between October and November.
Garlic is another great addition to the autumn garden and will be ready to pick by July if planted now. If your soil is claggy, add grit to the bottom of the planting holes and pick a sun-drenched spot.
Top 10 tasks
While the list of autumn tasks may feel daunting for gardeners, Dobbies' handy checklist of top ten tips below should keep you and your garden on track.
 Tidy herbaceous plants
Continue to do weeding, focusing on perennial plants
Plant bulbs ready to burst into colour in spring
Plant herbaceous plants
Empty pots and plant autumn bedding
Start to prune trees and large shrubs
Continue to plant leafy crops
Prep for Christmas potatoes by planting in August/September
Mulch beds with soil enricher, such as Bloomin Amazing
Make refuges for wildlife by not over-tidying
Dobbies is not your average garden centre. Remember to visit our website for more information or pop into store if you require any further advice or guidance. The expert team are always on hand and happy to help.