Winter Wonderland
---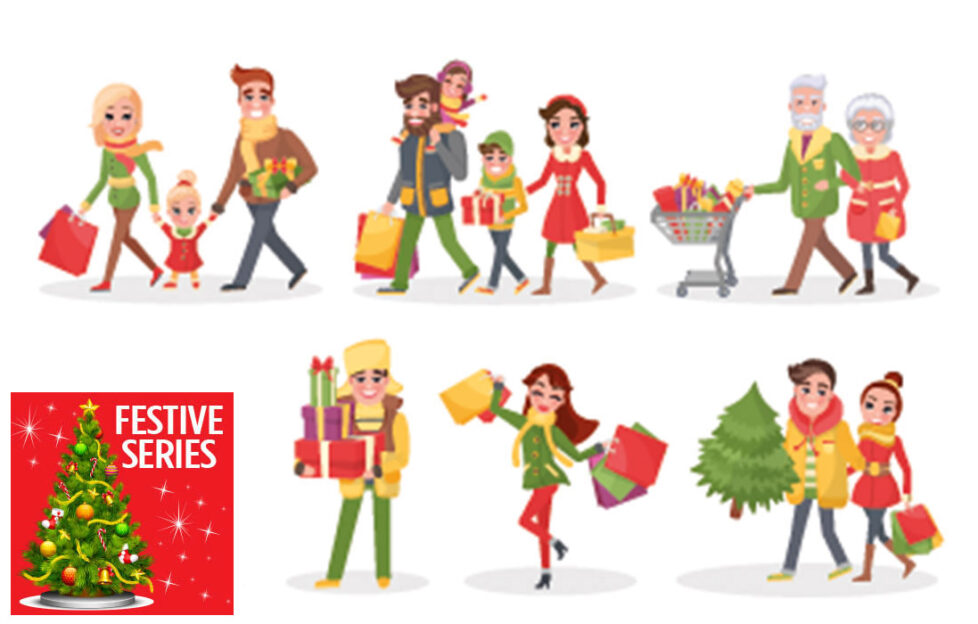 The true spirit of Christmas abounds for all the visitors to this local shopping centre…
Standing at the cheese counter in the supermarket, Jazz gazed at the vast selection. Mouth-watering!
Since Nick walked out she'd been through it all – the anger and the pain – yet she had kept her appetite. A good sign?
Sleigh bells ring, are you listening?
She sighed. Michael Bublé's velvet tones overhead, singing Winter Wonderland, didn't help. It might be nearly Christmas, but Michael's dreamy voice was too much. She and Nick had loved his music.
The young assistant grinned at her.
"Can I help, Madam?"
Jazz frowned. Matt, his name badge said. That Madam grated. Today she felt more like fifty-two than twenty-two.
She pointed to a cheese that was Nick's favourite.
Snow is glistening… sang Mr Bublé.
And Jazz realised it wasn't just the snow that was glistening.
Furiously, she blinked away tears.
"You OK?" Matt asked, concern in his very blue eyes.
"Yeah, thanks. It's just that song …" she blurted out.
Grabbing her cheese, she quickly turned away. Today promised to be one of those days.
---
Geoff reached for toilet rolls: magnolia, four-pack. He and Marie had been coming here every Friday for years – he knew the rota by heart, right from the black seedless grapes to the lemon kitchen cleanser. He could have done this blindfold.
But today their shopping was not going well.
He stared uneasily across the aisle to where his wife, Marie, was faking an interest in tinned soups.
It was two hours now since they'd exchanged a word. A silly argument over Christmas had done it.
He'd suggested they stay home this year – have Kate and family come to them instead of the other way around and save him that long drive.
Plus he could escape to the pub, leaving his son-in-law glued to his beloved football.
"Just for a change?" he pleaded. But Marie didn't like change.
A beautiful sight, we're happy tonight…
Something registered in his brain – someone was singing Winter Wonderland.
He was suddenly back in the Sixties, at a Christmas concert with this song playing over and over and saying hello to the pretty stranger sat next to him: Marie.
He blinked. Fast forward to the twenty-first century… Marie was hurrying towards him.
"Geoff, that's our song!" she cried. "Not the Dean Martin version – some new-fangled fella, but…"
And she was only kissing him on the cheek in the middle of the supermarket!
Too chuffed to be embarrassed, he grabbed her hand, grinning. They'd go to Kate's as usual this Christmas, he decided happily. And they'd all have a whale of a time.
---
In another aisle, Millie was trying to manoeuvre her stick with one hand and open egg cartons with the other.
Happy eggs, organic eggs, extra-large eggs… too much choice.
Then she blinked. A familiar figure in a scarlet coat and heels was trying to dance in time to the piped music, jerking her trolley around and singing along to the lyrics.
Millie smiled. Joyce, from her old ballroom dancing class, seemed oblivious to the giggles and chaos she was causing.
"Hi Joyce!" she called. "Practising the quickstep?"
The trolley stopped.
"Millie! How are you, darling?" Joyce came over. "Are you coping all right on your own?"
"Yes, thanks," Millie nodded. Eight months now since her husband had died, but people continued to be kind.
"Remember jigging to Winter Wonderland at last year's Christmas party?" Joyce added. "Such a shame, now, about your arthritis."
"Oh, I manage," Millie interrupted. "But I do miss the class."
She swallowed a lump in her throat. Loneliness was something she hated admitting to.
"Right, I'm putting you down for this year's party," Joyce declared. "And you must come round to mine for a cuppa. An excuse for cream cakes!"
Here to stay, are the bluebirds…
Millie beamed. That crooner could well be right.
---
Jazz made her way out of the store with her shopping, trying to ignore Have Yourself a Merry Little Christmas now playing. But someone was tapping her on the arm.
"Excuse me! You OK now? I was worried," Matt said breathlessly.
Well, how nice, Jazz thought, smiling at him. In books, blue eyes were often "icy", but not so with this guy.
"Yes – I'm fine, thanks," she replied.
"Bublé's great, isn't he?" Matt hesitated. "I'm on my way to the café. Fancy a coffee?"
Jazz nodded happily as Matt grabbed her heavy shopping bag.
A warm glow crept through her. Things were looking up. The café, the tinsel, the Christmas cheer, was a true winter wonderland.
Surely a good omen for the future…
Our My Weekly Favourites series of lovely short fiction from our archives continues on Mondays and Thursdays. Look out for the next one.
Don't forget – you can find brand new, uplifting short stories every week in My Weekly magazine! Subscribe now for a great money-saving deal.