A Night In The Stable
---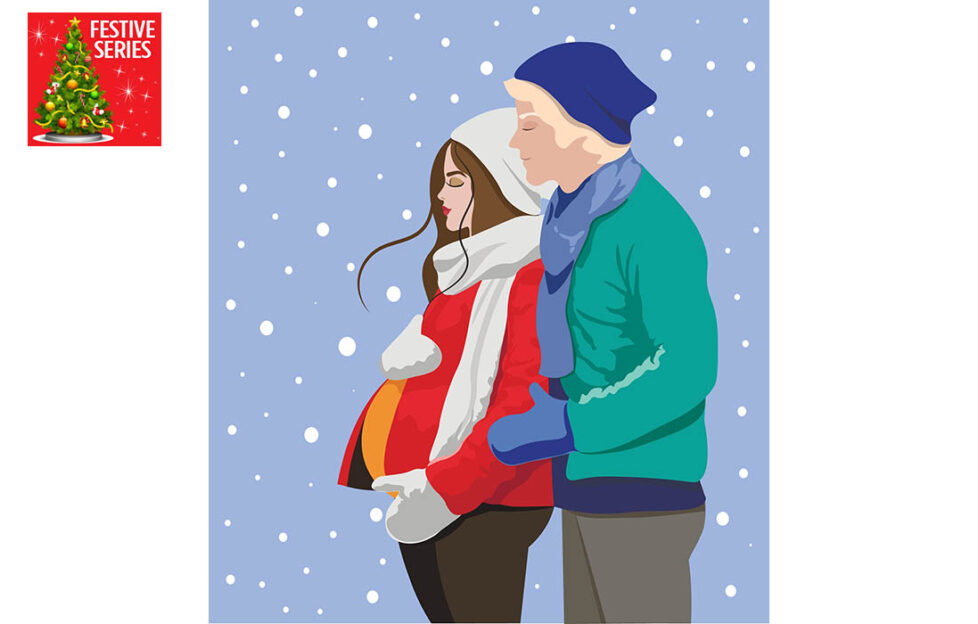 Illustration: Shutterstock
WRITTEN BY GILL McKINLAY
The magic of this Christmas night filled her with hope
Lisa sighed as sat-nav woman insisted Don turn left down some obscure country lane.
Going away for Christmas had been his idea, and something they'd never done before.
"Once we have kids, there'll be no Christmas getaways," he'd said. "We'll be too busy dressing up as Santa and filling stockings."
Once we have kids…
They'd been trying to start a family for five years.
"It'll happen when it's meant to," Don said. But every month brought fresh disappointment for Lisa, December always being the worst.
Pictures of babies were everywhere – lying in a manger, cradled in Mary's arms or wearing sugar sweet Baby's First Christmas outfits.
Lisa couldn't look at them, neither the pictures, nor the real thing. They made the longing worse…
---
"We're here!" Don pulled into a gravelled yard flanked by a farmhouse and some outbuildings.
Peering through the windscreen, Lisa thought of their parents.
In early Spring, their families had booked Christmas holidays and invited Lisa and Don to join them.
Lisa hoped to have a baby by then or at least be a few months' pregnant. Either way, she didn't fancy travelling.
"We'll miss you," her mother said.
Don's parents agreed.
But would there ever be children to miss them some day?
By the time they had reached October, once Lisa knew there was no baby, Don suggested they go away, too.
"There's a last-minute booking available." He showed her some pictures of Harry's Farm, although Harry now ran it as a holiday centre. "It's in the middle of nowhere so you won't see any babies…"
As they got out of the car, Harry scurried across the yard. He handed Lisa a key. "Welcome, and Merry Christmas – your room is at the top of the stairs."
Just then a grey four-by-four shot across the gravel, its horsepower dwindling to donkey status, the driver clearly in a hurry.
"We need somewhere to stay – my wife is pregnant," a dark-haired man babbled as the window silently descended. "The baby isn't due until January but Milly's not feeling well… I'm Jake, by the way."
Milly opened the door and smiled; she looked tired.
"I'm so uncomfortable." Releasing the seat belt, Milly smoothed a light blue cardigan over her stomach. "He's so restless." She looked at Lisa, whose eyes were drawn to the bump as Milly quietly soothed her unborn child with her hand.
Lisa had always shied away from pregnant women, but perhaps she should embrace them, let in some positive vibes… she smiled back at Milly.
"You can't stay here. I'm fully booked," Harry told Jake.
Lisa tossed Jake the key. "It's the room at the top of the stairs."
"What about us?" Don asked.
"You can have my office," Harry said. "It used to be a stable…"
---
Unable to sleep, Lisa got off the sofa-bed. Glancing out of the window, she spotted Jake pacing the yard and talking on his mobile.
Throwing on a coat over her pyjamas, she ventured outside. The air was cold, the clear, black sky sparkling with glittering stars.
"Milly's in labour – I've called an ambulance," Jake said.
Soon, Don joined them, Harry too. "Maybe we should go for tests," Don whispered to Lisa.
As the ambulance arrived, a dog started yapping and two cats appeared. An owl flew overhead, and a fox disappeared into the shadows.
"What next?" Lisa muttered. "Chickens, sheep and ducks?"
Perhaps the cattle were kneeling in the fields; anything seemed possible on this special night.
"I'll make an appointment as soon as we get home," Lisa replied.
Jake escorted Milly into the ambulance.
"I'll call you just as soon as there's news," he said.
"Do you think the Inn-mates came out when Jesus was born?" Lisa asked as the ambulance headed for the hospital.
"Eh?" Harry said.
Well, it can't have been very peaceful for them, what with cattle lowing, kings and shepherds showing up, angels singing – they must have wondered what was going on.
Harry laughed. "And they were blinded by the starlight – I doubt they got much sleep."
"Talking of sleep…" Don yawned.
"Forget it," Harry said. "We've just decided nobody slept during the Nativity so we're not sleeping now." He glanced at his watch. "It's Christmas morning. Let's have a drink…" He strode off, expecting Lisa and Don to follow. But Don held back.
"I thought that celebrating in the back of beyond would give you a break from Christmas babies," he said. "Instead, I think seeing Milly is a sign – perhaps we'll be attending ante-natal classes soon…"
Gazing up at the bright star shining overhead, Lisa remembered the folk who'd given us Christmas.
She guessed they'd been filled with hope – just as she was now…
---
Our My Weekly Favourites series of lovely festive fiction from our archives continues on Mondays and Thursdays. Look out for the next one.
Don't forget – you can find brand new, uplifting short stories every week in My Weekly magazine! Subscribe now for a great money-saving deal, or enjoy one of our Little Escapes short story collections.