Last Minute Gift Fragrances – What's Trending?
---
Pic: Shutterstock
Still looking for the perfect gift? Here's what's hot this Christmas – and Escentual has 20% off full-priced items and a winter sale of up to 60% off starting now…
NEW Yves Saint Laurent Black Opium Extreme 50ml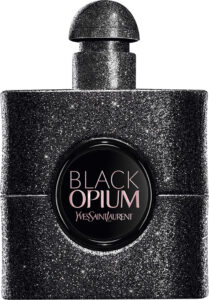 Why you'll love YSL Black Opium Extreme:
·       Longer-lasting variation of the best-selling Black Opium fragrance.
·       Features an extra shot of black coffee and more white florals.
·       Housed within a bold black bottle adorned with sparkling glitter.
What Does Black Opium Extreme EDP Smell Like?
Yves Saint Laurent's Black Opium Extreme opens with a sweet fruity cocktail of crisp pear and honeyed mandarin balanced by a tart cherry accord. The heart blossoms into a white floral bouquet of heady jasmine and orange blossom for a touch of femininity, which contrasts the seductive, moreish base notes of vanilla, patchouli and tonka bean. Of course, YSL wouldn't forget their signature note of coffee; the bitter but addictive roasted coffee accord feels both warm and energising as it lingers on your skin.
Priced at £73.10 and available from Escentual.com
---
Top Choice For Christmas 2021. Set to be a bestseller for Christmas and fragrance of the year…
NEW Michael Kors Gorgeous! Eau de Parfum Spray 30ml

Why you'll love Michael Kors Gorgeous:
·       A smoky, white floral fragrance with a base of creamy woods.
·       Embodies the glamorous modern style of Michael Kors.
·       Eye-catching bottle with rose gold detailing.
What Does Michael Kors Gorgeous! Smell Like?
Gorgeous! Eau de Parfum shares similarities to the best-selling YSL Libre; it has a similar floral-woody tone with a calming lavender feel to it (even though it isn't listed!). However, Michael Kors' fragrance leaves a floral trail that feels altogether more classically feminine and smokier than Libre.  Gorgeous! has a laid-back chic vibe which, as it wears, releases prominent notes of jasmine and tuberose; this is combined with an undeniably smoky tobacco accord that weaves through every level of the fragrance, enhancing the sensuality of the woody base.
Priced at £41.65 and available from Escentual.com
---
Great Choice For Teens
NEW Anna Sui Sky 30ml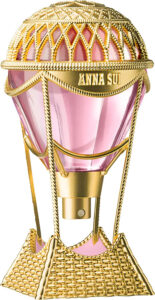 Why you'll love Anna Sui Sky Eau de Toilette:
·       Sweet and airy fragrance defined as a gourmand.
·       Light but lasting Eau de Toilette.
·       Elaborate hot air balloon-inspired bottle with gold detail.
What Does Anna Sui Sky Smell Like?
Created by expert perfumer, Jean Jacques, Sky Eau de Toilette feels like a breath of fresh air when you first spritz it. It fills the air with a light, airy effervescence, thanks to a blend of crisp sweet pear, sunny bergamot and a subtle dash of pink peppercorn. The delicate floral heart recalls fluffy white clouds as soap-like lily of the valley harmonises with a gentle rose facet. The star of the show is lotus flower, an aquatic-floral note that floats through the heart before Anna Sui's perfume is gently warmed through in the base. Sensual vanilla and musk blend with crunchy toasted popcorn to create a scent that's good enough to eat.
Priced at £28.05 and available from Escentual.com
---
Endlessly Romantic
NEW Marc Jacobs Perfect Intense Eau de Parfum Spray 50ml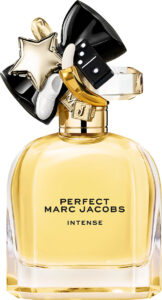 A love letter to your authentic self, written in a rich golden ink for a scented expression of the real you. A gorgeous, denser interpretation of the exuberant, identity-affirming Eau de Toilette, Perfect Intense Marc Jacobs is a floral perfume for women interwoven with nutty notes in a designer perfume with lashings of texture and personality.
This comforting floral eau de parfum for women is a bold, empowered fragrant statement and a celebration of the differences that make you beautiful just the way you are – as Marc Jacobs himself likes to say, #PerfectAsIAm.
Priced at £72.25 and available from Escentual.com
---
Try Something New
NEW Parfums de Marly Oriana 75ml  – Only just launched in September, a bit more expensive, but a treat…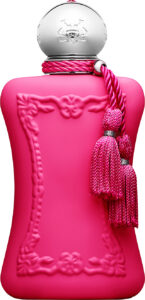 Why you'll love Parfums de Marly Oriana:
·       Sweet, delicate fruity-floral fragrance with an addictive gourmand tone.
·       Long-lasting Eau de Parfum for women.
·       Acts as a great introduction to niche perfume brand, Parfums de Marly.
·       Stunning flacon in a striking pink shade.
What Does Oriana Eau de Parfum Smell Like?
Created by master perfumer Hamid Merati-Kashani, Parfums de Marly Oriana opens with a splash of citrus: juicy, honeyed mandarin, sunny Italian bergamot and citrus-aromatic grapefruit.  This fresh and uplifting aroma blossoms into a heart of sophisticated orange blossom, fruity blackcurrant and a crisp, frosted raspberry before the fragrance melts into delicious, gourmand sweet treats. Chantilly cream creates an sweetness, while warm, sensual and comforting musk wraps you up in a cosy embrace.
Priced at £210 and available from Escentual.com
---
Launched in February this year and smells amazing! One of those fragrances where you'll get asked 'what are you wearing?'!
NEW Jimmy Choo I Want Choo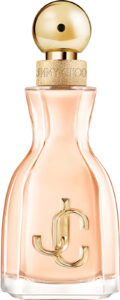 Why you'll love Jimmy Choo I Want Choo:
·       Oriental-floral fragrance for women.
·       Joyful and playful tone with a sensual, rich base.
·       Feminine silhouette-style flacon.
·       The top notes are mandarin juice and velvet peach; the heart notes are red spider lily and jasmine sambac; the base notes are vanilla and benzoin.
Why it's Escentual:
Jimmy Choo I Want Choo is somehow sweet and playful while still being addictive and glamorous. It opens with a sparkling note of mandarin juice and velvety peach before vanilla-like red spider lily blends with jasmine sambac for an addictive, sensual tone. Finally, the base notes of vanilla and benzoin create a captivating trail. Plus, the stunning bottle is perfect for any Jimmy Choo fan!
Priced at £45 and available from Escentual.com
---
And for a completely new fragrance experience the #EscentualScents Blind Fragrance testing which comes out on a monthly basis  – has also been shortlisted for a Pure Beauty award for new innovation product.
NEW Escentual Perfume Blind Trial Discovery Set – Try Before you buy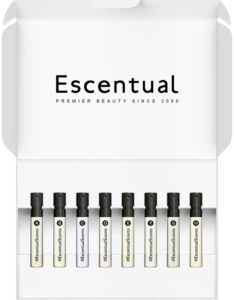 Join the world's biggest, and most secretive Perfume Blind Trial this October to discover the best new launches on site since June 2021.  Our Perfume Blind Trial is the perfect way to try before you buy, and experience something different. Fun and interactive, you get to test and explore eight sample-sized scents, and the cost is fully redeemable in Pretty Pennies – meaning you get £19.95 off the total of your favourite fragrance in the box (or whatever you fancy on site).
Why you'll love our Blind Trial:
·       Buy one box and you'll get £19.95 worth of pretty pennies to spend on anything on site!
·       You'll be part of our exclusive #EscentualScents community.
·       You'll learn more about fragrances you may never have tried.
·       We host monthly competitions to win your favourite fragrance.
Priced at £19.95 and available from Escentual.com
---
Top 10 Favourites at a glance
Women:
1.     Chanel Coco Mademoiselle
2.     YSL Black Opium
3.     Chanel No5
4.     Lancome La Vie Est Belle
5.     Paco Rabanne Lady Million
6.     Mugler Alien
7.     V&R Flowerbomb
8.     Dior Miss Dior
9.     Dior J'Adore
10.  Armani Si
Men:
1.     Dior Sauvage
2.     Paco Rabanne 1 Million
3.     Chanel Bleu de Chanel
4.     Hugo Boss Bottled
5.     Paco Rabanne Invictus
6.     JPG Le Male
7.     Creed Aventus
8.     Diesel Only The Brave
9.     Boss Bottled Night
10.  Issey Miyake L'Eau d'Issey Pour Homme
11.  Hugo Boss The Scent