Lemon and Blueberry Dutch Baby Pancakes
---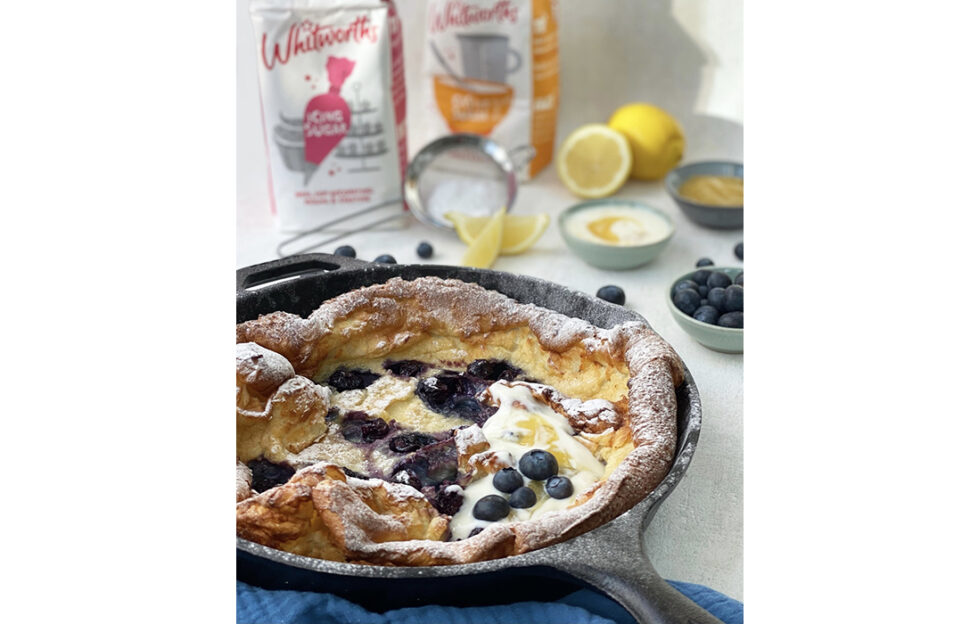 What a delicious recipe for Pancake Day (March 1, 2022)! Created by Baked By Alice for Whitworths Sugar, the zingy lemon curd and blueberry toppings will have you coming back for more!
Makes: 1 large dutch baby or 6 smaller pancakes
Cooking time: 23min
Pre-heat your oven to Fan Oven 200°C, Gas Mark 6 and put in your cast iron pan to heat up. If you don't have a cast iron pan, a shallow casserole dish will also work.
Make your pancake batter by whisking the eggs with the sugar and half of the milk, and then pouring it into a bowl which contains the sieved flour. Once a thick batter is formed, slowly add the rest of the milk to thin it out. It will be quite a runny mixture. Finally, add in the grated lemon zest.
Once your pan has heated up in the oven, add the oil to it and put it back in for a further 5min.
Carefully remove your hot pan from the oven and pour in the pancake batter. Be careful as the oil will sizzle. Scatter the blueberries across the top and then return it to the oven as quickly as possible.
Bake for around 18min or until puffed and golden.
When you take it out of the oven, it will be quite puffed up. Allow it to deflate a little and then dust with icing sugar. Meanwhile, ripple the lemon curd through the yoghurt – it does not need to be completely mixed.
To serve, slice the pancake into portions and add a squeeze of lemon juice, a dollop of the yoghurt mixture, and a few fresh blueberries.
---
**WIN, WIN, WIN**
We've three Whitworths Sugar bundles to give away now worth £25 each! Each prize includes Caster, Icing, Golden Caster, Light Soft Brown, Dark Muscovado, Royal Icing, Findant Icing, Demerera, Dark Soft Brown, Molasses, Light Muscovado and Jam Sugar – perfect store cupboard ingredients for home cooks! Enter here…