The Wadhams: Family Fun
---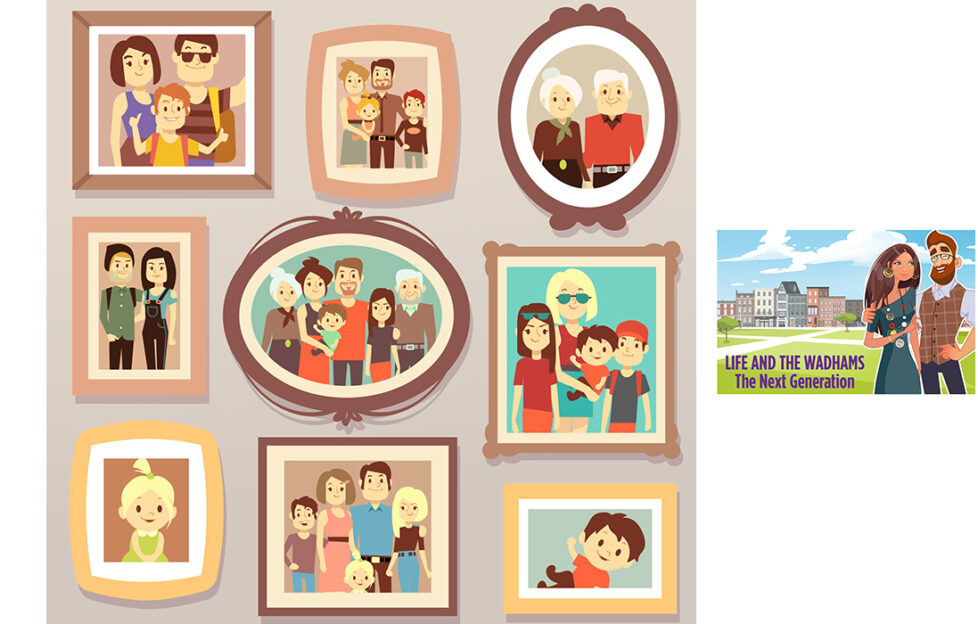 Illustration: Shutterstock
We're delighted to bring you the continuing adventures of Life & The Wadhams, featuring the younger members of the family. Not yet met the Wadhams? Read the background on My Weekly's
best-loved family
, then come back and enjoy the next generation's adventures as Mike and Polly Wadham's elder grandson, Alex Clark settles into a new life with wife Natalie and toddler son William in the flat above the antique shop his grandfather used to own. They've now bought the flat and shop, converting it to a hairdressing and beauty salon run by Natalie.
It was a lovely day for mid-March. Natalie Clark was making the most of the Sunday afternoon sunshine with a stroll in the park with her friend Keisha and their toddler children, Kayla and William. 
The two were out of their buggies and tumbling about the grass, lost in their own small happy world, while their mothers looked on fondly. 
"Look at them!" Keisha laughed. "Kayla's been babbling on all morning about William. She just can't get enough of other kids. Thank goodness for nursery." 
"William's a friendly wee soul, too," Natalie agreed. "He loves nursery and he loves being with Ruby – though she does terrorise him at times!" 
"I suppose that's only natural," Keisha said.
At three and a half years old, William's "aunt" Ruby – his father's younger sister – was just two years older than him, and liked to show him who was boss. 
"Grandma Polly says Ruby's just like her uncle Jonathan," Natalie mused. "Apparently he was a holy terror when he was little. Wanted his own way all the time, and knew how to get it, too!" 
Keisha laughed. 
"You have to learn to stand up for yourself when you're part of a big family – I know I did." 
"It must have been fun growing up with four brothers and sisters," Natalie said. An only child herself, she couldn't imagine the mayhem of a large family – at least, until she met Alex and his brother and sisters. 
"It had its moments." Keisha grinned. "We had some terrible fights – still do, though they're no longer physical, at least! But I wouldn't be without my brothers and sisters. In fact …" she looked almost shyly at Natalie. "we're thinking now might be a good time to think about giving Kayla a little brother or sister." 
"You're pregnant!" Natalie shrieked. 
"Not yet," Keisha said. "But we are hoping to be, in the next few months. Kayla came along quite quickly once we put our minds to it, so hopefully it will happen soon. I don't want too big a gap between kids." 
"I know what you mean," Natalie agreed. "Alex loves Ruby dearly – but he could be her dad. I don't think they'll ever have a normal sibling relationship." 
"Oh, girl!" Keisha laughed. "No sibling relationship is 'normal'. You'll find that out when you have another of your own." 
---
Sibling relationships were the hot topic under discussion at No. 23 Elderslie Terrace later that afternoon when Alex and Natalie joined the extended Wadham/Clark family for their traditional Sunday dinner. Uncle Drew was there, with his fiancée Annabel, so it was an even larger and noisier gathering than usual. 
While Jim carved the chickens – with nine adults around the table, and three children, two were needed! – Polly Wadham imparted the news she'd heard only that morning. 
"Your uncle Jonathan video called," she told Alex. "And you'll never guess! He's coming home!" 
"For his birthday?" Alex hazarded. It was Jonathan's birthday at the end of the month, and his mum Polly had been bemoaning the fact that she hadn't been able to celebrate his last few birthdays with him, thanks to the pandemic keeping him and his wife firmly in Singapore. 
"No – for good. He's going to be sixty in a couple of weeks. That, along with not being able to get home for so long, has made him think about the future. He and Anne don't want to be thousands of miles away from the girls any more, so he is retiring and coming back to the UK permanently. 
"Oh, I can't wait to see him," she said, her voice catching.  "I really hope they settle down here and don't go off to Cornwall, or Inverness, or somewhere that we still see too little of him." 
Her husband Mike patted her hand fondly.
"As long as he's in the UK, we can visit him wherever and whenever we want, you know." 
Polly returned his caress gently. Mike was having a good day today – his dementia was still mild and he had more lucid moments than not. But she knew he wasn't fit to travel up and down the country with only herself to look out for him. 
"So the prodigal is returning!" Drew joked. "That's our noses firmly out of joint, Pinky." 
"Yeah," his sister replied through a mouthful of potatoes. "Once the blue-eyed boy is back, we won't get a look in. He was always Mum's favourite." 
"That's not true!" Polly protested. "I love you all equally." 
"Oh, Mum, we're just teasing," Drew said. "Though I do remember the time you raided my chocolate stash to make him a birthday cake." 
"Well, you should have shared it with your brother and sister instead of hoarding it from Christmas," Polly retorted. 
"Remember the time Mum and Dad said they'd treat us all to the cinema?" Pinky joined in with the teasing. "We wanted to see The Muppet Movie, but Jonathan wanted to see The Unidentified Flying Oddball – " 
"Which we'd never even heard of!" Drew interjected. 
"And of course Prince Jonathan got his way," his sister finished. 
"You lot!" Alex's sister Jennifer was laughing so hard, she nearly spat out her peas. "You'd think you were both five, not in your fifties." 
"Old hurts never heal. You wait till you're our age …" Her mother waved a fork at her. "You, Alex, Matty and Ruby will be just the same, vying for my attention, never giving me a minute's peace.
"Just like now," she finished as she smartly caught Ruby's elbow, which was about to knock over the gravy boat as the little girl stretched over the table to hand-feed William a carrot. 
"But we had lots of fun, too." Drew finally gave over teasing his mum. "And no matter, how much we squabbled, we always had each other's back." 
"Yes, you'd all gang up on me if I was trying to tell off one or other of you," Polly recalled. 
Jennifer looked thoughtful. "It must have been nice being so close in age." 
"Jonathan and Drew would have been even closer," Polly looked wistful for a moment. "If I hadn't had a miscarriage in between their births. Then there are over three years between Drew and your mum." 
"We'd just about given up on having a daughter," Mike interjected. 
"Between Jonathan the first-born and Pinky the longed-for girl child, I'm definitely Malcolm-in-the-middle in this family, Annabel!" Drew roared with laughter. 
"Well, it doesn't seem to have kept you down," his fiancée retorted. "You and Pinky are both your own people, that's for sure. I'm looking forward to meeting Jonathan at last." 
"He's hoping to get everything wound up and settled by summer, so he should be home in time for the wedding," Polly said. "Imagine me being a mum of a sixty-year-old, though! I still feel twenty-one myself." 
Matty had been quiet during most of the meal, but now he looked straight at his parents. 
"Why are we all so far apart in age?" he asked. "There's Alex who's twenty-six, Jennifer nineteen, me fourteen and Ruby only three. Why didn't you have us closer together?" 
While Alex and Jennifer squirmed in horror at the spotlight their naïve younger brother had put on their parents' sex life, Pinky and Jim just laughed. 
"It wasn't planned that way, darling," his mum explained. "Sometimes babies come along when you want them, and sometimes they don't." 
"And sometimes – " Jim reached out to ruffle Ruby's curly red hair. "They come along as an unexpected bonus blessing." 
"And sometimes," Polly added softly, "they come and they go too soon, but live on in our hearts for ever." 
The adults were all silent for a moment, then Pinky broke the unexpectedly solemn tone of the conversation's turn by asking who wanted pudding. 
"It's apple crumble," she announced. 
"Not fair!" Jennifer exclaimed. "You always make Alex's favourite. I want sticky toffee pudding next week, or I'm leaving home." 
"You already have," Pinky pointed out. "And I made sticky toffee pudding two weeks ago, just for you, if you remember." 
"That's cause I'm your favourite child." Jennifer poked Alex in the ribs. 
"You were two weeks ago because you brought me that book I wanted to read." Pinky laughed. "This week, Alex is my favourite because he fixed that light-fitting in the hall. Who knows who'll be my favourite next week?" She turned to Matty with a wink. "You'd better stay on your toes." 
---
William was fast asleep by the time they got home that evening, never stirring as Alex gently transferred him from his carseat to his cot. 
"Look at him, so sweet and still," Natalie gushed as they bent over their precious son. 
"Make the most of the peace," Alex said. "He'll be up and about and causing havoc again in a few hours." 
"He's growing up so fast," Natalie agreed. "He won't be a baby much longer." 
"No he won't." Alex caught her eye. "I hadn't thought about it till today, but in another year, he'll be two and a half, so I suppose if we want our children to be close in years we'll have to start thinking about another baby soon." 
"Do you want another one?" she asked. 
"Do you?" 
Natalie considered. An only child herself, she honestly hadn't given the matter much thought. She'd been so busy establishing her business, too. 
But after today, she knew she and Alex were going to have to start a serious conversation about it. 
She just wasn't sure what her answer would be. 
Join us next month for more adventures from the Wadhams clan.