Sponsored
The Stolen Baby | Diney Costeloe
---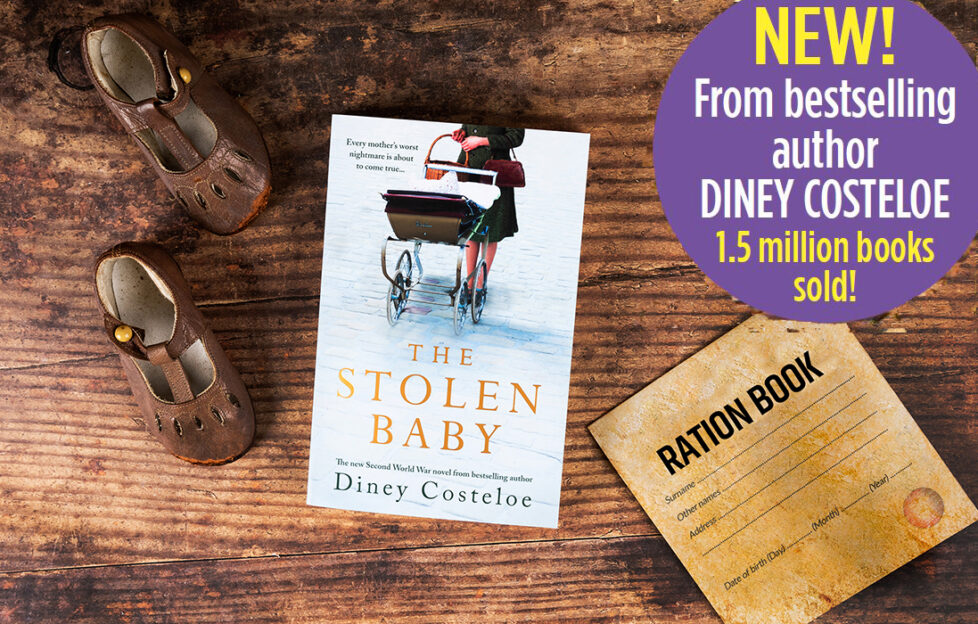 A mother's love knows no bounds in the latest novel from bestseller Diney Costeloe, who has sold over 1.5 million books to date. In this latest WWII family drama, one mistake changes lives forever…
Bestselling author Diney Costeloe transports readers to Plymouth in 1941 as the bombs rain down on the port city.
In this enthralling read, based on a moving true story, we see one family's life change in an instant as a fateful mistake is made during an air raid.
As the warning sirens blare, the Shawbrook family take refuge in a shelter. Bombs are already falling when the horrifying realisation is made that their infant son, Freddie, has been left sleeping in his crib, forgotten in the panic to escape the house.
Terrified yet determined to hold her son safe in her arms, his young mother, Vera, leaves the shelter and races back to the house.
The next morning, police officer David Shawbrook returns from his watch to find the shelter in ruins with his family missing and presumed dead.
Meanwhile, in another part of town, Maggie waits alone for her husband. For her, life has no meaning since the death of her infant son. However, this morning, fate has a special gift for Maggie when her husband brings home a baby found alone in his crib following the devastating raid on the city…
For fans of historical fiction, this emotionally charged and compelling read will hook you in from the very first chapter.
The Stolen Baby by Diney Costeloe (Head of Zeus, PB, £8.99) is on sale from April 14 and available from Amazon.
---
Diney joins us now to tell us more about the inspiration behind her compelling story…
Your books are hugely popular – 1.5 million copies sold! What do you think readers love about your books?
I hope it's because they can identify with the characters and become involved in the plot.
Tell us a bit about your latest book, The Stolen Baby, and the real life inspiration behind it?
I heard about a baby who was left in the house in Plymouth at the beginning of an air raid. Luckily it was immediately realised, he was rescued and survives to this day. He has even served as Lord Mayor of Plymouth!
However, I wondered what might have happened if he had not been rescued, and I went on from there.
Researching The Stolen Baby must have been so interesting – what aspects of the research did you enjoy most?
I always enjoy research, often ending up following an interesting fact that may spark the idea for a future book. In this case I found a book, It Came to Our Door: Plymouth in World War II – a Journalist's Eye Witness Account by HP Twyford. It was first published in 1945, immediately after the war, but was subsequently revised in 2005, when it was illustrated with contemporary photographs by Chris Robinson. It covers not only a day to day account of some of the raids, but describes life in the city throughout the dark days of WWII, allowing me to include some of my characters in actual events.
Was there anyone you met in the course of your research who particularly stood out?
I visited Plymouth as part of my research, and briefly met Chris Robinson the local historian in his bookshop. He suggested several books that I subsequently bought and used for my research. I also used the library and the tourist office, and had fun photographing pre-war houses that had survived the blitz, one of which had been the home of my friend who had set me off on the whole book with the story of the baby.
Is there one character you particularly enjoyed writing about?
I think Mu and Patrick must share that, though several others ran them a close second. I became very fond of Colonel Bridger and the Memsahib, marooned in an earlier age.
Did you know how the story was going to end when you started writing or does the plot evolve as you write?
Usually I have a rough idea about the actual ending, but sometimes one of the characters says something I wasn't expecting, or I suddenly have a better idea than originally planned and then I have to go back and re-write earlier chapters to accommodate the changes. So yes, the plot does evolve, and surprises even me.
What's next? Can you tell us anything about your next writing project?
I have just finished my next book, The Girl Who Dared to Dream, which will be published later this year. It's set in 1912 London and I have just begun work on its sequel.
You're known for your amazing historical novels – if you could travel back in time, where and when would you go and who would you like to meet?
I think I would like to return to the late eighteenth century to meet Jane Austen. I love her writing, it's so elegant and her characters, ordinary people living ordinary lives are so finely drawn that when I re-read her books as I do from time to time, it's like catching up with old friends.
Why do you think the backdrop of war provides such a rich setting for fiction?
War is always a time when people's lives are turned upside down. They have to face unexpected difficulties and terrifying events and need courage and inner strength to deal with them.
Putting characters in frightening and/or emotionally  challenging situations, showing how they do, or don't cope with them, adds depth to the overall story.
What do you enjoy doing when you're not busy writing?
I'm a hands-on Granny which is great fun. Though my husband and I are unable to travel as  much as we used to, I still enjoy being out and about, and I am still an active member of my local golf club.
What books do you enjoy reading? Any favourite authors?
I've always enjoyed historical novels, and have recently started reading detective stories. Favourite authors: Cynthia Harrod Eagles; Peter James; Peter May; Elizabeth Jane Howard and as I said before, I often return to Jane Austen. I also love listening to unabridged audio books when doing boring jobs like the ironing or peeling the spuds.
---

The Stolen Baby by Diney Costeloe is out from April 14.