Maypole Mystery
---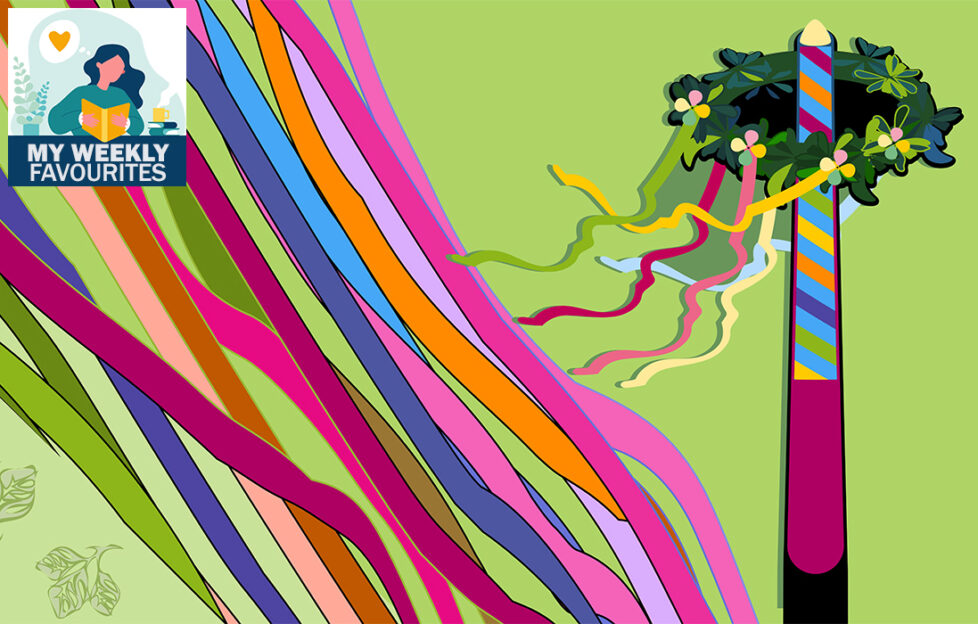 The young people were not interested in the maypole, but then someone had an unusual idea…
There's not a single name on the list!" Retired PE teacher Jill frowns as she surveys the message board outside the village hall.
Maypole Dancing, 11am, Sunday May 1st
"The children don't want to dance this year!"
"They're growing up," says 70-year-old Vera. "More interested in their phones and computers than skipping around a maypole on the village green. I'll see if I can persuade my grandchildren Emily and Jake to take part. They're coming to me for tea later."
"Come on you two," cajoles Vera when the children sit down to their favourite Granny's mince and mash.
"You're joking, Gran!" says Emily. "Maypole dancing is for little kids."
"Yeah, it's so uncool," adds 12-year-old Jake, putting a definite full stop to any further conversation on the topic.
---
"Since no one wants to join in, we'll have to scrap holding the Maypole Dance this year then," says Vic, chairman of the Village Activity Committee at the meeting later in the week. "Got to move with the times I suppose."
Stan and Rose nod sadly in agreement. Charlie shakes his head mournfully.
"It's been a tradition for so long," says Stan, "but we can't force the kids to take part. Best let bygones be bygones."
The members of the committee, all willing pensioners, close the meeting and go their separate ways.
---
"Well I never!" Rose exclaims to Stan as they walk to the village shop on a sunny spring morning. "Am I seeing things or is that a maypole on the green?"
"It's a superior bit of wood for sure," says Stan "Why on earth would someone put a brand new maypole in the middle of the village green? The Activity Committee haven't arranged anything without informing us, have they? I'll call a meeting to find out what's going on."
"All members of the committee present and correct?" announced Stan the next day.
"Everyone except Charlie," says Rose. "He called to say he's busy and not able to make it this morning."
The meeting goes ahead but no one has any idea why the maypole was put in the middle of the green and no one seems to know who put it there.
"The matter needs looking into," insists Stan.
The meeting closes without any definite plan but Stan and Rose are on their way home when Rose suddenly stops in her tracks.
"Look!" she exclaims. "The maypole seems to be sprouting arms of some kind!"
"Now that's being ridiculous…" Stan begins until he takes another look. "Crikey! You're right," he says in amazement, "And there's something hanging from the arms."
Closer inspection reveals all.
"It's definitely a proper maypole!" Stan and Rose announce in unison.
"That's precisely what it is." Charlie joins in, "But a maypole with a difference. Jill and I got together when we learned that there was to be no maypole dancing in the village this year and we've come up with a plan."
---
At the next meeting of the Activity Committee the only item on discussion is the maypole.
"It looks very strong and stable," comments Vera.
"Sure is," agrees Charlie with a cheeky expression, "But it can easily be removed after use."
"Use? What use?" says Stan. "We already know the children in the village aren't interested in maypole dancing."
"Ah, but what about some of the…er… older members having a try?" Charlie goes on. "There's nothing stopping us from having a bit of fun."
"I don't fancy maypole dancing with my arthritis," says Vera crossly.
"Ah, but that's where the maypole streamers come in," Charlie says proudly. "They're not ribbons at all, but sturdy ropes."
"That means we can hold onto them for support while we move." Rose smiles as she begins to see the light. "It'll be great exercise as well as good fun!"
"Got it in one," says Jill. "I must confess I've been in on this plan. It'll get us all moving while we keep up the age-old tradition.
"Now come on everyone. We need to make time to practise our dancing."
---
The day of the Maypole Dance arrives, the sun shines from a cloudless sky and the dancers begin their carefully rehearsed moves to a jolly recording of Now is the Month of Maying.
Soon the rehearsed moves are forsaken and the dancers make up their own patterns, laughing and calling out as they go.
An enthusiastic audience has gathered and as the dancing comes to a close the children who are watching clap their hands delightedly.
"Totally brilliant!" exclaims young Jake who is reluctant to take his eyes off his phone screen. "Look! I've got the whole thing recorded to put on YouTube. It'll probably go viral in a day or two. That's so cool!"
Our My Weekly Favourites series of feel-good fiction from our archives continues on Mondays and Thursdays. Look out for the next one.
Don't forget – you can find brand new, uplifting short stories every week in My Weekly! Subscribe now for a great saving on the weekly magazine, monthly My Weekly Special… or our fortnightly thrilling, romantic Pocket Novels.