Diary of A Modern Gran | Granny Goes To A Party
---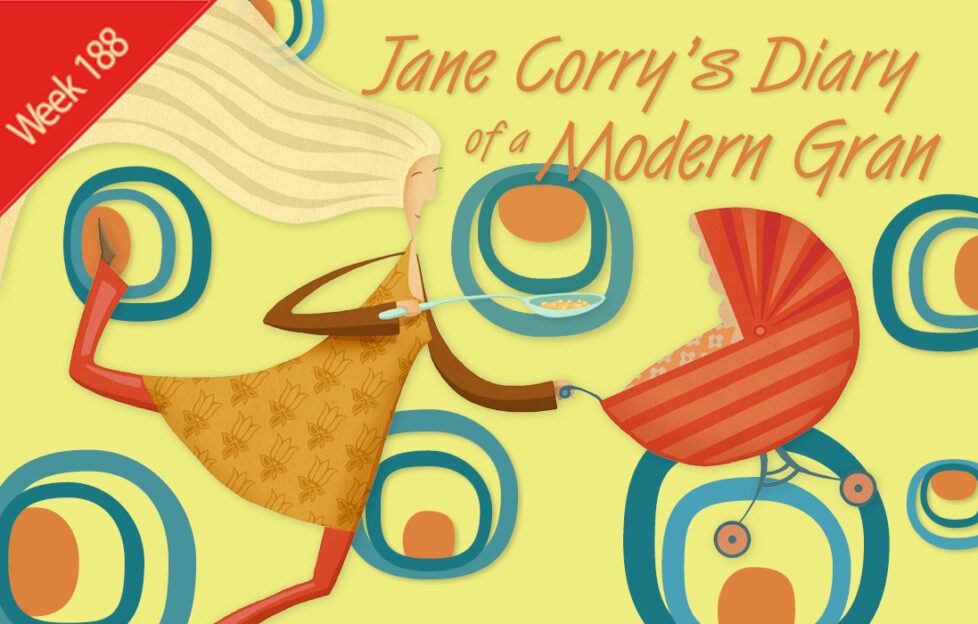 Lady chasing pram Illustration: Istockphoto
"I've been to a birthday party," I tell my four-year-old grandson when I collect him from nursery. I'm aware that I sound slightly out of breath.  It's been a bit of a rush to get here on time, to be honest, even though I left the party at 2.30pm, long before my friends did, in order to do school pickup.
I have to admit that I felt rather disappointed at leaving so soon. I'd been having such a lovely time chatting to everyone in my friend's beautiful garden. But I also love collecting the children. There's something very special about their excitement when they see me and our tradition of buying ice creams or comics on the way home.
"Did you get a balloon at your party?" he asks looking round the car excitedly. George loves balloons. (Regular readers might recall how he snaffled one from a party that his sister went to and was then heart-broken when it burst.)
"No," I say.
His little brow frowns. "Did you get a party bag?"
"No," I say again. "But I had a lovely time chatting to friends. And we had a delicious lunch."
"Was there jelly?" (Another of George's favourites. Sometimes my grandchildren and I make it together. They are entranced by the magic of the melting cubes, just as I was at that age.)
"No. But we had a delicious salad and then strawberries and scones."
"Was there a magician?"
"No but…"
I was going to say that it felt magical to be out and about again but he loses interest at that point. Instead, I ask him about his day as we head for his sister's school.
Rose comes running out to fling her arms around me. Then she stops. Her eyes narrow with suspicion. "You look different," she says, putting out a hand and clutching a handful of my calf-length blue and white spotty dress.
I'll take that as a compliment. In fact, I was going to wear my usual summer jeans but the sun had come out and I felt so excited at going to my first lunch party since Covid, that I decided to dress up.
"I've been to a party," I say.
"Were your best friends there?" she demands.
"Some of them," I say.
My heart swells as I say this because it's true. I'm not sure how any of my little group would have got through lockdown without our chummy phone calls and Zooms.
"Was Spiderman there?" asks George.
This is a more sensible question than you might imagine. My daughter and son in law saw an advert for socially-distanced Spiderman 'appearances' during the virus. The deal was that Spiderman came by the house along with Batman on the Batmobile to wish George a happy third birthday. None of us will ever forget it.
"No," I say. "Spiderman wasn't there."
"Never mind," he says. "Maybe next time."
Clearly his idea of a perfect birthday party and mine aren't the same! But I've felt quite perky all week. Roll on the next get-together!
Ever lost one of their special toys?
Talking of Spiderman, there was great consternation in our house earlier on in the week when Spiderman went missing. It wasn't difficult. He was only about nine inches long (I've never got the hang of metric!).
"Are you sure he's not there?" asks my daughter when his loss was discovered at bedtime. "George is distraught without it."
My husband, the dog and I search everywhere. But no. He's vanished.
Oh dear. I'm worried all night in case my grandson can't sleep without it. Then, in the morning, I come down to put on the kettle just before my morning swim in the sea, and there he is! Climbing up an orange in the fruit bowl. It actually looks as though he's climbing but in fact his plastic figure is stomach down. Thank goodness for that.
I ring my daughter excitedly. "Thanks," she said. "I said you'd find it eventually so George went to sleep quite happily."
That's ironic given that I'm the one who had the restless night! Still, I'm glad for my children's sake that my grandson slept through. I remember my eldest son refusing to go to bed until we'd found his precious tiny little panda figure that he was obsessed with when he was little.
Talking of losing things, where on earth did I put my phone?  Unfortunately, it's on silent so I can't even ring it. Excuse me while I turn the house upside down…
Has your grandchild ever lost a special toy? Did you find it? Do drop us a line at moderngran@dctmedia.co.uk.
The funny things they say…
Copies of my new books WE ALL HAVE OUR SECRETS  have just arrived. They're actually proofs for me to send to reviewers. George picks one up and frowns. "Why are these all the same?" he asks. Good question! I wouldn't have known what a proof was at his age either…
Ask Agony Gran
"I feel a bit embarrassed about this so I hope you can help.  I've just started to look after my two-year-old grandson for one day a week while my daughter is at work.  He's potty trained but she can't wipe his own bottom. My daughter expects me to do this and I feel rather squeamish. I did it with my own children but this feels different. Do you have any advice?" Granny B from Sussex
Jane replies:
"I'm glad you were brave enough to write," says Jane. "In fact, this came up as a topic of conversation at playgroup when my grandson was that age. Some of us didn't mind bottom-wiping and others said it made them feel a bit sick. The general advice was to hold our breath and just do it! You get used to it after a couple of times. Obviously hand hygiene is important but it's a good opportunity to explain this to little ones too."
Eat your greens
A recent study shows that toddlers are more likely to eat their veg if they get rewards such as stickers. Parents and carers are also encouraged to give different vegetables and teach children the different names. I'll have to try the sticker approach on my husband. I'm still having trouble getting him to eat his…
Grandparent of the Week – Patricia
This week's grandparent of the week is Patricia. She and her husband are shortly moving to The States to be near their grandchildren.
How many grandchildren do you have and how old are they? 
I have 2 grandchildren:  Elizabeth is a beautiful 10-year-old, going on 21! Henry is a sweet 6-year-old.
Are you looking forward to moving to Texas to be near them?
I cannot wait to be with them after not seeing them for two and a half years.  Skype is a blessing but it doesn't allow for the change in personality as they get older.  This has been particularly noticeable to us now, as the last 2 years have seen them change and mature.
How often do you see them? 
In the past we have visited every year for at least 5 weeks.
What kind of things do when you're together?
Elizabeth visited us in Spain once when she was 3 years old. When we stay with them, we try to do mainly family things, visiting the pool, playing tennis and walking. We also try to include a holiday style trip for building memories. Galveston is a favourite place.
Can you describe some lovely experiences that you shared such as having a special day out? 
One especially vivid experience we had together was visiting a Tiger Sanctuary in Wylie, Texas where tigers are being cared for.  There was one in particular that took a bath in his pond, merely 6 feet from us and we were mesmerised.  The kids were amazed at his nonchalant attitude to us!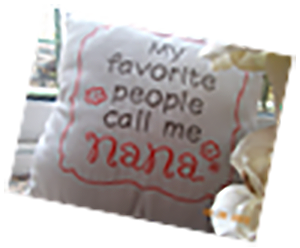 What do they call you? 
NANA ! I've got a special cushion with this on it!
What funny things have they said or done? 
Henry was tongue tied from birth (now rectified) but he did have a slight lisp and when singing Happy Birthday, it would come out as "Happy Bursshday" which was rather cute. We did have a cake and candle ready for him when he Skyped in his 3rd birthday and we got him to blow out the candle from his end.  This tickled him pink and we had to do it several times!!! Elizabeth is a born performer and one year when we arrived and Grandad was trying to catch a nap, she dragged our suitcase to the bottom of the bed, stood on it and sang her heart out to him.
What is the best thing about being a grandmother?
The opportunity to spoil them and encourage them to be naughty is a wonderful thing.
What advice would you offer new grandparents? 
HUG them as much as possible and visit as much as you can without being a pest! Keep your thoughts to yourself unless asked for advice! Elizabeth and I have a special bond as I took on Nana duties in Houston for 3 months when her mum went back to work so she is my special princess.
---
Jane's new book – out June 23!
When Emily makes a mistake at work, she goes running home to Cornwall. But it seems that someone else has moved in during her absence. This absorbing book explores the complex relationship between father and daughter.
Jane Corry is a Sunday Times best-seller and writes thrillers about families. You can order Jane Corry's new Penguin novel 'WE ALL HAVE OUR SECRETS' from booksellers and online. Or you can scan this code. You can pre-order here: http://linktr.ee/janecorry. Also look out for it in supermarkets from June 23 onwards.
If you would like a free bookmark, or to get in touch about anything else, please contact us at moderngran@dctmedia.co.uk.