Q&A with author Dervla McTiernan
---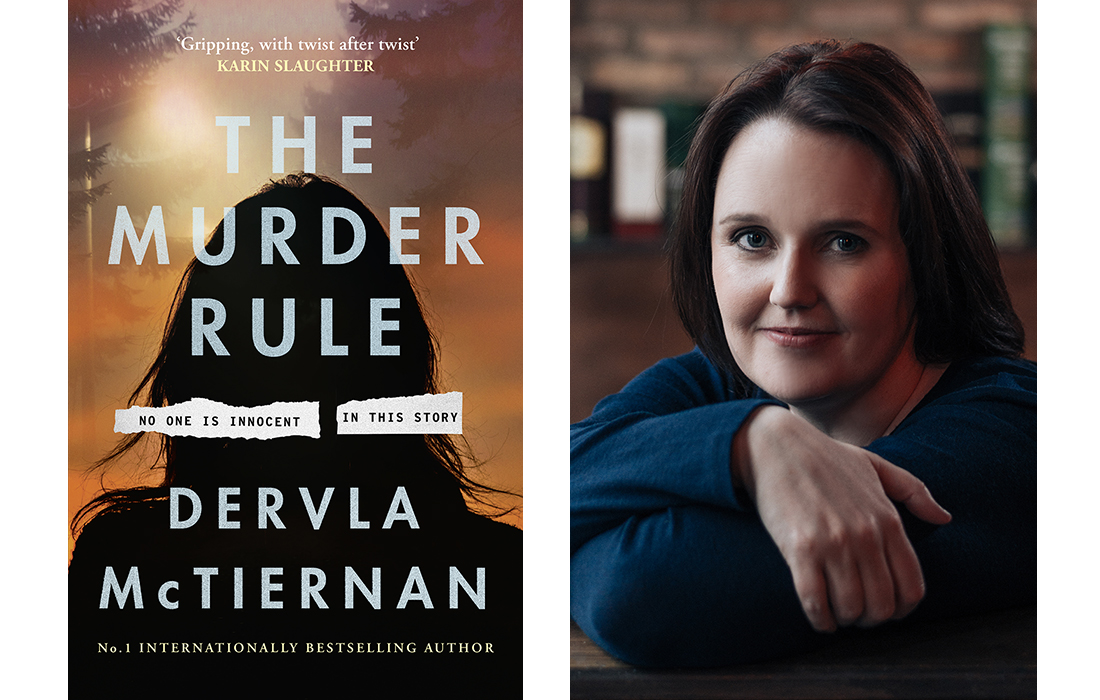 Author Dervla McTiernan
With Dervla's latest crime thriller just out, and two of her titles being picked up for TV adaptation, it was the perfect time to catch up with the author to find out more…
Your latest book, The Murder Rule, is your first standalone crime thriller – tell us a bit about your inspiration behind it?
A few years ago I came across an article in a newspaper about a young Irish law student who had spent a summer volunteering in the US. The law student had spent her summer working for the Innocence Project, trying to free an innocent man from prison.  When her time in America was over, the student kept working the case from Ireland. She managed to convince a retired police officer to tell her the truth about evidence that had been hidden in the original prosecution. As a result of her hard work, the innocent man, who had spent more than twenty years in prison, was freed.
The article fascinated me and I did some more research, reading everything I could find about the case. My enthusiasm was a little dimmed by what I discovered. It turned out that even after the hidden evidence was found, it took a further five years before the exoneration application was heard, and by the time he was freed the innocent man had only 3 years left on his maximum sentence.
To me this was quite different to the inspirational story of triumph over adversity that I'd first read. It was sadder and more complicated, and I wondered why these details had been left out of the articles I'd read. Maybe it was because the journalists (or their editors) preferred the cleaner, more inspirational take. Or maybe (darker thought) the Innocence Project had pushed the prettier story as part of a publicity drive for their work. Or maybe I was just over-complicating things, reading into the situation facts not in evidence at all. Still, the discovery made me think about moral grey areas. About what it must be like to be a good person working for the Innocence Project. Doing such impossibly challenging work in a world that is so loud, and messy and unwilling to listen or help. What small ethical compromises would I make along the way, and where could those choices lead me? I felt that there was a story in that idea. A story that could fold in on itself, with twists and turns and pace and, hopefully, heart.
You've previously said a sense of place/setting is so important to your writing. Tell us a bit about your choice of setting for The Murder Rule.
The book is set in Charlottesville in Virginia, in and around the campus of the University of Virginia, and in Bar Harbor in Maine. For the university scenes I wanted somewhere leafy and beautiful, somewhere that had that Ivy league feel about it, but the story also had to be set somewhere with a complicated legal history. Virginia seemed to fit the bill. With Bar Harbor, I had spent a summer working there when I was a young law student. I always wanted a reason to write a story there. It's a very beautiful place. Most of the island is national park and there are hiking and climbing trails. But it's also one of those places where you have a mix of the very wealthy people who vacation there, and then the working people who work in the restaurants and hotels and high end bed and breakfasts. For a writer, it's an interesting environment in which to set a story.
What inspired you to give up your career in law and pursue a writing career?
Writing was always a dream to me, but I don't know if I would ever have been brave enough to try to be a writer if I'd stayed in Ireland. I was a lawyer, I had a small legal practice in the West of Ireland, and I'd worked really hard to get to where I was. I wasn't very happy working as a lawyer, particularly over the past few years, but I think it can be hard to change paths. I think I was convinced that staying in law would be the responsible thing to do. I had bills to pay and the idea of throwing it all away to run after a dream — a dream that was incredibly unlikely to come true — I'm pretty sure that would have seemed like a very selfish thing to me at the time. Then the economic crash hit hard and everything fell apart and while it was horrendous at the time, it was the best thing that ever happened to me. It freed me completely.
We decided to leave Ireland for Australia, for a completely fresh start, and suddenly trying to write didn't seem like such a crazy choice.
Your debut novel, The Ruin, became a bestseller – what do you think is the key to a compelling crime story?
I think it's all about the characters. For me, it doesn't matter how clever your plot is or how high your stakes. If I don't care about your characters then everything else falls flat. But if I fall in love with the characters then I live and die with every little thing that happens to them.
Your Cormac Reilly series was so popular – will you return to write another instalment at some point?
I think I probably will at some point. I don't have a story I want to write in that series at the moment, but I think that's because I need a bit of time away from it to let some time go by. I put my main character, Cormac Reilly, through a hell of a lot in those three books. By the end of the series I felt like he needed a break!  If I pick the story up again it might be through a secondary character (I would be interested in writing a book where Carrie is the protagonist) or else I would pick the story up when a few years have passed by in Cormac's life, so he's in a different place and time. I think I need some time to go by in real life for that to feel right to me.
The Ruin is being adapted for TV which must be so exciting! Will you be involved in the process?
I'm probably less involved in the adaptation of The Ruin than I am with the adaptation of The Murder Rule, which has been picked up by FX in the US and is being made into a limited series. I'm really excited about that. FX is a huge channel in the US — it goes into almost ninety million homes, which is pretty much everyone with cable — and it's known for making premium drama, like The Americans, and Sons of Anarchy, and Nip/Tuck. I was so excited when I heard they wanted to make The Murder Rule. I've been able to contribute a bit in the background. Some of my work on my character backgrounds and some of the additional story that didn't make it into the book and my thinking behind the themes. It's also been fascinating for me to hear what the screenwriters think about the story. They have a slightly different take or angle from mine, and I've really enjoyed hearing about that.
In 2011 you emigrated from Ireland to Australia – what inspired this move and do you think it was instrumental in taking your writing to the next level?
I wasn't really writing at all when I was living in Ireland. I was working as a lawyer and I would only occasionally pick up pen and paper and dabble a bit. We emigrated because after the economic crash in 2007, we went through a few years where work and life were incredibly challenging. Ireland was really struggling economically, and it was very difficult to earn a living. After a few years of working through that we were quite burned out, and decided to make a major change. I had been a lawyer for twelve years at that point, and when we left Ireland I decided that I would never practice law again. Our little boy was born a few weeks after we landed in Australia, so it took a little bit of time to get started, but by 2014 I was working during the day, then with the kids in the late afternoon and early evening, and writing at night. I wrote almost every night, six nights out of seven, and in October 2016 I signed by first contract with Harper Collins. I think I left my day job at the beginning of 2019, and I've been a full-time writer since.
Two big moments happened in your life simultaneously – just as you received good news about your book, The Ruin, being sold at auction, you were diagnosed with a brain tumour. How did you feel at that point?
It was all just incredibly surreal, to be honest. Our children were very young at the time, just six and four. The GP who gave me the news made it clear that I needed to have surgery and that there was no alternative for that. That if I didn't have surgery, the tumour would ultimately be fatal. One week after that meeting my husband and I sat down with a neurosurgeon who told us that he didn't think the surgery could be done. He felt that it would be too dangerous, that I would lost my sight, and that the brain damage could be significant. At that point all I could think about was what it would do to the kids, if we couldn't find another solution. Luckily for us, we were able to get a second opinion from a fantastic surgeon and I had surgery three weeks after that first diagnosis. The really surreal thing was that I got an email from a literary agent when I was still sitting in the car-park of the GP's office after hearing about my diagnosis. The email said that the agent had read the first fifty pages of my manuscript, that she really liked it, and asking me to send her the rest. That was the first time anything like that had ever happened to me.
It was like getting the very best of news and the worst of news at precisely the same moment.
What does an average day look like for you?
I'm not sure there is an average day, although I wish there was!  But most days my husband drops the kids to school on his way to work, and I straighten the house out before I do anything else. After that, I've been trying to squeeze in some Pilates at home, just because every writer I know seems to have a bad back, and I'm trying to avoid the same fate. I'm usually working by 9am and I write until 12.30 when I stop for lunch (and a bit of laundry!). I'm back at my desk by 1pm and I work until 3pm when I have to go and pick up the kids. Most of the afternoon is taken up with family stuff. Supervising homework or music practice, or bringing the kids to an activity or something like that. We try to have family dinner sometime between 5pm and 6pm. Most of the time my husband cooks and I clean up. I used to love cooking but I try to avoid it now, as it feels like a real chore and I'd much rather be doing something else. After dinner I usually try to get another couple of hours work in, and then maybe watch some TV. Most nights I read to the kids at bedtime, which might be my favourite part of the day.
What do you enjoy doing when you're not busy writing?
I'm pretty boring, to be honest! I like spending time with my family, and seeing friends. My husband is very into board games and he's built up a collection that is beginning to rival my book collection, which is saying something. We have a monthly game night where we play a legacy game of some kind with friends. Last year it was Pandemic Legacy (a bit too apt!). We have a few drinks, and it's a lot of fun. For family holidays we usually go camping. Western Australia is pretty perfect for that. It's stunningly beautiful. Miles and miles of empty, perfect beaches, glorious weather, wine country, forest, hiking trails. It's such a beautiful place.
Who are some of your favourite crime authors? What great crime books have you read recently?
I have so many favourites! I love Ruth Ware and Anthony Horowitz, Tana French, Jane Casey, Don Winslow, Karin Slaughter, Liz Nugent, honestly, the list just goes on. I loved the Bill Hodges books written by Stephen King, and The Outsider, which was fabulous. A book I read recently that I absolutely loved was Sara Foster's The Hush. It's set in the near future, in a world where half of otherwise perfectly healthy pregnancies end in stillbirth. No-one can figure out why it's happening, but in an effort to address the problem (or so they claim), the government steps in and starts tracking and monitoring women and their pregnancies. Then young women start to disappear. It's a brilliant book. A thriller, for sure, but there are also layers and layers of story and it's so thoughtful and interesting.
Any hints about what your next book will be about/where it will be set?
I know what it's going to be about and broadly where it will be set. But I'm writing it at the moment so it's a little too early to talk about it.
What's been the highlight of your writing career so far?
I've been incredibly lucky, and there have been some extraordinary highlights already, even though I feel like I'm barely out of the traps. It's hard to choose just one moment. I would have to say that I'll always remember when I was at work in my day job and the offers of publication from publishers started to come in by email from my agent. It all happened over two days, and my work friends and I were so excited. It was exactly what you day-dream about and what so rarely happens. Other than that I would have to say that when Val McDermid chose The Ruin to be part of her New Blood panel at Harrogate, that really blew my mind. I admire her so much, and the fact that she'd even read my book, let alone liked it enough to choose it out of who knows how many debut novels. Well, that was just the best moment.
---
The Murder Rule by Dervla McTiernan, published May 12 (HarperCollins, HB, £14.99) is available now on Amazon.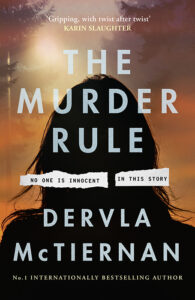 They think I'm a young, idealistic law student, that I'm passionate about reforming a corrupt and brutal system.
They think I'm working hard to impress them.
They think I'm here to save an innocent man on death row.
They're wrong. I'm going to bury him.
---