June Cookery Book Reviews
---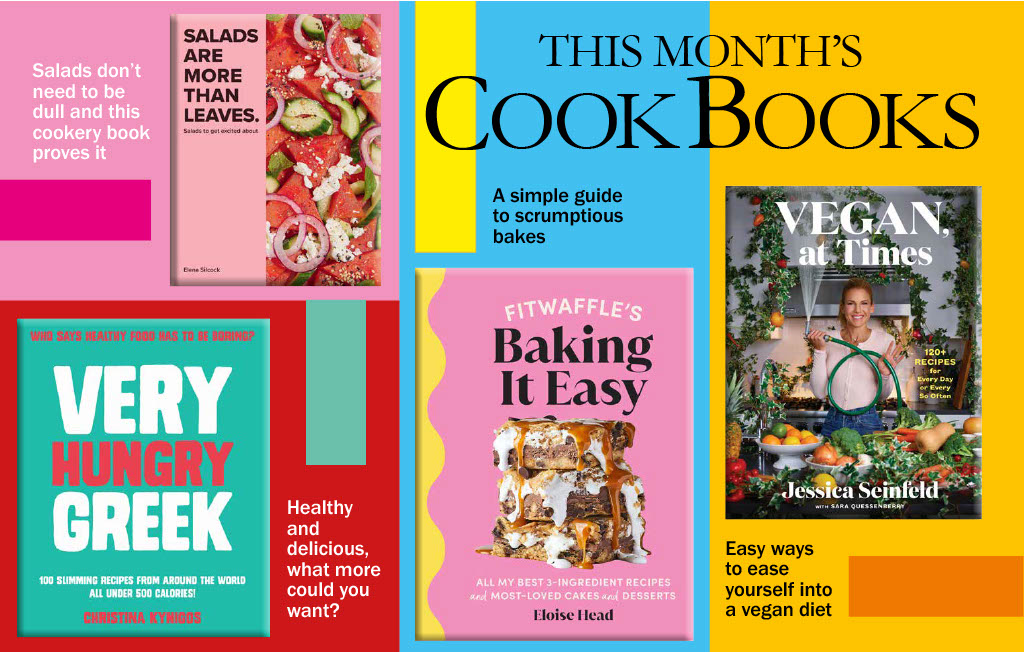 The sun is shining and we're in full on summer mode! Now the weather is perking up we've got some mouth-watering recipes from some fantastic cookery books which you can enjoy under the sun. On the menu this week are salads, sweet treats, low calories and hearty meals.
---
Vegan At Times by Jessica Seinfeld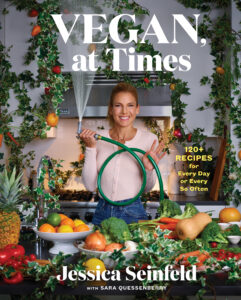 With more than 120 recipes, Vegan at Times by Jessica Seinfeld has something everyone will love. After you've tried one of these scrummy meals you'll be hooked!
This cookery book is great for people who want to ease their way into a vegan diet with simple and delicious meals you can incorporate into your working week. The dishes don't need a whole lot of preparation and many of the ingredients are things you'd find in your cupboard, so flick open the book and select the meal you feel at the time.
Filling and fabulous, it's time to dig in to some flavourful vegan nosh.
Top Dish: Crunchy Vegetable and Peanut Pot Stickers
Available at https://www.amazon.co.uk/dp/1982149574/ref=nosim?tag=dcthomson0e-21
---
Salads are More Than Leaves by Elena Silcock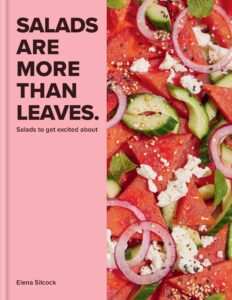 Now that we're in summer (hooray!) there's nothing we enjoy more than a fresh salad on a hot day. Stuck on which one to make? Open up this cookery book and the choices are enormous.
As the title suggests, salads are more than leaves so pack away the lettuce and experiment! Watermelon & Feta, Duck & Orange and Beetroot & Chickpea are just some of the tasty combinations this book offers. Whether its fruity, cheesy or creamy salads you're in luck.
Who knew there were so many kinds of salad?!
Top Dish: Spiced Chicken with Minty Yogurt
Available at https://www.amazon.co.uk/dp/0600637425/ref=nosim?tag=dcthomson0e-21
---
Fitwaffle's Baking It Easy by Eloise Head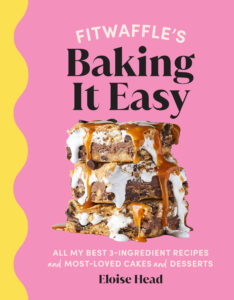 With over 1 million followers on Instagram, Fitwaffle aka Eloise Head has made her way to print with the cookery book Fitwaffle's Baking It Easy. As the title suggests, this guide includes simple recipes for yummy bakes that you can make easily. This is a great starting point for cookery novices as well as introducing children into the world of baking.
Lots of the bakes in the book only have 3 ingredients so are super quick and easy to prepare.  Tray bakes, mug cakes, breakfasts and desserts galore those with a sweet tooth will be in chocolate heaven!
Top Dish: Fudgy Chocolate Chip Blondes
Available at https://www.amazon.co.uk/dp/1529148685/ref=nosim?tag=dcthomson0e-21 
---
Very Hungry Greek by Christina Kynigos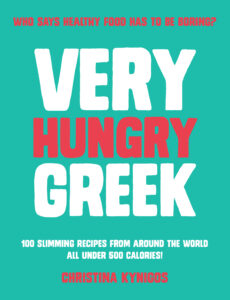 In need of some filling dishes without the calories? Well Very Hungry Greek by Christina Kynigos will certainly do the trick. With recipes under 500 calories you can savour these meals knowing they aren't going to add to your waistline!
Pizza, pancakes, pies and pasta are some of the delicacies on offer. Make sure you check out the Fakeaways section to create some classic takeaway favourites at home or the One Pot Wonders chapter for some hassle-free cooking. Whatever you feel like, there's a recipe for every occasion.
Top Dish: Lamb Karahi
Available at https://www.amazon.co.uk/dp/1910863912/ref=nosim?tag=dcthomson0e-21