Winning Streak
---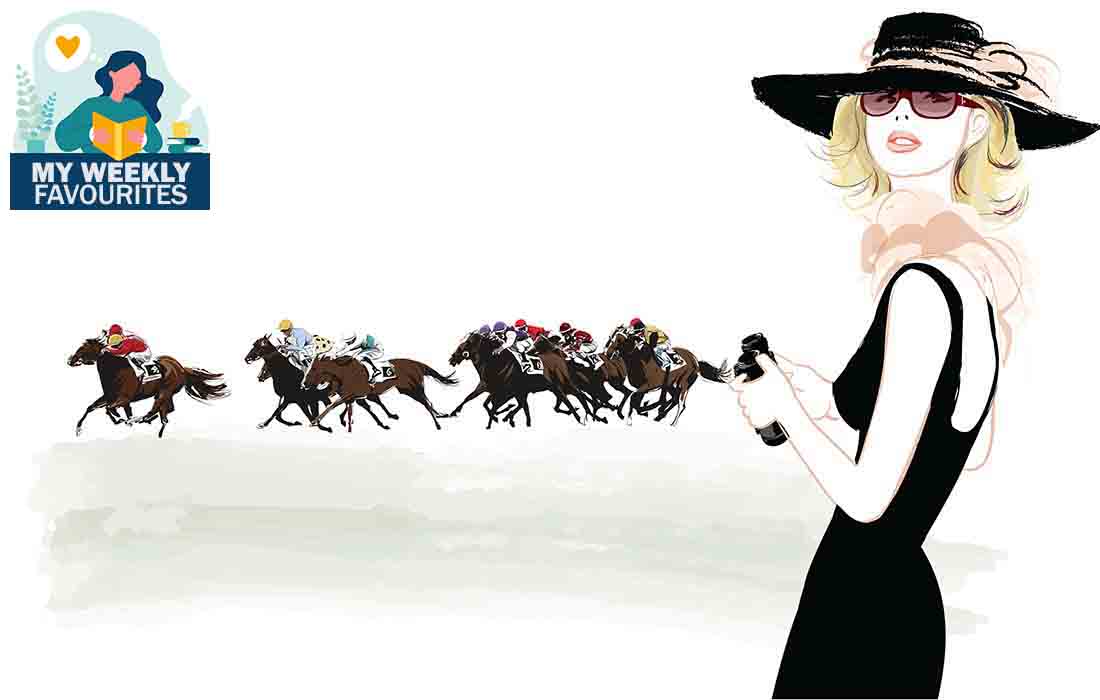 Paula may have started off on the wrong foot at Ladies' Day, but she may yet hit her stride…
Paula tried to smile. Ascot's Ladies Day was a recipe for all she disliked.
[magento sku="DCS-MWLAW"]
Dressing formally for her job as a solicitor, she liked to go casual on days off. But here she was in a tight black dress, her stilettoes pinching, the matching hat slipping on her wild blonde hair.
Hoping that June would indeed prove "flaming" she'd chosen a short-sleeved frock, but the sun was hiding determinedly behind billowing grey clouds.
She shivered. Why hadn't she brought a jacket?
"You'll love Ascot, Paula," said her best friend Amy as they passed through the turnstile. "It's always fun. Just what you need."
Paula smiled. She was so kind. And right. She'd had a lousy year.
Her decree nisi had arrived on Christmas Eve, then her roof had needed serious repairs, and last month her sister had emigrated days after Paula turned forty. Life had certainly been better.
No wonder Amy and her husband Rich had insisted that she join them for Ascot's Ladies Day.
"Look at the fabulous clothes," Amy enthused as a trio of women walked by in dazzling outfits that wouldn't look out of place during London Fashion Week.
"Everyone's like a model," Paula agreed.
[magento sku="DCS-MWFIC"] 
Rich bought their race cards and she tried to pick selections as they waited for the Royal procession.
Eventually the Royal Family, splendid in horse-drawn carriages, passed by. Paula waved. Maybe she'd enjoy it after all.
But once back in the enclosure, the crowds and noise overwhelmed her.
"Yay! Mine won!" Amy cheered. "Drinks are on me."
As they queued for the bar, Paula said, "Shall I meet you at the paddock? I want to go and watch the horse parade. Try to get some tips."
Amy squeezed her hand. "You OK?"
"Absolutely fine," she assured her.
---
Teetering on high heels, Paula walked to the parade ring. Here she felt at home. Led by proud stable hands, the coats of the majestic horses gleamed in the emerging sunlight. A beautiful chestnut reminded her of Oakley, the horse she'd ridden as a teenager.
"Look for good shoulder to elbow length," said a deep voice beside her. "Important for stride length."
She turned to see a tall man with long dark hair, warm brown eyes and designer stubble.
He looked as out of place in his morning suit as she felt in her tight dress.
"Oh, and a shine in his eye. Like a good man." He winked. "I'm Oliver."
[magento sku="MWY-R92R0″]
She couldn't help smiling.
"Doesn't the jockey ensure a winner?"
"He helps, but ultimately it's the horse. Take that one over there." He pointed at number four. "They're all thoroughbreds but that one's special."
Although the horses looked equally magnificent, after watching them for a while she spotted a difference.
"I see what you mean – I think."
How did he know so much about racing? Was he a groom?
"If you want a tip – pick number four. Dream Dances won't let you down." He tapped the side of his nose.
He really was gorgeous, Paula thought, but out of place at such a prestigious event.
"Thank you, I will."
They chatted a while longer before he said he'd return to his enclosure.
"Remember – some horses are unique."
As he held her gaze, she actually trembled.
As Oliver left, Amy arrived.
"Who's that gorgeous specimen?" she asked, handing Paula a glass of wine.
"His name's Oliver. Gave me a tip. Seems to know his stuff. Can you help me put on a bet?"
"Sure." Her friend smiled warmly.
---
Standing at the rails in the sunshine, Paula urged on Dream Dances, and although it was crowded, she couldn't help searching for Oliver.
[magento sku="DCS-QPLAT1″]
Suddenly she thought how much she was enjoying herself. The atmosphere was thrilling. Everyone was friendly and happy.
"And Dream Dances wins the Gold Cup easily," the commentator announced.
Paula cheered, then queued to claim her winnings.
It wasn't enough to cover her roof repairs, but she could treat her friends to dinner later.
"Let's watch the Queen make the presentation," Amy suggested, pointing to a huge widescreen television.
After the winning jockey and trainer were congratulated by the Queen, wearing a canary-yellow coat, the announcer said,
"Give a big hand to winning owner Oliver Codona."
Paula couldn't believe it as Oliver shook the Queen's hand and lifted the Gold Cup along with the trainer and jockey.
"No wonder he knew so much about horses," she said to Amy.
"Oliver Codona's an up-and-coming owner," Rich told her. "Wow! I didn't know he'd given you the tip."
"I wish I'd put more on now," Paula laughed.
---
Later as they made their way back to the paddock, someone touched her arm and an already familiar voice breathed, "Paula – I didn't want you to go without taking this."
It was Oliver, handing her a business card.
"Thank you for the tip," she smiled.
"I told you some horses are special. Like some women. I'd love you to get in touch. I can always spot a winner."
As Oliver disappeared, Paula held the card and thought perhaps she was getting the knack of spotting winners, too.
Our My Weekly Favourites series of feel-good fiction from our archives continues on Mondays and Thursdays. Look out for the next one.
Don't forget – you can find brand new, uplifting short stories every week in My Weekly! Subscribe now for a great saving on the weekly magazine, the monthly My Weekly Special… or our fortnightly thrilling, romantic Pocket Novels.
[magento sku="MWY-MAIN"] [magento sku="MWN-MAIN"] [magento sku="MWB-MAIN"]