Cook The Perfect Steak This Father's Day!
---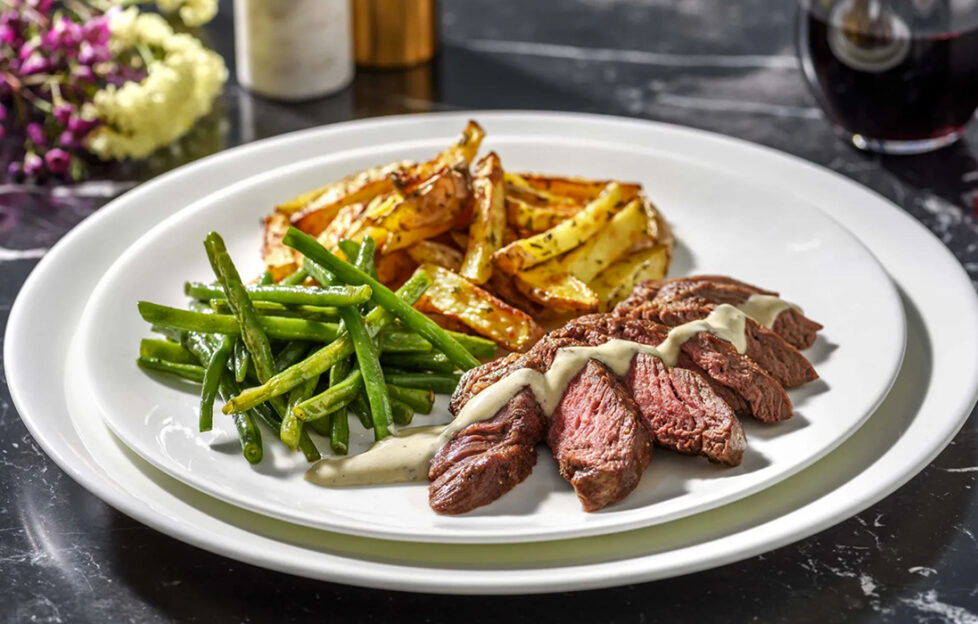 Steak with blue cheese sauce - try the recipe now!
HelloFresh Head Chef Andre Dupin shares his juiciest cooking tips for whipping up a delicious steak this Father's Day – plus we have a brilliant recipe too!
Dads up and down the nation deserve only the best, which is why many of us will be preparing a special meal to go along with our Father's Day cards and gifts this Sunday.
We're delighted to be joined by chef Andre Dupin from HelloFresh, who gives us the lowdown on cooking a great steak this Father's Day, from the best pan to use, the seasoning to sprinkle and the ideal cooking time.
Once you've read Andre's tips below, why not try making this gorgeous Fillet Steak and Blue Cheese Sauce with Rosemary Fries and Green Beans?
Andre said, "A home cooked meal truly is a way to show someone how much you care and when it comes to Father's Day we wanted it to be something luxurious. We all know steak and chips is a classic dish enjoyed by many but we wanted to add some twist to make it feel extra special, from a delicious blue cheese sauce to crispy rosemary fries, this recipe is bound to be a crowd pleaser for not only the father figure in your life but the whole family."
Andre's Tips For Preparing & Serving Steak
Best Pan To Use
A good quality cast iron skillet or griddle pan is ideal for cooking steak as they hold heat really well. A griddle pan will let you show off with some perfectly square bar marks and a charred flavour, but overall the important thing is that the pan is very hot before adding your steak. Make sure the pan is big enough to house all of the steaks you are cooking otherwise you will end up stewing them rather than frying them.
Oil, Butter or Both?
If I'm using a griddle pan, I drizzle the steak with oil and season with sea salt and black pepper. If I'm pan-frying,  I heat a splash of oil in the pan, brown the steaks on both sides and then add a knob of butter to the pan. As the butter melts and foams, spoon this over the steaks as they cook and the nutty flavours of the butter as it cooks and browns will give it a whole new level of flavour!
Seasoning
Sea salt and freshly-ground black pepper is my choice. Some season with pepper at the end so you don't burn the spice and if you're cooking a large steak I recommend seasoning again once you've sliced it! Sea salt all the way for me!
Steak Thickness
Go for at least 2cm thick for something like a sirloin, and up to 3cm for a rib-eye to achieve a really juicy steak.
Best Cut
For me it's rib-eye – I love the marbling and the fat for its succulence and flavour. Fillet is great if you like leaner steak and it's great cooked as a centrepiece and sliced for all to share.
You should also consider the quality of the beef you are buying – grass fed cows and beef is better quality and better for you. Look for fat marbling through the meat – this will make the steak more succulent when you cook it. When you're cooking your steaks try to only turn them once or twice – it takes nerve and patience, but you will get a much more even cook and better browning on the outside of the steak.
Cooking Time
This all depends on the thickness of your steak and how you like it cooked. There are some very clever thermometers around these days to make sure you cook your steak perfectly. Dare I suggest a Father's Day present?
Resting Time
I was always taught to let the steak rest for as long as you took to cook it. When cooked, cover your steak loosely in foil to keep it warm. Don't wrap it up too tight or it will over cook.
Pairings
I would happily eat any of the following – steak and bearnaise sauce, steak and a rich red wine sauce, steak and beurre maitre d', steak with chimmichurri salsa. On the side – chips of course, but super buttery mash or a creamy mac and cheese will do nicely! Add a little crunchy green salad, it's great for colour and healthy, too!
HelloFresh offer premium recipe boxes packed with fresh, seasonal ingredients, delivered straight to your door. Find out more at www.hellofresh.co.uk.
---
Look out for a brilliant cookery spread each week in My Weekly. On sale every Tuesday, our latest issue features a wonderful selection of main meals – all under 500 calories! Pick it up in shops now, or why not take a look at our money-saving subscription deals?