Sunseekers
---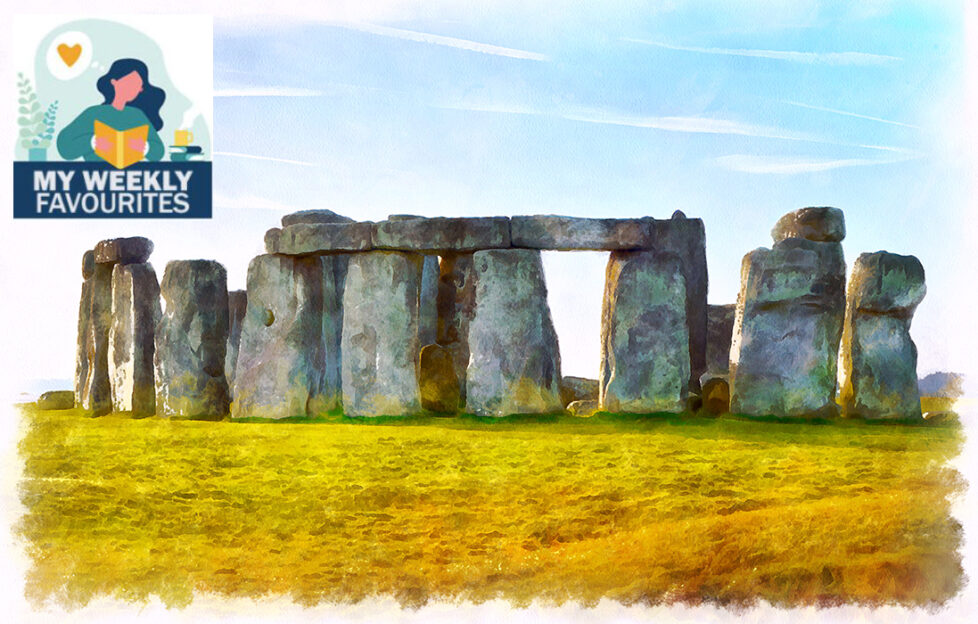 Illustration: Shutterstock
WRITTEN BY BETH McKAY
A campervan holiday that will make even Alex's grumpy dad happy? That might take some midsummer magic
A summer dawn was breaking softly over the hedgerows when Ellie opened the conservatory to feed the cat. Bright reflections sparkled on the glass roof and the pale sky overhead was daubed with rosy streaks. It was going to be a beautiful day, Ellie decided. She scratched the cat's head gently while she dispensed the food. Sammy rewarded her with a purr like an engine.
Ellie did not sleep well these days and often woke early. Sometimes it was simpler just to get up and make a cup of tea rather than to remain restless and frustrated in bed. Ellie knew she required a clear mind to concentrate. It was great being able to work from home now, but it was so much easier to fritter time away, especially when she was low on energy.
What we need is a break, Ellie resolved. She plumped up the cushions and sat down next to the cat on the cane sofa. The warm, morning sun was enticing. The boys were away at university for at least another month, and she and Alex were relatively free for the next few weekends. Where could they go, Ellie wondered?
She glanced down the garden and spotted their old camper van, tucked away behind the garage. A spider was busy spinning a web from the battered mirror.
Ellie smiled to herself as she recalled how delighted she and the boys had been when Alex first brought it home. James, their eldest, had pestered them about buying a camper van for months. His best friend, Tom, had acquired a lovingly restored VW, complete with varnished wooden seats and a bright orange awning.
"The roof opens up at an angle and you can sleep there, Mum!" James had told her proudly, after Tom's dad had let them camp in it overnight in the garden.
Ellie's husband, Alex, had happy memories of childhood holidays with a caravan so he was equally enthused. He and James had scanned the online adverts for camper vans each evening.
The one Alex eventually decided they could afford was more like a refurbished delivery van than a fashionable retro icon. It was a bit worn out even then, but it had a spotless galley kitchen and a lot more room to sleep in. They had managed many successful trips in it together, from sandy Cornish beaches to the pebbled shores of the Lake District.
Ellie stood up decisively. Perhaps it was time to dust off those cobwebs and give their van another outing?
---
That morning, Ellie's mind was only half on her work. She managed two Zoom meetings with her office team and sent off dozens of emails fairly efficiently. However the tool bar on her computer was swiftly filling up with open tabs for campsites and festivals. By four o'clock, she was restless to finish the day's agenda so she could examine them all properly.
When Alex arrived home that evening, the kitchen smelled delicious and the dining table was laid. Ellie had even lit some candles.
"How about a nice glass of wine?" she asked him. "You must be tired."
Alex gave his wife the usual friendly peck on the cheek but glanced anxiously over at the calendar. What day was it, he wondered? Had he forgotten their anniversary? He was quite relieved when Ellie mentioned the holiday idea instead.
"I've found the perfect campsite," Ellie told him excitedly. "It's in Wiltshire, not far from Stonehenge. It's close to the three stone circles at Avebury. There's even a festival for the Summer Solstice to celebrate the longest day. Live music, street food, dancing, you'll love it! We could take the Monday and Tuesday off and make a long weekend of it. We haven't done anything like that together for ages."
Alex nodded. "The campsite looks great," he said, leaning over Ellie's open laptop to check the prices. "I like the idea of staying on a farm. The van might need a bit of an overhaul first," he added, catching Ellie's enthusiasm, "but it passed its MOT in January so it should make it."
It was only when Alex opened the calendar up on his mobile to check the dates that his face fell…
"I've just remembered," he sighed. "It's Father's Day that weekend. I promised Dad we'd do something special with him and Mum, especially with the boys away."
"Well, they could come too," Ellie replied impulsively.
"Really? You wouldn't mind?" Alex beamed at her. "I expect they'd like a bit of a change. Only the other day, Dad was complaining that their holiday had been cancelled again. I'll give them a ring and ask them now."
Alex was on the phone selling the idea to his mum before she could think twice.
---
That was how she came to find herself, squeezed somewhat uncomfortably into the front seat of their old camper van, right next to Mark, her father-in-law. Judith, his wife, was tucked in behind them with her cool-box and flask.
It was not quite what Ellie had planned but the sun was out and the traffic on the A303 was moving smoothly, even when they passed the bottleneck close to Stonehenge.
Ellie leaned out of the window to get a better look at the ancient stones. They were as awe-inspiring as ever, the Welsh bluestones set among the larger sarsens. The giant ring dominated the horizon on Salisbury Plain, just as it had 5000 years ago. Nowadays, it was surrounded by a network of modern roads and a swarm of tourists bustled along the roped off paths.
"Avebury will be less busy," Alex reassured his dad, who was gazing suspiciously at the heaving car park.
"I just hope it's not full of hippies and druids this time of year," Mark grumbled. "All that summer solstice nonsense."
Ellie grinned at Alex over his father's head. They had both been happy to call themselves hippies as students, travelling round India, camping on the beaches of Goa or staying in houseboats in Kashmir, with views of the Himalayas. Carefree times when the world had felt like their oyster.
It did not seem so long since those early days in their relationship.
She and Alex had huddled together to watch the dawn rise behind the Heel Stone at Stonehenge one misty, midsummer morning. Later that day, they had decided to get engaged, so the solstice always held a special meaning for them.
"How are you doing, Mrs Walker?" Alex inquired cheekily. He had spotted Ellie twisting the rings on her finger. Ellie knew he must be thinking along the same lines as her. Twenty-six happy years together, give or take a few arguments, was probably a record these days. She was not going to let Mark's complaints get her down so early on the holiday.
"Only another forty minutes or so until we get there," Ellie replied cheerfully. "We follow signs towards Marlborough. Then we can stop and brew up a proper coffee."
"I've brought those Danish pastries I promised you," Judith chipped in from behind them. "You won't say no to one of them, will you, Mark?"
She patted her husband's shoulder and the mood in the camper van lifted.
---
The village of Avebury, with its thatched cottages and warm, red-brick houses, nestled amongst the woods and fields. The campsite on the farm had a modern shower block and electric hook-ups but was otherwise fairly rural.
Ellie was delighted with the views from their allocated plot. There was room for the tent, in which she and Alex planned to sleep, with his parents in the van.
"Your Dad better behave himself," Ellie joked, as she and Alex hammered in the tent pegs together. "I don't give up my bed easily these days."
Ah, but think how cosy it will be in there, just the two of us.
"Shssh," Ellie murmured, flushing pink. "Your mum might be listening!"
Judith called out at exactly that moment from the galley kitchen in the van.
"Coffee's ready, everyone!" she beamed, emerging with a large plate of cinnamon whirls and apricot Danish. Alex put his arm around Ellie and shepherded her to the deckchairs he had set out under the awning. It felt like a holiday at last.
---
The weekend rushed by with long country walks and two amazing pub lunches. Ellie felt relaxed and excited when she woke on the longest day of the year. She had had her best night's sleep in ages.
Mark was still making disparaging comments while the group wandered round the craft stalls and music venues. The air was heavy with spices and delicious scents from the small vans selling street food. They chose exotic curries in bowls made of bread for their supper, followed by delicate crêpes drenched in lemon and sugar.
As darkness fell, Judith and Mark headed back to the camper, leaving Ellie and Alex alone.
"Dance until dawn if you must," Mark shouted back in a tone laden with sarcasm.
It must have been about midnight when Ellie's mobile went off.
"It's Judith," said the anxious voice.
I can't find Mark anywhere. It's been ages since he said he was going to the bathroom. I think he must have got lost in the dark on his way back.
"Don't worry, Mum!" Alex reassured her as Ellie put her mobile on speaker phone to alert him. "We'll soon find him."
---
An hour later, there was no sign of Ellie's father-in-law.
"There's only the silent disco tent left," Alex muttered with a frown, "and we're not exactly going to find Dad in there."
"I wouldn't be so sure," Ellie grinned as they rounded the entrance. Alex stared, open-mouthed. Mark was moving with a rhythm and energy that belied his years, his eyes shut, clearly lost in the music. It took Alex a while to get his attention.
"This is brilliant," Mark shouted. His face broke into a huge smile as Alex removed the headphones. "Dire Straits, Talking Heads, you can choose what you like. I haven't had this much fun in ages."
Ellie tried hard to suppress a chuckle. Alex nipped out of the tent to ring his mum while she led Mark to a quiet spot by the bar for a drink and a rest. His shirt was soaked, his bald head perspiring heavily.
"Thanks, Ellie. You're the best!" Mark assured her warmly, as he took a grateful swig from the beer glass she proffered.
"I think Dad will remember his Father's Day weekend this year," Alex whispered later, as he and Ellie snuggled together for warmth. The morning mist was chilly. They had found a sheltered spot for their rug beside the ancient stone circle. A sense of awe rippled through the crowd as the drumbeats intensified and the sun began to rise. Dancers in white twirled.
The world was full of surprises, Ellie reflected. Today she was happy to savour the hope of a brand new dawn.
---
Our My Weekly Favourites series of feel-good fiction from our archives continues on Mondays and Thursdays. Look out for the next one.
Don't forget – you can find brand new, uplifting short stories every week in My Weekly! Subscribe now for a great saving on the weekly magazine, the monthly My Weekly Special… or our fortnightly thrilling, romantic Pocket Novels.