An Imperfect Match
---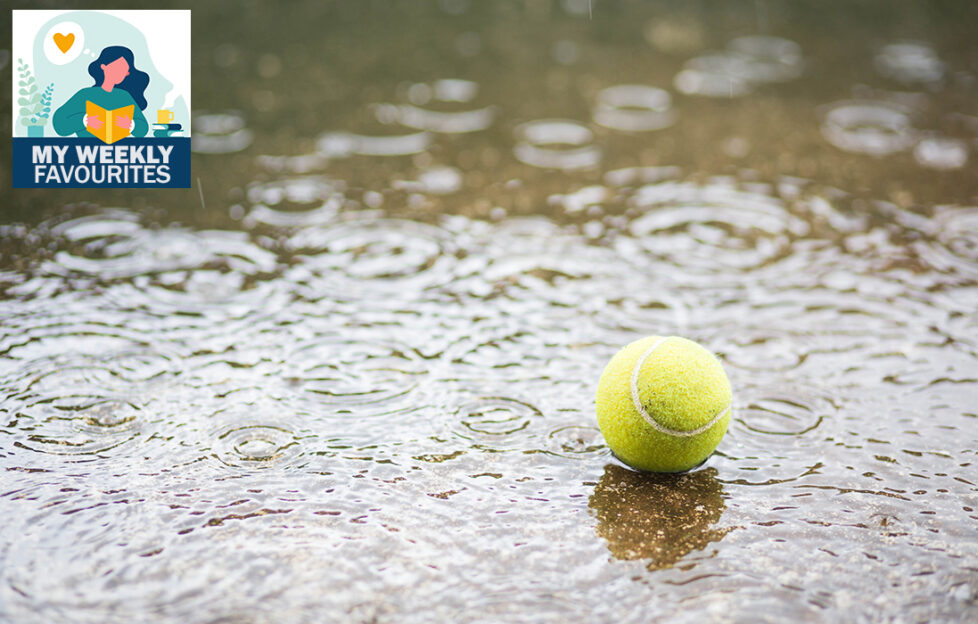 Pic: Shutterstock
Would it be "love all" for me and Will at Wimbledon this year?
Will looked at me with that quizzical expression he has sometimes, one eyebrow raised, when he doesn't quite get something.
"Wimbledon?" he repeated. "That place where it always rains and the players have temper tantrums on court?"
"That's a slightly jaded way of looking at it," I said. "I'd go more for the tennis and strawberries and cream aspect."
"Tennis in the rain." He frowned. "A game where the meaning of love is zero."
"A backhanded shot," I quipped, as we were on tennis terms. "So you're not coming, then?"
Will folded his arms stubbornly. "I'll think about it."
---
That conversation was a month ago.
I admit I was taken aback. Especially as I'd been to not one, but two, football matches with him to watch his team, Bournemouth, play.
It hadn't rained, but the first match was in February. A bitter wind had whistled its way through the north stand, whipping my hair around my face and creeping through the gaps in my scarf.
The hot Bovril and pasty at half time hadn't been quite enough  compensation for standing in the middle of an unruly crowd all chanting, "Come on, you reds!" at the tops of their voices.
Will and I had met via online dating nine months ago.
I'd been drawn to his photo which showed a guy with kind blue eyes, and a lovely open face.
We were perfect for each other on paper. We both loved country walks, preferably with a dog, although neither of us had one. Both of us fancied living by the sea. We both watched live sport, although we quickly discovered that Will was a football fan while I adored tennis.
I didn't see this as a problem. Will could go off to see his team play at weekends – he only went to the occasional home game – and I could catch up with tennis on telly. So far this had worked very well.
Until Wimbledon cropped up.
This was the first year I'd ever got tickets for centre court. If that wasn't incredible enough we'd be watching Andy Murray, my favourite player! But Will's reaction had brought me crashing down to earth.
To be fair he had agreed to come. Today was the day and we'd arranged to meet in the designated car park.
It had just started to drizzle, but fortunately, we'd be undercover.
If he ever arrived. Had he decided we weren't the perfect match after all? I closed my eyes.
I was starting to panic when I saw his old car pull in.
He might not care for tennis, but I'd thought he cared more about me than to be this late.
"Sorry I'm late." He glanced skywards as he got out of his car and hooked out a rucksack.
"We have to go." I grabbed his hand.
We arrived in the nick of time only to discover there'd been a mix up with our tickets.
The seats were double booked which meant we'd be sitting outside on the grass watching via a screen, and not undercover after all.
I could have screamed.
Will hugged me. "Don't worry. I have a backup plan." He tapped his rucksack. "Supplies… and it's OK. It's all within
the guidelines – I checked beforehand."
Despite the disastrous start I felt the familiar tingle of excitement as we took our seats. I've loved tennis since I was small, and being at Wimbledon felt like walking on hallowed ground.
As Andy Murray took his opening serve, the heavens opened. The point was played and lost.
"Love-15," the umpire announced.
I glanced at Will, who was now rummaging in his rucksack. Seconds later he produced a thin waterproof sheet that he spread across our knees and around our backs so that we were huddled into a snug little bubble of dryness.
A raindrop rolled down his nose as he smiled at me.
"I figured it would be best to be prepared."
I smiled back. Not least because Andy Murray seemed to be making a major comeback.
"Set point," the umpire declared.
---
At the end of the first set, Will produced a punnet of glistening red strawberries that smelled divine, as well as a tiny pot of cream with a resealable lid. What a guy!
Set point to Will too, I thought as everyone else queued for refreshments and we stayed where we were and tucked in to strawberries and cream.
"It's why I was late," Will explained. "Getting supplies."
"You're forgiven. So what do you think of Wimbledon, then?"
"Pretty much as I expected. Although I'm disappointed that there's not been a tantrum yet."
"Even from me," I quipped – and he kissed me.
It was in that moment that I realised it wasn't just set point to Will, but match point too.
Not because of the being prepared bit – nor even the strawberries and cream bit – but because he'd shown me it wasn't about us being a perfect match, either on paper or in real life.
It was about us being an imperfect match, but still caring enough about each other to compromise.
That was the true meaning of love.
Our My Weekly Favourites series of feel-good fiction from our archives continues on Mondays and Thursdays. Look out for the next one.
Don't forget – you can find brand new, uplifting short stories every week in My Weekly! Subscribe now for a great saving on the weekly magazine, the monthly My Weekly Special… or our fortnightly thrilling, romantic Pocket Novels.