Carrot Cake with Port Salut Icing
---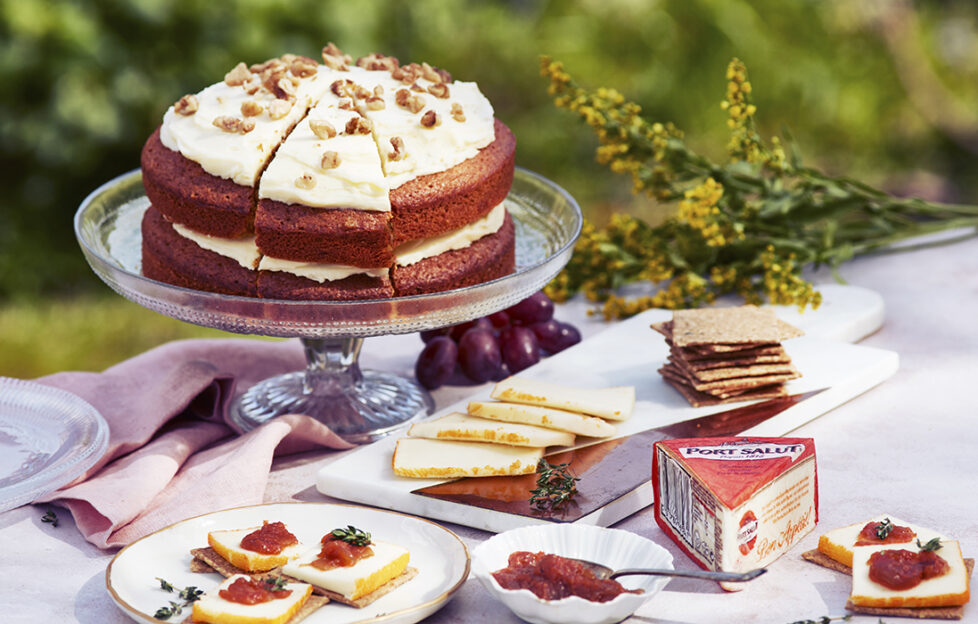 FOOD AND DRINKS PHOTOGRAPHY
Combining sweetness and creamy cheesiness, this delicious Port Salut-infused carrot cake is a slice of sunshine.
Preparation Time: 20min
Cooking Time: 
Makes: 1 x 23cm cake (serves 8-10), 12 individual muffins or 6 Yorkshire Pudding-sized cakes
Preheat the oven to 160°C/140°C fan.
Grease and line a 23cm springform tin with baking paper. Alternatively grease 6 Yorkshire pudding tins or line 12 muffin tins with paper cases.
Spread chopped nuts on a baking sheet in a single layer. Toast in the oven for 7-8min until just toasted. Watch closely as they can burn quickly. Leave to cool. Increase the oven to 170°C/150°C fan.
In a large bowl, whisk together the sugar, oil, eggs, marmalade and vanilla extract until no lumps remain. Add  grated carrot, cheese, sultanas and the toasted nuts (if using).
In a separate large bowl, sieve together the flour, baking powder, bicarbonate of soda, salt and spices.
Pour the wet ingredients into the dry ingredients and, using a spatula or wooden spoon, fold together until just combined.
Spoon into the prepared tin (or tins) and bake in the oven for about 30-35min (if making 1 large 23cm cake), or 15-20min (for individual cakes), or until well-risen and a skewer or toothpick inserted into the centre comes out clean (if not, bake a little longer, covering with foil if the cake is browning too quickly). Remove from the oven and leave to cool completely in the tins. The cake must be completely cool before decorating.
For the frosting: In a small saucepan over a low heat, slowly bring the cream to the boil. Add the Port Salut and stir until melted and smooth. Stir in the Laughing Cow cheese.
Remove from the heat and sieve into a large bowl. Set aside to cool to room temperature.
Once cooled, add the diced butter and, using a stand mixer fitted with the paddle attachment, beat on medium-high speed for about 4min or until smooth (or use a handheld mixer fitted with a whisk).
Sift in the icing sugar. Add vanilla extract, orange zest and salt. Beat on low speed for about 1min then high speed for 3min until creamy and fully combined. If too runny, cover and chill until thick enough to spread.
To decorate: ensure the cake(s) are completely cool before decorating.
For the 23cm cake: using a bread knife, carefully slice in half horizontally. Place 1 cake upside down on a cake stand or serving plate. Spread over icing, leaving a slight border. Top with the second cake, followed by another layer of frosting – use a palette knife, or the back of a spoon, to smooth.
For individual cakes: spread Port Salut frosting on top, or pipe swirls using a piping bag fitted with a star or plain nozzle.
Decorate with desiccated coconut, granola, dehydrated carrot powder or chopped nuts. The cake will last, well covered, in the fridge for up to 3 days.
Chef's Tip: If using melted coconut oil, make sure all of the other cake batter ingredients are at room temperature. Otherwise, the melted coconut oil will begin to solidify before the batter goes into the oven.
Find more delicious recipes in My Weekly magazine – £1.75 from newsagents and supermarkets. Or subscribe for a great saving on the shop price!