Fridays With Mum
---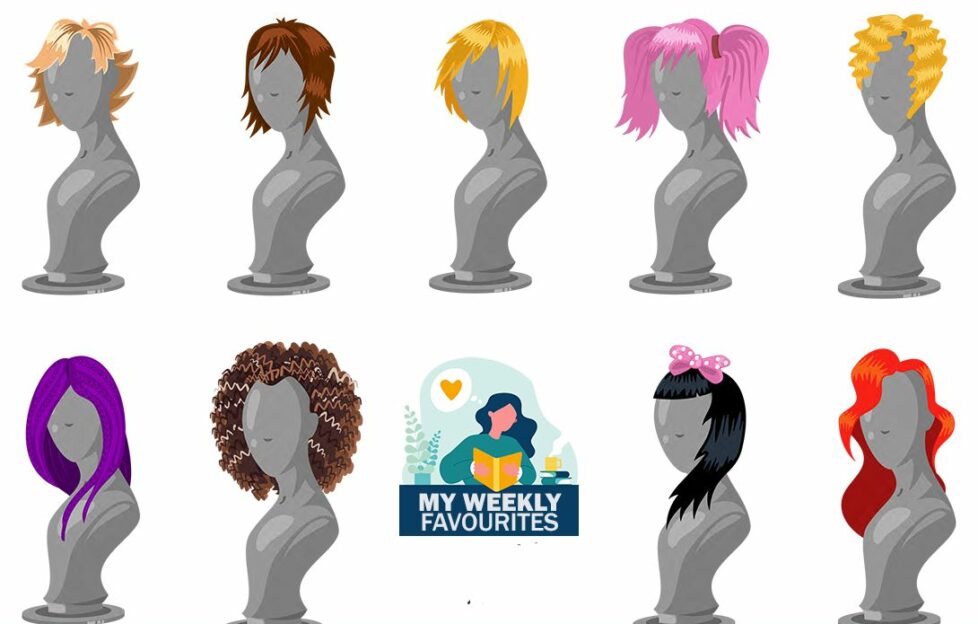 Those days were so special and fun, but who would have predicted the result of trying on wigs?
It was Friday, and I never knew what to expect when I went to visit Mum. We've always been close, even more so since we lost Dad.
In fact, that's why Simon and I split up. He was jealous of Mum! He said I was more eager to see her than him.
As soon as he accused me, I realised it was true, and that was the end of my relationship with Simon.
"Hi," I said, leaning over and pecking Mum on the cheek. She looked a bit pale, but her eyes were twinkling.
"Hello, Julie love. You're looking pretty today. I like you in that top."
"Thanks," I said, pleased she'd noticed I'd made an effort. "What have you got in store for us today? A garden centre?"
"I've got an appointment," she said.
"I hope you don't mind. It shouldn't take long. And I thought about a Macmillan Coffee Morning afterwards?"
"Good thinking," I told her.
About a year ago, we'd all had some intensive training at work. It was meant to ensure employees made better use of our time, be more productive by knowing how to prioritise.
The course backfired; instead of making me work harder, I realised that spending time with Mum was my main priority. So I asked to change my hours and work only four days a week.
It's great not working Fridays, because I always have a lovely long weekend, and I go back to work on Monday refreshed. Perhaps the woman who ran the course did know her stuff, after all?
Mum's not been 100% these last few months.
A routine mammogram showed a shadow, which was probably nothing, but they removed it anyway. Then, just to be sure, she's got some new follow-up treatment.
We were in luck today and found a parking space outside the clinic.
"Now," Mum said, turning to look at me, rather than immediately getting out of the car. My heart sank. "You're not to worry, this is just a precaution."
"What am I not to worry about?" I asked her with a tremble in my voice.
"We're going to visit Wendy The Wig," Mum said. "The Doctor said I probably won't lose my hair, but if I do, I'd like to be prepared. Come on, it could be fun."
Having said her piece, she picked up her bag and got out of the car.
"I've been looking forward to this."
I'm always amazed how wonderfully positive she is; some people make more fuss about going to the dentist.
We checked in at reception and the nurse said Wendy's last appointment was running late, but she shouldn't be long.
"Is she really called Wendy The Wig?" I whispered to Mum as we waited.
"Of course," Mum smiled. "What did you think she'd be called, Flick?"
"Married to a man called Bob?"
We laughed. I wanted to remind her of a hairdresser we'd seen on holiday called Curl up and Dye but somehow, I just couldn't get the words out.
"Wendy's free now," the receptionist told us. "The Hair Salon's just down that corridor, you'll see it right at the end."
Mum stood and gathered her belongings. She'd worn her best coat and a scarf I'd given her for her last birthday, along with new shoes that matched her handbag.
It comforted me that she was still taking an interest in the way she looked. It gave me hope. It also made me wear smart trousers, instead of old jeans.
I remained seated. Sometimes she wanted me to go in with her to these appointments, but at other times she'd decide to go alone.
Today I'd brought my tablet along, thinking I might pluck up the courage to join a dating site.
It had been over a year since I'd split up with Simon. I'd made the most of time to myself, but now I was ready for some male company.
"Come on, Julie," Mum said. "I need you to tell me what you think."
We headed on down the corridor and sure enough, facing us was a hair salon that wouldn't have looked out of place on the high street. It was aptly named Cutting it Fine.
We entered, chuckling at the name.
Wendy The Wig greeted us. She wore a nursing uniform, which was to be expected, but her hair was elegantly arranged in a French pleat and her face was perfectly made up.
She looked as glamorous as Trixie in Call The Midwife. Her manner was efficient and professional.
Having checked a few basics with Mum, she led us from the waiting area into her studio.
The walls were lined with shelves stacked with a selection of boxes. Some were circular, more like hat boxes, which seemed appropriate, while others resembled shoe boxes.
Wendy sat my mum down in a swivel chair in front of a large mirror. The room had probably been an outdoor store cupboard at one time, but now there was a pitched glass roof flooding it with light.
"Let me take a look at you," Wendy said as she gently ran her fingers through Mum's hair.
Everyone said Mum and I looked alike.
I'd inherited her curly brown locks, whereas my sister was blonde like Dad.
As a teenager I'd spent hours straightening my hair which just went frizzy when it rained. I'd given up now, and accepted the natural wave.
I noticed how fine Mum's hair was nowadays. Hers was predominantly mousy-brown with strands of silver, grey and white, but not enough to call her grey.
She still had a good head of hair, and that was a blessing. Her skin was flawless and it kept her looking younger than her years.
"So," Wendy said. "Is there something in particular that you fancy? Or shall we start with something similar to your natural look?"
"I'd like something like my daughter's style," Mum replied and gestured in my direction.
It was ironic really, as I fancied anything but what I've actually got.
I'd always envied my blonde sister.
Wendy's boxes were organised by colour, then size and finally by length. The largest section was Brunettes. What Mum needed was small and short.
"Ignore the plastic cap, that's just for hygiene reasons. We'd obviously take it off if you were wearing it for real."
"I like that," Mum said as she stroked the glossy wig.
"I look thirty years younger. Do you think we might be mistaken for sisters?" She laughed.
"It does suit you," Wendy agreed, gently brushing Mum's new "hair". She went on, "Are you happy with that, or do you want to try something different? There's no rush. I have got one with a few grey highlights?"
"I'll stick with this, if I need it," Mum added. "I was told I'm unlikely to lose my hair, but I want to be ready, just in case."
"It's best to do it that way round," Wendy agreed as she reached for her paperwork. "I'll just note down the style and size, in case you do need it."
"Is your next appointment very soon?" I asked. Wendy looked at the clock.
"Not yet, there's plenty of time. Do you have a question?" Wendy asked, giving me her full attention, but I looked over at my mother.
"Mum, did you want to try something else, just for the fun of it – if we're not taking up too much time?"
Mum couldn't hide her excitement.
"Well, my dad's side were all ginger, and I always wondered what it would be like to have red hair." Mum chuckled.
"In fact, I thought my girls would end up auburn at the very least, but Julie's brunette like me, and Martina's fair like her father."
Wendy turned to another shelf and started opening and closing boxes.
"There's one in particular, I think you'd like. Ah, here it is."
She smoothed it out and carefully placed it on Mum's head.
In many ways it wasn't dissimilar from the one she'd chosen, but the colour was a mix of golden highlights. Reds, golds, coppers and the odd silver thread.
"Wow, that's stunning," I told her.
"It's a lovely wig," Mum agreed. "But it's not me. It's far too fashionable."
"What about going blonde?" I asked. "I've always fancied that."
It didn't take Wendy long to find a lovely ash-blonde style, wavy like mine, but in a neater bob.
"No, that doesn't look right at all," Mum was quick to say. "My eyebrows are too dark. You can tell it's not my natural colour."
Mum pulled it off and handed it to me. I didn't need to be asked twice. I'd been itching to try something on.
As I was looking over Mum's shoulder into the mirror and admiring my new look, there was a gentle tap on the door.
"Excuse me," Wendy said, "I just need to answer this, I've been waiting for some patient files."
"Sorry," the young man said as he hugged a large pile of buff folders. "They're quite heavy. Do you want me to put them down on your desk?"
"Great, thanks," Wendy said. "I was only expecting four."
The handsome man laughed. "I told them you'd notice," he chuckled.
"You're in demand, it seems. I said I'm sure you'd fit them in."
"Come on love," Mum said. "Wendy's obviously busy. Thank you so much for your time."
"If you really want one, you can buy them online." Wendy said. "This brand is good. They tend to fit snugly. The last thing you want is for it to blow away in the wind!"
"Thank you," I replied, as I carefully put down the blonde wig.
I didn't really want it. It made me look so like Martina, my younger sister – the blue-eyed girl, slim and happily married, everything I wasn't.
"It was good to try it, but it's probably a decent haircut that I really need."
Wendy handed Mum a card where she'd written down the wig details, should they ever be required.
"My phone number's on there, too. Give me a call, if you need to. I'll book an appointment to go through all the practicalities of washing it, and so on. Take care."
---
We walked back through the salon waiting area and into the corridor that led us back to the main reception.
The lovely man with the files was there collecting up a box of paperwork.
"Oh, that's much better," he said, "The blonde wasn't right for you."
"Are you sure?"
I'd been disappointed, because I'd foolishly thought dyeing my hair could have solved my problems. Would I have been happier being blonde?
"Definitely prefer you as you are," he said with a cheery smile.
"But I'd be more than happy to discuss it further… over a drink." He reached over for a notepad on the reception desk and scribbled down his details. "I'm Darren, give me a call."
"Er, thank you," I said, still suffering from shock. It felt like years since anyone had asked me out for a drink. "I'm Julie, and this is my mum."
"Pleased to meet you both," he smiled again. A genuine beam. "Actually ladies, I'm due a coffee break now, and we're raising money today for Macmillan Nurses. Will you join me?"
Pick up a copy of My Weekly every Tuesday for original fiction stories, and look out for new fiction content on our website every week.