Eyes Right!
---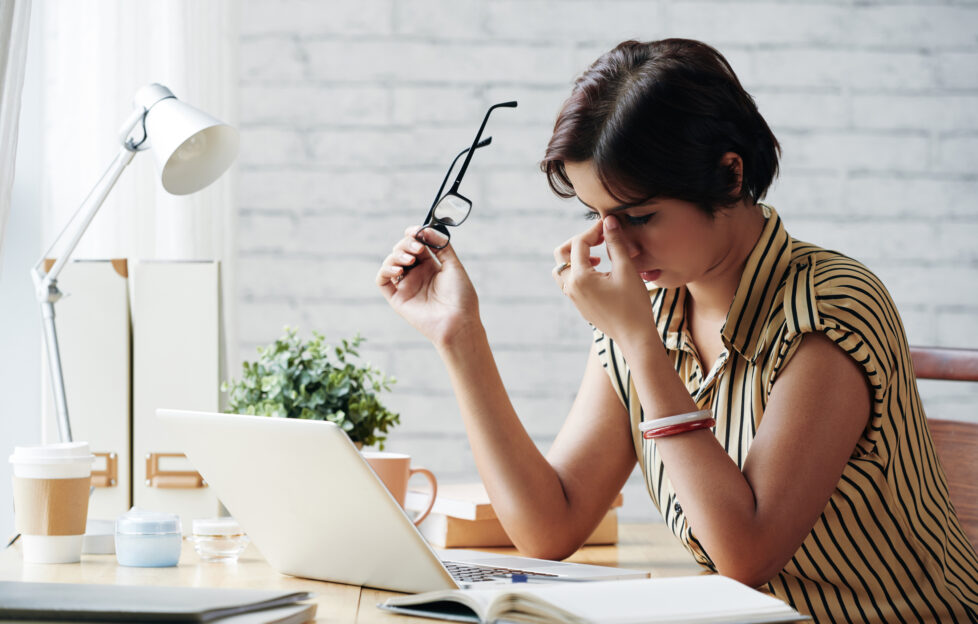 Pic: Shutterstock
10 eye-opening tips to help you look after your sight
We often don't think about eye health until something goes wrong, but with these easy suggestions, you can give your peepers some much needed love…
1. Just add moisture
As we age, our eyes become drier, while hormonal changes and certain medications can also affect the amount of moisture in the eye. Dehydrated eyes can become irritated and, in severe cases, this can lead to dry eye syndrome, an eye condition which can cause long-term damage to the cornea, the eye's protective outer layer.
Optometrist Francesca Marchetti explains,
Dry eye syndrome is caused by a lack of lubrication in the eye, either due to staring at a screen for hours without a break or because the tear glands aren't working effectively.
To help keep eyes hydrated, aim to drink eight glasses of water every day and, if your eyes are irritated, red, itchy, tired or sore, reach for the eye drops. Regular use of eye drops such as A. Vogel Extra Moisturising Eye Drops (£13.50, www.avogel.co.uk) can help to restore normal function of the tear glands while also providing soothing relief for dry, irritated eyes.
2. Treat your eyes with TLC
Don't leave your contact lenses in overnight or for longer than advised, only touch your eyes with clean hands – and always remove eye make-up before going to bed.
"Expired make-up is another thing to look out for," advises Sharon Copeland, optician at www.feelgoodcontacts.com. "You should also ensure your mascara is no more than six months old or you could be putting your eyes at risk of irritation, conjunctivitis or a stye."
3. Invest in vision vitamins
"According to findings from the Age-Related Eye Disease Study (AREDS), vitamin C, vitamin E and beta carotene may have a protective effect against age-related eye disease," reveals nutritionist Rob Hobson, "Research has also shown that the plant compounds lutein and zeaxanthin have a protective effect on eye health, as do omega 3 fatty acids.
Based on these findings, orange, green and yellow vegetables, oily fish, seeds, berries, olive oil, avocado, mushrooms, sweet potatoes and oats are just a few of the foods that may support the health of your eyes.
In addition, although it's always best to obtain the nutrients your body needs from a balanced diet, Healthspan Optivision (£15.45, www.healthspan.co.uk) contains lutein, omega 3 and vitamins C and E.
4. Step away from the screen
Looking at a screen all day – whether it's your television, laptop or mobile phone – is bad for your eyesight. If you're guilty of screen-staring, get into the 20/20 habit. Every 20 minutes take an eye-refreshing, blink-restoring break from the screen by looking at an object 20 metres away for 20 seconds.
5. Winter hayfever
Thanks to climate change boosting plant growth and pollination, hayfever season now extends into autumn and even winter.
"The hayfever season is starting earlier and lasting longer," admits Sultan Dajani, community pharmacist. "And, as temperatures drop and we spend more time indoors, specific allergens such as dust mites, mould and pets can also trigger symptoms that are similar to hayfever.
"To protect your eyes, wear glasses instead of contact lenses or wear daily disposable lenses to reduce the build-up of allergens on your lenses," says Sultan, who stresses that it's very important to avoid rubbing allergy-stricken eyes as this can lead to infections such as conjunctivitis and blepharitis.
To soothe hayfever-struck eyes, gently wipe away any allergens from your eyelids and eyelashes with clean water before applying a few drops of A. Vogel Pollinosan Hayfever Eye drops which will help soothe irritated eyes. (£12.99).
6. Don't pack away your sunglasses
On a clear, bright winter's day, the sun's UV rays can still be strong enough to damage your eyes, especially if it's reflected off dazzling white snow or calm blue water. Sunglasses also help to protect your eyes from dust, debris and wind, which can whip away much-needed moisture from your eyes.
"Always carry a pair of UV-protecting sunglasses around with you," advises optician Sharon Copeland of www.feelgoodcontacts.com.
7. Sleep well
Your eyes are very good indicators of the duration and quality of your sleep. Red, tired eyes, burst blood vessels and dry eyes are only-too-visible symptoms of sleepless nights. Help yourself to a good night's sleep with a natural remedy such as Healthspan Valerian SleepAid (£15.45, www.healthspan.co.uk).
"Valerian is a traditional herbal remedy that reduces anxiety and helps to improve sleep quality," explains Dr Sarah Brewer, Healthspan Medical Director. "Valerian reduces anxiety and restlessness, with a calming action that reduces turmoiled thoughts and allows you to achieve a deeper level of sleep more quickly."
8. Get your eyes tested regularly
It's very important to have an eye test at least every two years – even if you don't think there's anything wrong with your vision. If you wear glasses, an eye test is a chance to check if your eyesight's changed. If you don't, it's a chance to check if you're still entitled to spec-free vision!
In addition, an eye test allows your optician to check for eye conditions such as glaucoma, cataracts and AMD.
---
Pick up a copy of My Weekly ever Tuesday for health advice from the experts!