Wedding Chat With EastEnders' Lola!
---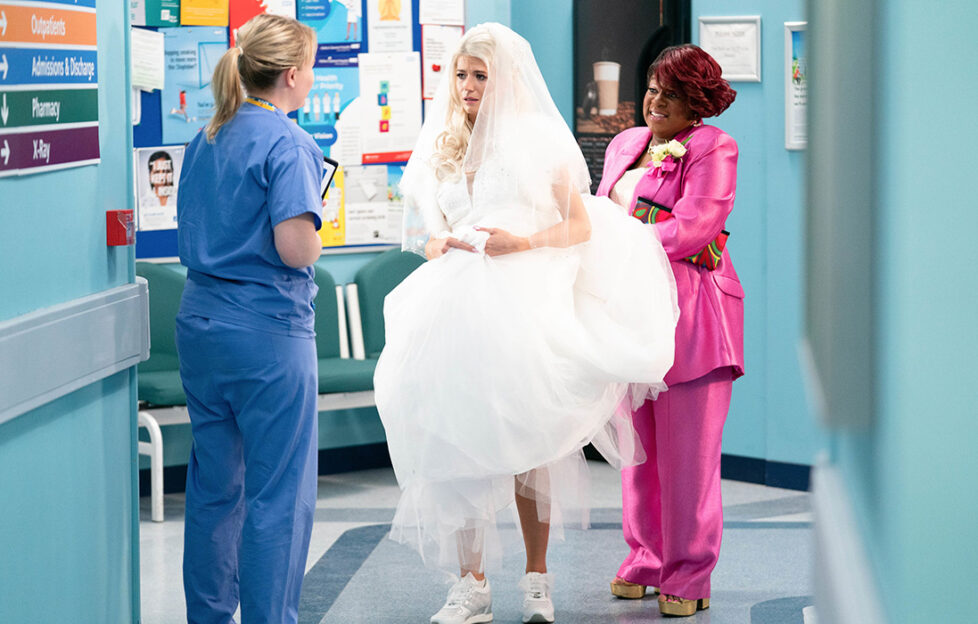 Pic: BBC, Jack Barnes/Kieron McCarron
We catch up with Danielle Harold, who plays the Square's wild child Lola. Diagnosed with an incurable brain tumour, Lola is preparing for her poignant wedding to Jay, to be broadcast this week…
Jay enlists the help of Kim and Denise to lift Lola's spirits. How does that make her feel?
Lola is feeling really down on the day of her hen do, and she's not feeling very well in herself either. When Kim and Denise rally around her to make her feel better, she just feels really loved and really cared for.
I think it's probably exactly what she needs at that point, and especially when she is deflated about not being able to find her mum. It makes her realise that she's got good people around her that love her and care for her, no matter what.
Do you think the hen do is really a night to allow Lola to let go of some of those worries that have been bringing her down?
Definitely. Lola is looking forward to having fun with her friends, and she really lives in the moment at her hen do. In terms of the character and the development of the storyline, it was really nice to play a happy scene for Lola. It was great fun to play and we had a good laugh whilst filming it.
Billy and Jay invade Lola's privacy. How does she react?
In true Lola fashion, she's annoyed at Billy and Jay for snooping around in her business. She's not happy when she realises that they have been meddling, like they always do. But she knows deep down that it's because they care so much.
Lola is taken unwell at the start of her wedding day. When does she realise something is wrong?
In the morning when Lola is getting ready, Kim notices a nosebleed. This really panics Lola and makes her realise how unwell she is. From this, they make the decision to go to the hospital.
We know Lola struggles with her emotions and is hesitant to marry Jay. Can you unpick some of those emotions she struggles with?
I think Lola feels so overwhelmed, as would any bride on her wedding day. When she realises she's ill, she's already dressed and they are really up against it on timings. So Kim suggests they stop by the hospital on the way to the wedding, to get Lola checked out.
Once Lola is there in the moment, she has a realisation when everyone turns and stares at her dressed in her wedding dress in the A&E waiting room. That's when all of those emotions start to bubble to the surface.
Can you explain the wedding dress in more detail?
Everything is white, which is unheard-of for Lola as we usually see her dressed in bright colours! She looks like a princess but with a Lola twist.
So much work went on behind the scenes to make sure every detail was right, and it was great that I was able to work with the wardrobe department to incorporate some of those signature Lola-isms in the day.
She has glitzy wedding trainers with ribbons, and of course, her hoops!
In Time for a Chat, we've got teasers about the week ahead in the soaps. Check them out  in every issue of My Weekly. Plus celebrity interviews and regular TV nostalgia. Pick up your copy in newsagents and supermarkets, or subscribe and save yourself money!